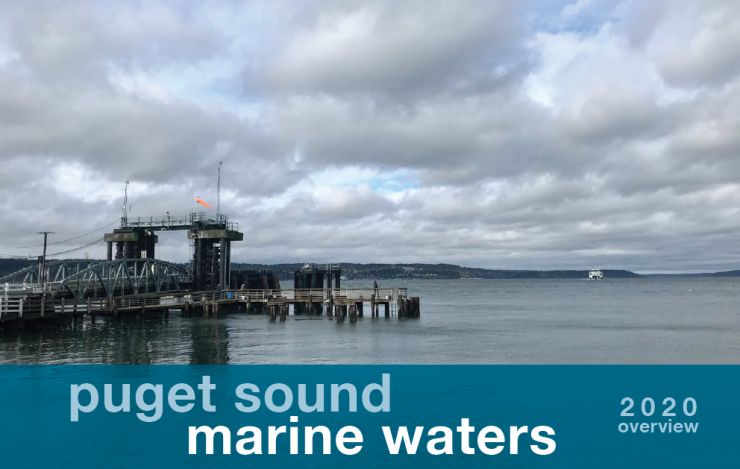 New Puget Sound Marine Waters 2020 Report Released:  Automated buoys and volunteers helped gather critical Puget Sound data during pandemic. Photo Credit: Puget Sound Partnership 2021
New Report Released: Automated buoys and volunteers helped gather critical Puget Sound data during pandemic
On October 27, the Puget Sound Marine Waters Work Group of the Puget Sound Ecosystem Monitoring Program released the tenth annual report on marine water conditions in Puget Sound providing a comprehensive long-term view and current assessment of the Puget Sound marine ecosystem. There were few extreme weather or ecological events in 2020, but overall, conditions in Puget Sound were generally warmer, sunnier, and wetter than in typical years. The report further reveals patterns and trends in numerous environmental parameters, including plankton, water quality, climate, and marine life. The observations in this report collectively provide both a comprehensive long-term view and current assessment of the Puget Sound marine ecosystem.
In Puget Sound, ocean acidification (OA) continues as does our understanding of patterns. Annual average atmospheric carbon dioxide (CO2) values over Hood Canal were high relative to globally averaged marine surface air, yet were at the same level as in 2019. OA in Puget Sound is of particular concern as estuarine processes, both natural and human-mediated, can also increase the CO2 content and lower the pH of marine waters. Moreover, coastal upwelling brings deeper waters with naturally higher CO2 concentrations upwards and into Puget Sound via the Strait of Juan de Fuca. Thus, Puget Sound is influenced by a variety of drivers that exacerbate the growing OA signal, making our waters particularly sensitive to these conditions. All of these changes have ramifications for marine food webs and are areas of active current research, including PMEL's  Moored Autonomous pCO2 (MAPCO2TM) system collecting on atmospheric and surface seawater xCO2 (mole fraction of CO2) at the Ćháʔba· mooring off of La Push, WA and at the Cape Elizabeth mooring. 
Having high-quality observations of carbon in the coastal environment is important for understanding coastal ocean carbon and its impact throughout the water column and the ecosystem. Learn more about PMEL's Carbon and Ocean Acidification Research.
Read the full report here.