Mission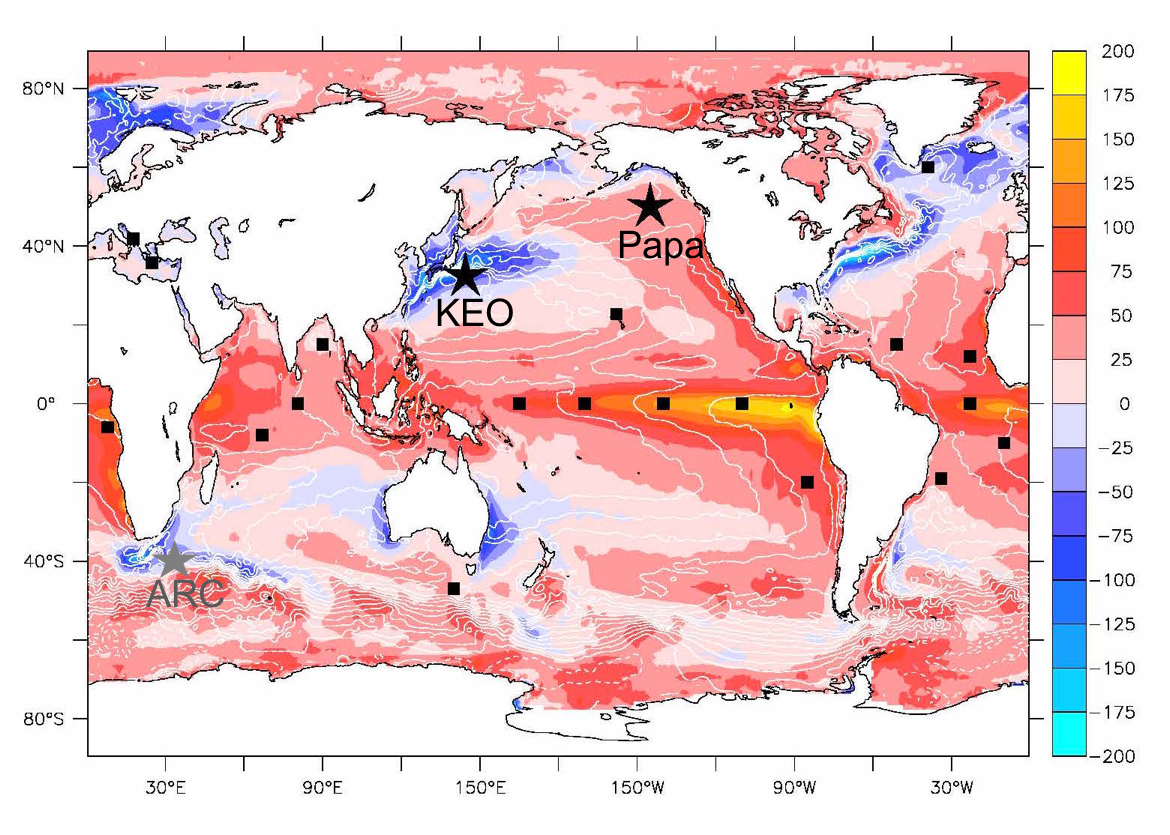 OCS mooring sites (stars) shown on a map of net surface heat flux (W/m2). Other air-sea flux OceanSITES stations are indicated by black squares.
The mission of the Ocean Climate Stations Project (OCS) is to make meteorological and oceanic measurements from autonomous platforms. These reference time series and innovative measurements are used to improve satellite products and forecast models, and improve our understanding of air-sea interactions, and their role within the climate system.
With more than 70% of the Earth covered by oceans, global weather and climate are strongly affected by exchanges of heat and moisture between the ocean and the air. Improved understanding of the climate system will help society adapt to climate variations and changes. Improved, more physically realistic forecast models will help reduce society's vulnerability to weather and climate extremes, preparing a weather-ready nation.
The OCS program encourages broad use of the data and welcomes collaboration.  Visit our data pages, and contact us to learn more.
What's New
Looking for a job in ocean research?  Come work with us!
We are currently hiring for a postdoc position, to work on studies of Tropical Pacific air-sea interaction using data from Saildrone missions, the Tropical Pacific Observing System (TPOS), and potentially outputs of high resolution Coupled Models. You will contribute to the international TPOS-2020 project, demonstrating how USVs could add new capabilities to the current generation TPOS, such as offering unique measurements of air-sea interaction across fronts in the ocean and atmosphere in near real-time.
To be considered, you must have completed your PhD in Physical Oceanography, Meteorology, Atmospheric Sciences, or a related field.  Plus, you should also have at least two years of experience using and analyzing ocean data sets, or advanced ocean-atmospheric models (or both!).
Sound interesting?  See the full job posting, and apply here:  https://apply.interfolio.com/54726