Outreach Events and Seminars
Interested in a TOUR of NOAA's Pacific Marine Environmental Lab?
Please contact PMEL's Outreach Coordinator, Adi Hanein, and fill out this tour request form. 
Upcoming Events:
Find the Pacific Marine Environmental Lab at these upcoming public events and seminars either on the calendar or the list below. 
EcoFOCI Spring Seminar Series
This seminar is part of NOAA's EcoFOCI bi-annual seminar series focused on the ecosystems of the North Pacific Ocean, Bering Sea and U.S. Arctic to improve understanding of ecosystem dynamics and applications of that understanding to the management of living marine resources. Visit the EcoFOCI webpage for more information (http://www.ecofoci.noaa.gov/).
NOAA's Pacific Marine Environmental Lab
7600 Sand Point Way NE, Building 3, Room 2104*
Remote Connection: https://global.gotomeeting.com/join/390878509
*Anyone wishing to attend in person, must email Heather Tabisola (heather.tabisola@noaa.gov) at least 48 hours in advance and bring a valid ID.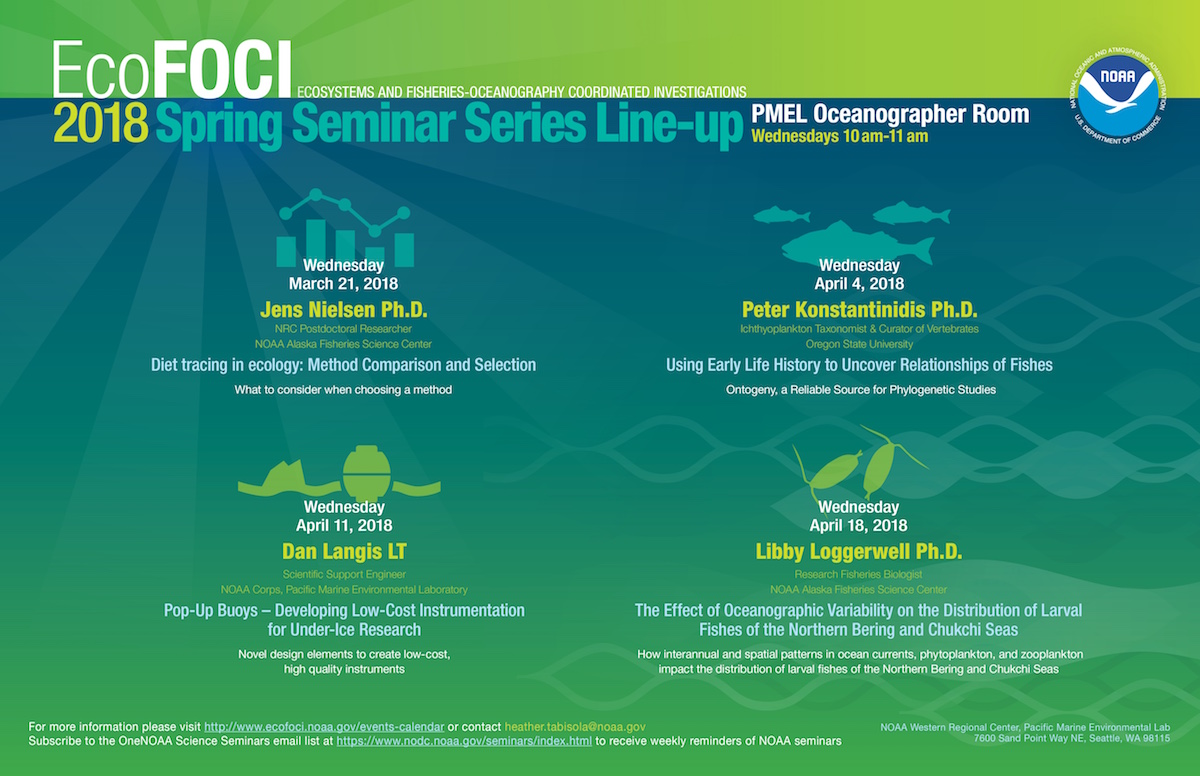 Wednesday, March 21
Speaker: Jens Nielsen, Ph.D., NRC Postdoctoral Researcher | NOAA Alaska Fisheries Science Center
Title: Diet tracing in ecology: Method Comparison and Selection
Abstract: Determining diets is a prerequisite for understanding species interactions, food web structure and ecological dynamics, yet empirical characterization of feeding interactions remains challenging. I will provide an overview, and discuss strength and weaknesses of some of the common dietary methods, such as visual techniques (e.g. gut, stomach, fecal or scat content analyses), DNA identification of prey items and stable isotope analyses of bulk or specific compounds such as amino acids. At the end I will briefly introduce my current work focusing on analyzing long-term ichthyoplankton data in an effort to develop biological indicators of ecosystem changes along the US west coast from California to Alaska
Wednesday, April 4
Speaker: Peter Konstantinidis, Ph.D. | Ichthyoplankton Taxonomist and Curator of Vertebrates | Oregon State University
Title: Using Early Life History to Uncover Relationships of Fishes
Abstract: Morphological characters in adult fishes are often of complex nature which makes the identification of their onto genetic origin difficult to impossible. In most cases ontogeny is the only reliable source to identify shared (homologous)structures and therefore the basis to correctly uncover evolutionary relationships. This is where early life history stages come in to play. Complex morphological characters in larval fishes are often in a simple stage of development compared to their adult congeners, therefore the comparison of those characters are easier and more accurate. For most marine fishes however,early life history stages are unknown which makes it equally challenging but also exciting to work with these taxa. I will present examples of my own research to show how significant early life history stages are for phylogenetic studies of fishes.
Wednesday, April 11
Speaker: LT Dan Langis | NOAA Corps
Title: Pop-Up Buoys: Developing Low-Cost Instrumentation for Under-Ice Research
Abstract: Conditions just under Arctic sea ice during Winter and Spring months are largely a mystery, but we do know they play a critical role in shaping one of the world's most highly productive ecosystems during the ice-free Summer months. Large ice keels, constantly shifting floes,and broad inaccessibility make data collection under sea ice notoriously difficult. To answer this question, a new under-ice mooring, capable of collecting oceanographic data at the water-ice boundary during these vital periods was designed. The newest generation of instruments will collect daily images; measure temperature, depth, PAR, and fluorescence;and transmit all data to shore using Iridium Short Burst Data.  We will discuss how a number of novel design elements have been integrated to create low-cost, high quality instruments and the challenges that have emerged throughout the process. This project is funded by Pacific Marine Environmental Lab's Innovative Technology for Arctic Exploration program with in-kind support from Ecosystems and Fisheries Oceanography Coordinated Investigations.
Wednesday, April 18
Speaker: Libby Loggerwell, Ph.D. Research Fisheries Biologist | NOAA Alaska Fisheries Science Center
Title: The Effect of Oceanographic Variability on the Distribution of Larval Fishes of the Northern Bering and Chukchi Seas
Abstract: This work is part of the Arctic Ecosystem Integrated Survey (Arctic EIS) program which is a multi-disciplinary approach to document the state of the ecosystem through oceanography, plankton, and fisheries surveys. Surveys were conducted in the Chukchi and Northern Bering Seas from August to September 2012 and 2013.  Ocean currents, phytoplankton and zooplankton distributions were very different between the two years. We investigated whether the distribution of larval fish reflected these differences. The larval fish community was dominated by Arctic cod, Bering flounder, yellowfin sole and capelin. Yellowfin sole and capelin larvae were associated with Alaska Coastal Water, likely because they were advected north from nearshore spawning areas in the Bering Sea. Arctic cod and Bering flounder spawn in the Chukchi Sea and were associated with Anadyr/Bering Sea/Chukchi Sea Water and with Chukchi Winter Water. These water masses had moderate to high nutrient concentrations, so we hypothesize that the result was favorable foraging for larval fishes. Statistical models of the effect of oceanographic variables, phytoplankton and zooplankton distribution were developed to test these hypotheses and to examine the effects of interannual oceanographic variability.  Our results increase the knowledge of the mechanistic links between oceanography and the early life history of fish. Ocean processes such as advection and the formation and retreat of sea-ice have been and likely will continue to be impacted by climate change. Because growth and survival of early life stages of fish often drives population change, our results contribute to the understanding of the impacts of climate change on Arctic fish populations. Collaborators on this project include: Morgan Busby, Kathy Mier, Heather Tabisola, and Janet Duffy-Anderson.
Archived Seminars:
Find video recordings of past seminars on our YouTube Channel and presentations and transcripts here. 
Have a Question, Comment or Suggestion?
We want to hear from you! 
Our goal is to provide you with information you can use. Please help us serve you better by sending us your thoughts.
Outreach Coordinator: Adi Hanein
adi.hanein@noaa.gov
206-526-6810