Outreach Events and Seminars
Interested in a TOUR of NOAA's Pacific Marine Environmental Lab?
Please contact PMEL's Outreach Coordinator, Adi Hanein and/or fill out this tour request form to better help us understand your needs. We will respond to your request as soon as possible​. We strive to accommodate all tour requests, but please note, that submission of a tour request does not guarantee that we will be able to accommodate the group and we may need to decline due to conflicting events​. Requests for a tour should be made at least 4-6 weeks prior to the tour date. Thank you for your interest in visiting PMEL. ​
Upcoming Events:
Find the Pacific Marine Environmental Lab at these upcoming public events and seminars either on the calendar or the list below. 
Upcoming Seminars:
EcoFOCI Fall Seminar Series
Wednesdays from November - December, 2019 | 10:00 - 11:00 AM
PMEL Oceanographer Room | 7600 Sand Point Way NE, Building 3, Room 2104, Seattle, WA 98115* 
Remotely: https://global.gotomeeting.com/join/891851101
*If you wish to join in person, contact Heather Tabisola (heather.tabisola@noaa.gov) at least 48 hours prior to the seminar for access the campus.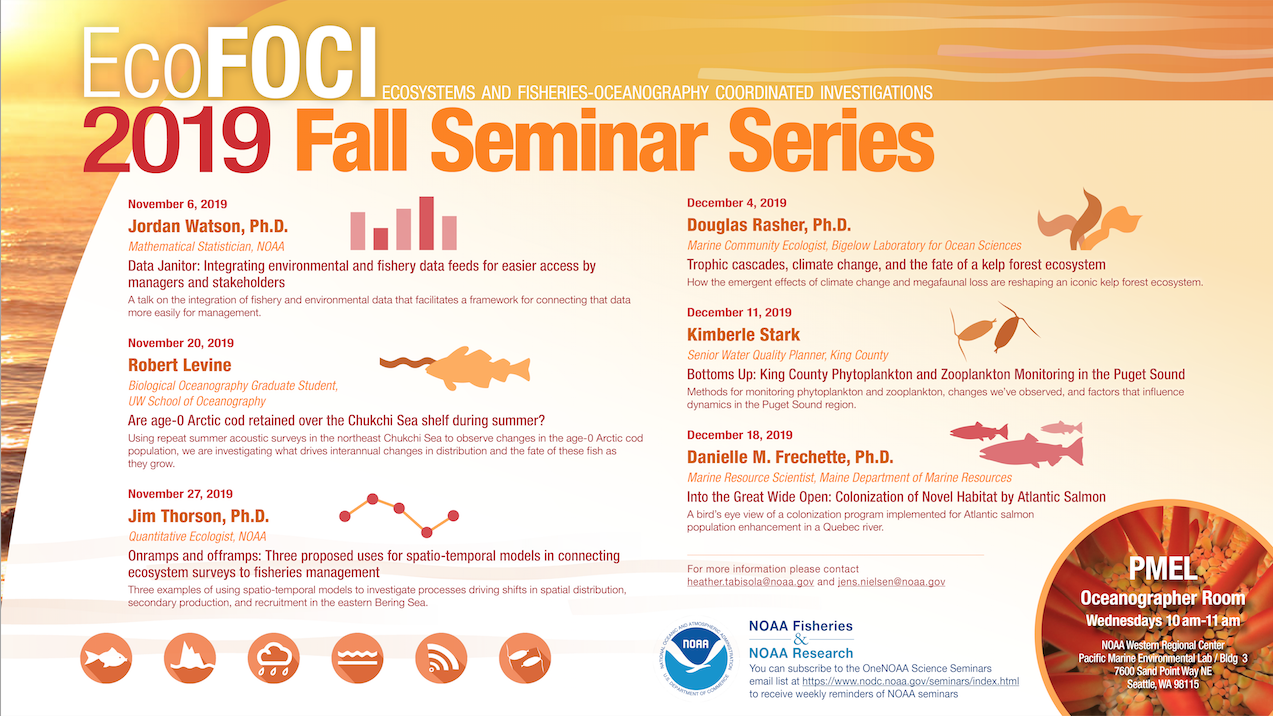 November 6, 2019: Data Janitor: Integrating environmental and fishery data feeds for easier access by managers and stakeholders. A talk by Jordan Watson (NOAA Fisheries) on the integration of fishery and environmental data that facilities a framework for connecting that data more easily for management. 
November 20, 2019: Are age-0 Arctic cod retained over the Chukchi Sea shelf during summer? A talk by Robert Levine (University of Washington School of Oceanography) on using repeat summer acoustic surveys in the northeast Chukchi Sea to observe changes in the age-0 Arctic code population to investigate what drives interannual changes in distribution and the fate of these fish as they grow. 
November 27, 2019: Onramps and offramps: Three proposed uses for spatio-temporal models in connecting ecosystem surveys to fisheries management. A talk by Jim Thorson (NOAA Fisheries) on three examples of using spatio-temporal models to investigate processes driving shifts in spatial distribution, secondary production, and recruitment in the eastern Bering Sea. 
December 4, 2019: Trophic cascades, climate change, and the fate of a kelp forest ecosystem. A talk by Douglas Rasher (Bigelow Laboratory for Ocean Sciences) on how the emergency effects of climate change and megafaunal loss are reshaping an icon kelp forest ecosystem. 
December 11, 2019: Bottoms Up: King County phytoplankton and zooplankton monitoring in the Puget Sound. A talk by Kimberle Stark (King County) on methods for monitoring phytoplankton and zooplankton, changes we've observed, and factors that influence dynamics in the Puget Sound region. 
December 18, 2019: Into the great wide open: Colonization of novel habitat by Atlantic Salmon. A talk by Danielle Frechette (Maine Department of Marine Resources) on a bird's eye view of a colonization program implemented for Atlantic salmon population enhancement in a Quebec river. 
Archived Seminars:
Find video recordings of past seminars on our YouTube Channel and presentations and transcripts here. 
Have a Question, Comment or Suggestion?
We want to hear from you! 
Our goal is to provide you with information you can use. Please help us serve you better by sending us your thoughts.
Outreach Coordinator: Adi Hanein
adi.hanein@noaa.gov
206-526-6810