What's New
The PMEL Acoustics Program is back in the Ross Sea in Antarctica replacing six hydrophones that record icequakes, iceberg tremors and other naturals sounds near the Drygalski and Nansen Ice Shelves. The data collected from these hydrophones over the last four years will allow the Acoustics program to characterize the soundscape of the Terra Nova Bay polynya and to assess ice flow dynamics, as well as marine mammal presence/distribution in the newly formed Antarctic Marine Protected Area.  
Ice shelves are permanent floating sheets of ice that connect to a landmass and are mostly found around the coast of Antarctica. They also slow the rate of ice flow from glaciers and ice streams coming into the ocean from the interior of the land. If an ice shelf collapses, then the glaciers flow more quickly out to the ocean and can accelerate sea level rise. Sea shelves can also calve, or split apart, as seen when two iceberg broke away from the Nansen ice shelf in April 2016 due to the largest low pressure storm system in more than a year that ultimately caused the icebergs to break free of the Nansen shelf.
The PMEL Acoustics Program has been collaborating with the Korea Polar Research Institute (KOPRI) for several years on multiple projects in Antarctica.
PMEL in the News
Two 7-meter-long sailboats are set to return next month to California, after nearly 8 months tacking across the Pacific Ocean. Puttering along at half-speed, they will be heavy with barnacles and other growth. No captains will be at their helms. Meghan Cronin is quoted. 
During the Arctic winter, when the sun hides from October to March, the average temperature in the frozen north typically hovers around a bone-chilling minus 4 degrees Fahrenheit (minus 20 degrees Celsius). But this year, the Arctic is experiencing a highly unusual heat wave. Jim Overland is...
As the flagship of the Alaska Marine Highway System for over 40 years, the MV Columbia is best known for its capacity to carry up to 499 passengers, plus vehicles on its route from Bellingham, Washington, to destinations in Alaska's Inside Passage. Geoff Lebon is mentioned. 
Feature Publication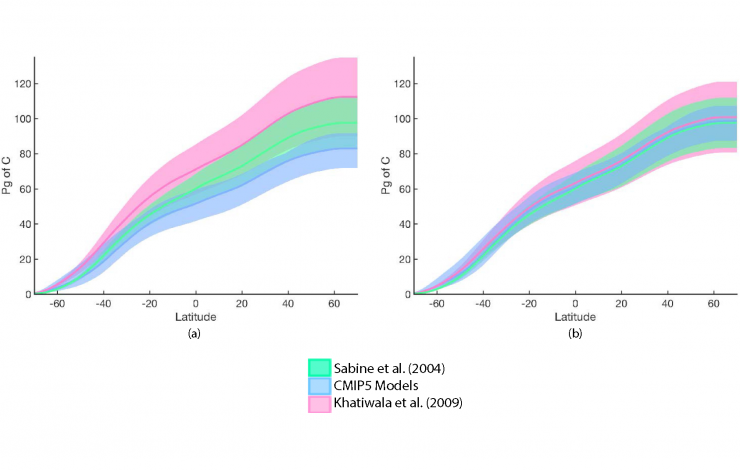 1995 oceanic anthropogenic carbon content. Integrated with latitude for observational estimates of Khatiwala et al. (2009) in pink, Sabine et al. (2004) in green, and the CMIP5 models in blue, (a) unadjusted, and (b) adjusted relative to 1791 start date. The value at 70°N is the total carbon uptake in the year 1995.
Since the start of the Industrial Revolution, human activity has caused atmospheric CO2 levels to rise. During this time, the ocean has absorbed roughly one third of emitted anthropogenic (human-derived) carbon, so ocean carbon uptake therefore influences how much of this important greenhouse gas remains in the atmosphere. Accurately measuring and simulating ocean carbon storage is important for assessing the current environmental conditions and projecting future climates.
... more