What's New
PMEL's Global Observations of Biogeochemistry and Ocean Physics research group is looking for high school teachers and classrooms in the greater Puget Sound region to join our new outreach program, Adopt-A-Float. PMEL researchers are using autonomous robots called Argo profiling floats that measure physical, chemical, and biological variables in the ocean to understand the impacts of climate and ecosystem changes. 
PMEL deploys about 60 floats each year and classrooms can engage with a dedicated float as it collects crucial data across the ocean. 
Each classroom involved in the PMEL Adopt-A-Float Program will get to adopt a float that is about to be deployed in the ocean. Classes will get to:
Name the float
Create an associated image or logo to be placed on the float prior to deployment
Learn how to view the float data online
Develop hypotheses on what that float might "see" once deployed 
Have in-person or virtual classroom visits with scientists
Access teaching/demo materials, including lesson plans on how to view and download  data from your adopted float
Tour PMEL
To get started or learn more about the Adopt A Float outreach program, contact the team via email at adopt.a.float@noaa.gov
Feature Publication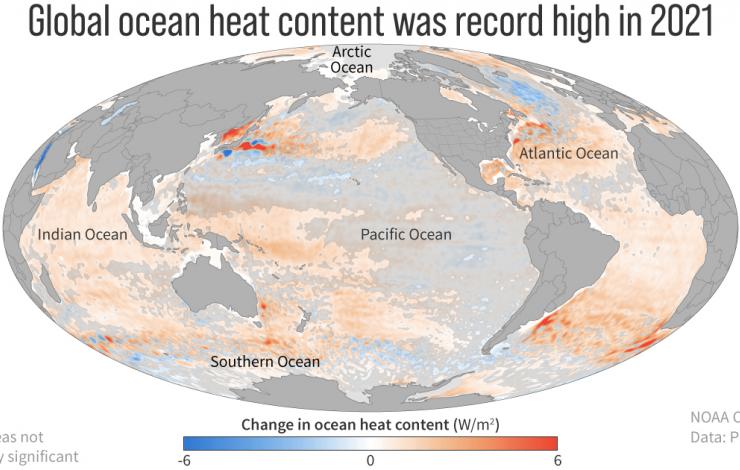 Most of the excess energy being trapped in the Earth system by increasing amounts of greenhouse gases is stored in the ocean. This map shows where the global ocean gained (orange) or lost (blue) energy between 1993 and 2021. Places where the trend is small relative to year-to-year variability (not statistically significant) are shaded with gray. NOAA Climate.gov map, based on data provided by John Lyman.