What's New
November 10 - December 18: Nine PMEL scientists from the Earth-Ocean Interactions (EOI) Program are studying the submarine volcanoes in the southwest Pacific Ocean aboard the Schmidt Ocean Institute's R/V Falkor on an expedition being led by Dr. Ken Rubin of the University of Hawaii.  Major support for the expedition is from NOAA's Ocean Exploration and Research Program.
The Falkor and the science team are in the Northeast Lau Basin off of Tonga, a region known to have a very high density of submarine volcanoes. It is estimated that there are 30 discrete volcanoes in a 50 X 50 km area. During the two-part cruise, they will be using the Autonomous Underwater Vehicle (AUV) Sentry to generate high resolution bathymetric maps of the area and then later explore these areas with the Remotely Operated Vehicle (ROV) SuBastain.
In 2008 at West Mata seamount, water column data showed strong evidence of an active eruption which was later confirmed with an ROV response cruise in 2009. West Mata represents an extraordinary opportunity to learn about the interactions between the earth and the deep ocean that can have important impacts on ocean geochemistry and marine ecosystems. And with West Mata's frequent activity, there is always a chance that they will be lucky enough to catch it erupting again.
The team is already finding evidence for two new eruption sites at West Mata seamount since March 2016, in addition to 5 other recent eruption sites between 2009-2016.  This makes West Mata one of the most active submarine volcanoes known on the planet.
Follow along with the cruise logs, read more about the expedition, and meet the science crew at Schmidt Ocean Institute's web site: Underwater Fire: Studying the Submarine Volcanoes of Tonga
PMEL in the News
The Puget Sound is a big part of life in Seattle. It's a connection to the outlying communities and a connection to the Pacific Ocean. And hundreds of miles out in the middle of wide open water, there's a whole lot of information that scientists have been gathering to help determine what to...
Snowpacks in Oregon, Idaho, Washington and California and are expected be much smaller by mid-century if greenhouse gas emissions continue to rise, according to federal projections released Friday.
Gulf of Alaska cod populations appear to have nose-dived, a collapse fishery scientists believe is linked to warm water temperatures known as "the blob" that peaked in 2015....
Feature Publication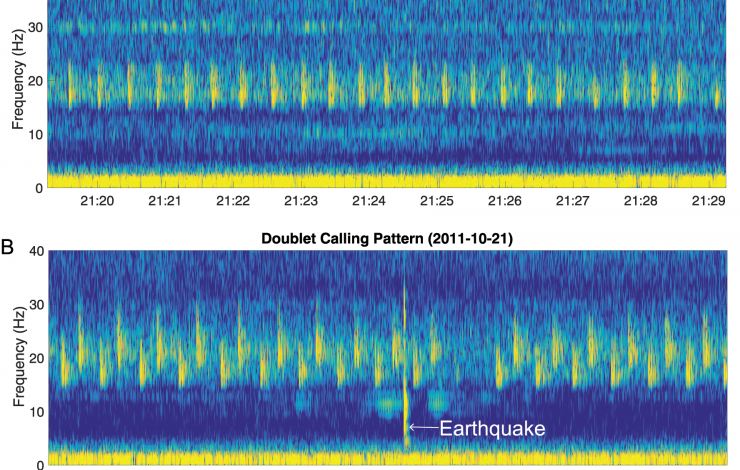 Spectrograms from Axial instrument illustrating the 2 primary song sequences observed.
,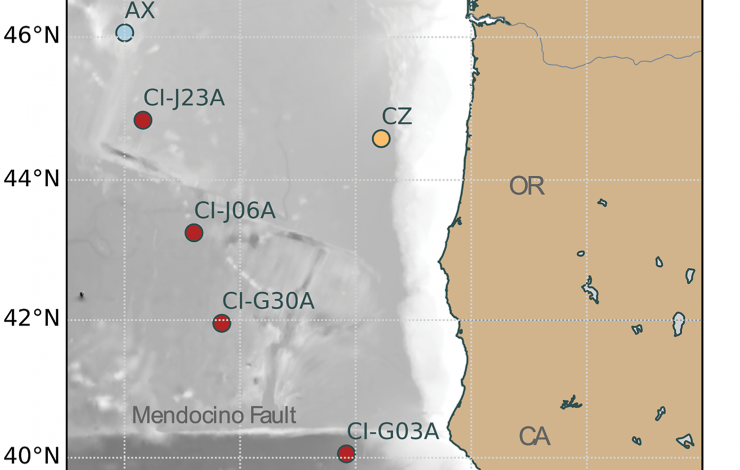 Regional map of the northeast Pacific Ocean showing locations of all instruments used in this study, along with a timeline indicating when they were deployed. At the scale of this map, KENE and KEMF are effectively co-located, but KENE is displayed slightly offset to the north for clarity (AX, Axial; CI, Cascadia Initiative; CZ, COLZA).
Fin whales (Balaenoptera physalus) spend most of their lives ranging widely throughout ocean basins and thus can be extremely difficult to study. Nevertheless, understanding the fin whales' population structure is of particular importance for management and recovery efforts due to their status as endangered under the U.S. Endangered Species Act.
Fin whales produce relatively simple, repeated signals that appear to have not changed significantly over time. The most commonly... more