What's New
April 21 - May 8 -  NOAA PMEL oceanographers and colleagues continue leading an annual effort to collect key data in understanding  the Bering Sea. This important research cruise provides key insights to monitor events such as sea-ice loss and the cold pool in the region and how these are impacting the Arctic ecosystem. This year's cruise started out a bit different! 
For the first time since 2012, the ice extent in the Bering Sea is impacting the survey and researchers had to alter their cruise plan as the ice is at and around several of the mooring and sampling sites. While not thick ice, lead scientist and NOAA oceanographer Phyllis Stabeno was surprised. "I did not expect to see ice this late on the shelf," she said. In this region, ice arrives in the Bering Sea in the fall and typically melts and recedes in spring, - limiting when research vessels can be in the area. 
2012 was a record breaking year. The melt season of 2012 started out at a sluggish pace. Around mid-April, sea ice extent was close to the 1979–2000 average for that time of year (the maximum ice extent typically occurring in March). However, soon after that the decline began to accelerate rapidly.
Stabeno took this as a unique and unexpected opportunity to safely sample around the ice edge. Most vessels are not made to break ice - but they can go near this melting ice region. As the ice continues to melt, the science team will resume their planned research. 
This spring mooring cruise brings together scientists from NOAA's PMEL and Alaska Fisheries Science Center, the University of Washington, US Fish and Wildlife, and the University of Alaska. While aboard the NOAA Ship Oscar Dyson, the scientists will service a biophysical mooring array. They will also collect water samples of conductivity (salinity), temperature, depth (CTD) profiles, zooplankton, ichthyoplankton, nutrients and chlorophyll samples. As well as conduct collaborative research including on harmful algal blooms, omics, and zooplankton machine learning. Results from these observations and experiments will help describe important ecosystem linkages among climate, plankton, fishes, birds and mammals.  
EcoFOCI will be field testing and using several innovations this spring. Innovations and technologies such as these aim to enhance shipboard and mooring research with advanced and increased data collection. These include the deployment of a modified 'high-latitude', more robust surface mooring at M2 and a shallow-water glider. This is the 29th consecutive year the M2 mooring will be deployed. In 2022 a combination of the pandemic, sea ice, and a storm provided researchers a new perspective from NOAA's longest operating biophysical mooring site in the US Arctic. Learn more about that in a NOAA Story Map (https://storymaps.arcgis.com/stories/1b413464b13c4aa381b48ecd5c89ed50). 
This is the first of five NOAA EcoFOCI program research cruises planned between April and October in the Alaska region.
Learn more about mooring arrays and the EcoFOCI spring cruise on NOAA Fisheries 2022 blog. 
PMEL in the News
How warm water in the Pacific shapes storms, droughts, and record heat around the world. Mike McPhaden is quoted. 
The planet is simmering, both on land and at sea, and that could signal more record temperatures for the remainder of 2023, according to the National Oceanic and Atmospheric Administration. Mike McPhaden is quoted. 
 The natural burst of El Nino warming that changes weather worldwide is far costlier with longer-lasting expenses than experts had thought, averaging trillions of dollars in damage, a new study found. Mike McPhaden is quoted. 
Feature Publication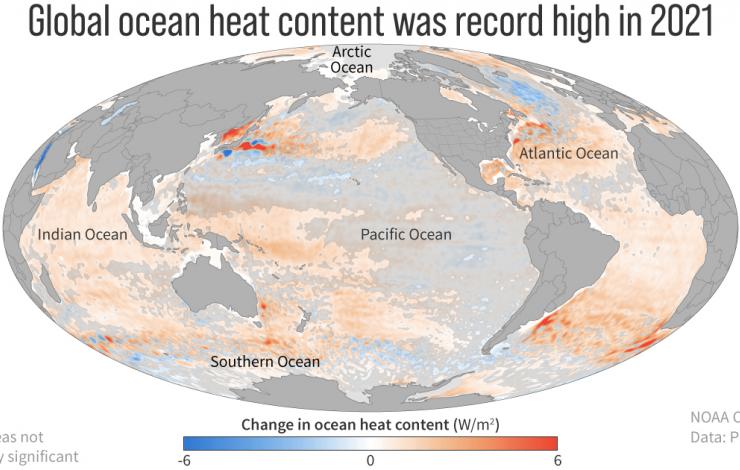 Most of the excess energy being trapped in the Earth system by increasing amounts of greenhouse gases is stored in the ocean. This map shows where the global ocean gained (orange) or lost (blue) energy between 1993 and 2021. Places where the trend is small relative to year-to-year variability (not statistically significant) are shaded with gray. NOAA Climate.gov map, based on data provided by John Lyman.