What's New
Registration for 2017 NOAA Science Camp is now open! NOAA Science Camp is held at the NOAA Campus in Seattle, WA and introduces both middle and high school students to the diverse range of careers and research conducted by our scientists. Three programs are offered: Middle School Science Camp, High School Junior Leadership Program and a Remotely Operated Vehicle Mini Session. PMEL scientists (NOAA and JISAO) lead activities relating to engineering and oceanography, including how scientists conduct their research when they go to sea, how scientists work with engineers to solve complex marine questions, how currents and trace chemicals move throughout the ocean, and even how buoys help predict large-scale climate events such as Tsunamis. The camps will run at various times from July 10-26.
The middle school camp offers two sessions: July 10-14 and July 17-21, 2017.  NOAA Science Camp has partnered again with Atlantis STEAM to offer a three-day mini-session where campers will get to design, build, and drive their own Remotely Operated Vehicles (ROVs). This is an exciting addition to our summer programming - please check out the website and register for this session being offered on July 24-26, 2017. Look for the green registration button on each page to register your camper. 
Learn more on the Washington Sea Grant site and register for NOAA Science Camp here. 
PMEL in the News
In 1997, while searching for underwater volcanoes off the coast of South America, scientists recorded something they couldn't explain: a strange, exceptionally loud noise. They called it "the bloop." The bloop was one of the loudest underwater sounds ever recorded: hydrophones (underwater...
It's not your imagination, it's really gloomy around here.  In fact, we're No. 1 in glum.  Island County is the least sunniest county in the lower 48, according to a federal study that measures solar radiation — the rays of energy emitted by the sun that hit the earth.
A major U.S.-based scientific society is on the verge of expanding its definition of research misconduct to include sexual harassment. The American Geophysical Union (AGU) is making the...
Feature Publication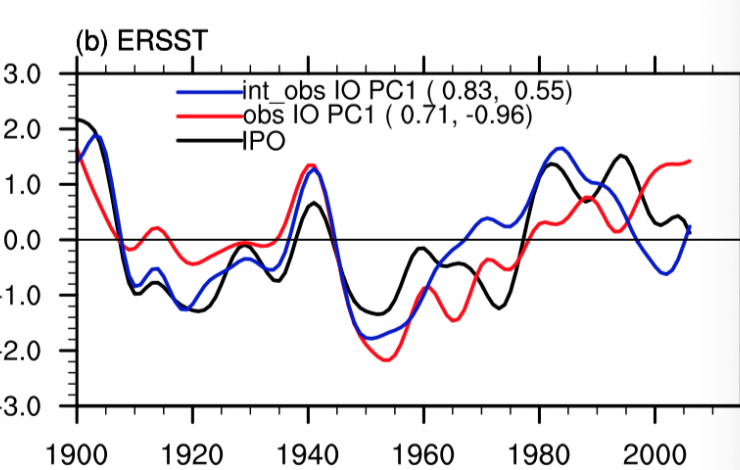 Time series of the Inter-decadal Pacific Oscillation (IPO, black lines), the decadal Indian Ocean Basin mode (IOB, red lines), and internal component of the decadal IOB mode with external forcing (obtained from ensemble mean of three all forcing runs based on CESM1.2) removed (blue lines) from ERSST. All the time series are standardized. The correlation coefficients with the IPO during 1900–2012 and 1985–2012, respectively, are shown in parentheses.