What's New
The 2017 Arctic Report Card was released today, December 12, at the American Geophysical Union's Fall Meeting. The NOAA-led Arctic Report Card, now in its 12th year, delivers the latest in peer-reviewed, actionable environmental information on this important region, which is warming at twice the rate of anywhere on Earth. PMEL's Dr. James Overland is one of four editors of the report card which brings together the work of 85 scientists from 12 countries to provide the latest information on multiple measures of Arctic environmental change such as sea ice, temperature, and permafrost.
In 2017, average annual air temperature was the second highest on record after 2016 with a temperature of 2.9 degrees Fahrenheit (1.6 Celsius) above the average for 1981 to 2010. While 2017 saw fewer records shattered than in 2016, the Arctic shows no sign of returning to the reliably frozen region it was decades ago. The current observed rate of sea ice decline and warming temperatures are higher than at any other time in the last 1,500 years, and likely longer than that. This year's maximum winter sea ice area, measured each March, was the lowest ever observed, while this year's minimum area, measured each September, was eighth-lowest on record. Sea ice is also getting thinner each year, with year-old ice comprising 79 percent of coverage, and multi-year ice just 21 percent compared to 45 percent in 1985. 
You can watch the recorded press conference here which was led by RDML Tim Gallaudet, Ph.D., USN Ret. Assistant Secretary of Commerce for Oceans and Atmosphere and Acting Under Secretary of Commerce for Oceans and Atmosphere.
Read the NOAA Press Release here and the complete 2017 Arctic Report Card here. 
PMEL in the News
A new citizen-science project needs volunteers to digitize decades of temperature, rain and barometric data from across western Europe
Most volcanoes erupt beneath the ocean, but scientists know little about them compared to what they know about volcanoes that eject their lava on dry land. Gabrielle Tepp of the Alaska Volcano Observatory and the U.S. Geological Survey thinks that with improved monitoring, scientists can learn...
Melting glaciers might be making ocean water more acidic, an unexpected finding that's given scientists new cause for concern. A new study...
Feature Publication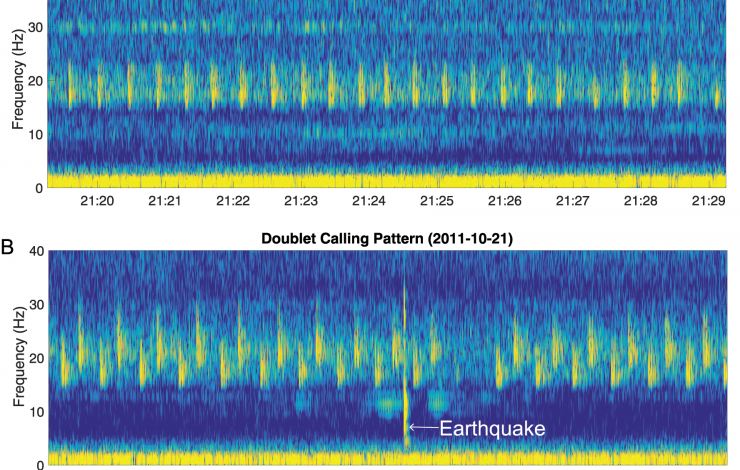 Spectrograms from Axial instrument illustrating the 2 primary song sequences observed.
,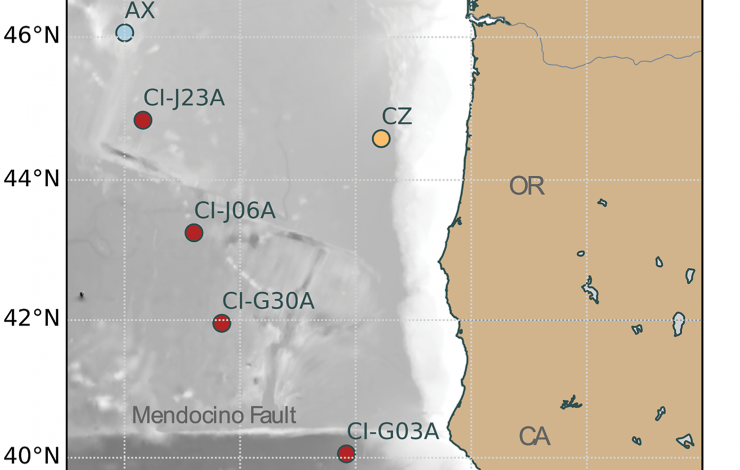 Regional map of the northeast Pacific Ocean showing locations of all instruments used in this study, along with a timeline indicating when they were deployed. At the scale of this map, KENE and KEMF are effectively co-located, but KENE is displayed slightly offset to the north for clarity (AX, Axial; CI, Cascadia Initiative; CZ, COLZA).
Fin whales (Balaenoptera physalus) spend most of their lives ranging widely throughout ocean basins and thus can be extremely difficult to study. Nevertheless, understanding the fin whales' population structure is of particular importance for management and recovery efforts due to their status as endangered under the U.S. Endangered Species Act.
Fin whales produce relatively simple, repeated signals that appear to have not changed significantly over time. The most commonly... more