NSF Research Experience for Undergraduates (REU)

PMEL's Undergraduate Students (Hollings and NSF-REU) during the 2016 summer.
The National Science Foundation (NSF) funds a large number of summer research opportunities for undergraduate students through its Research Experience for Undergraduates (REU) program. The students are hosted at various universities across the U.S. where they work closely with faculty mentors and researchers on individual research projects. Learn more about the NSF-REU program on the National Science Foundation website. 
PMEL participates in the program through Oregon State University and the Hatfield Marine Science Center.  Oregon State University offer students research projects that will advance their knowledge and understanding of marine, coastal and estuarine environments. During the 10-week summer program, students will participate in group field trips, seminars and science colloquia. REUs receive a weekly stipend, housing on-site and travel. Projects for interns to undertake in the Acoustic Program cover a diverse range of biological, natural and anthropogenic acoustic themes. Learn more about PMEL's mentors Bob Dziak and Joe Hazel. 
Meet 

PMEL's

2017 

NSF-REU

Student!
Gabriella (Gabby) Kalbach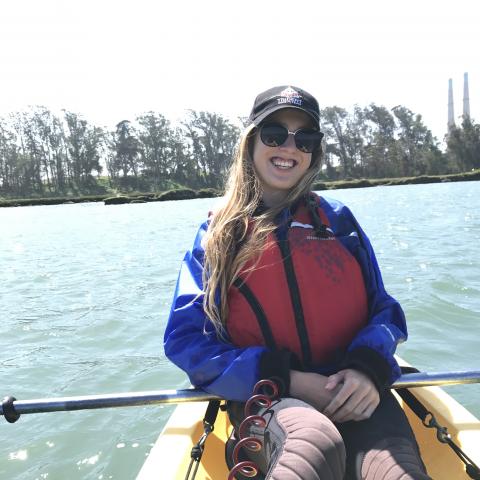 Gabby is a rising senior at California State University, Monterey Bay studying Marine Science with an interest in ocean engineering. This will be her second summer working with PMEL and Dr. Joe Haxel in Newport, Oregon. This summer, her focus is on determining the practicality of using an autonomous glider as a platform for collecting acoustic data. Last summer she was working on an acoustic study performed by a glider that was flown down the continental shelf of the Pacific Northwest from southern Washington to southern Oregon.
In the summer of 2016, she annotated and analyzed the data to examine anthropogenic impacts on ambient noise levels, as well as identifying system noise and marine mammal vocalizations. This internship has given her meaningful relationships with her mentors and peers, and the knowledge she's gained thus far will set her apart as a researcher and a student. She has enjoyed working at PMEL and found a very strong sense of community here which she is grateful to be a part of. She has enjoyed being able to work independently and the tremendous amounts of support from everyone in the lab.