Saildrone
The Saildrone is an autonomous sailing drone, currently being explored by the OCS project as a tool to provide high quality oceanic and atmospheric observations.  With a speed through the water of 2-8kts, they have a range of more than 16,000 nautical miles, and endurance of up to 12 months. Saildrones can do adaptive sampling like research ships, but at a fraction of the price. 
For additional photos, please check our Saildrone Gallery.
OCS Saildrone Missions
TPOS Mission 2:  Planned Fall 2018 - Spring 2019
The second TPOS mission will focus on the ability of the Saildrone to make observations along the equator, and will involve inter-comparisons against various TAO moorings. The exact course of this mission will depend upon conditions and events observed at the time, with the route to be directed by scientists while the vehicles are underway, highlighting the adaptability of the Saildrone.
TPOS Mission 1:  September 1, 2017 - May 18, 2018
On September 1, 2017, two Saildrones departed Alameda, California, on a mission to the equator and back, in an effort to improve the Tropical Pacific Observing System (TPOS).
The existing observing system is ready for an update.  It was first created in the late 1980s, and provides real-time data used by the US and partner nations to forecast weather and climate, including El Nino, one of the world's most influential ocean phenomena.
The Saildrones visited mooring sites that are part of the existing tropical observing array to carry out comparisons, and also participated in a larger field study with NASA. This mission was a test of whether the Saildrone can provide measurements at a quality that matches research ships and proven mooring technology.  If this is the case, Saildrones will become a powerful tool for providing key observations for long-term weather forecasts.
After eight months at sea, the Saildrones successfully returned home to California.  The first boat was recovered on May 6, 2018 in San Luis Obispo Bay.  The second was recovered on May 18, 2018 in San Francisco Bay.  Scientists are currently analyzing the data acquired during the mission.
Watch the video from the launch below, and review the mission details on the OCS Saildrone Mission Blog.
Other PMEL Saildrone Missions
ITAE 2017:  July 16 - September 29, 2017
ITAE 2016:  May 23 - September 3, 2016
ITAE 2015:  April 23 - July 28, 2015
Technical Development
PMEL began a partnership with Saildrone, Inc. in 2014, under a Cooperative Research and Development Agreement.  The partnership aimed to develop the unmanned surface vehicles to collect high quality oceanic and atmospheric observations.
In addition to the vehicles themselves, Saildrone, Inc. provides engineering expertise in vehicle design, software, electronics, and operations.  PMEL provides engineering expertise on sensors, sensor sampling schemes, telemetry protocols, and access to calibration equipment and facilities.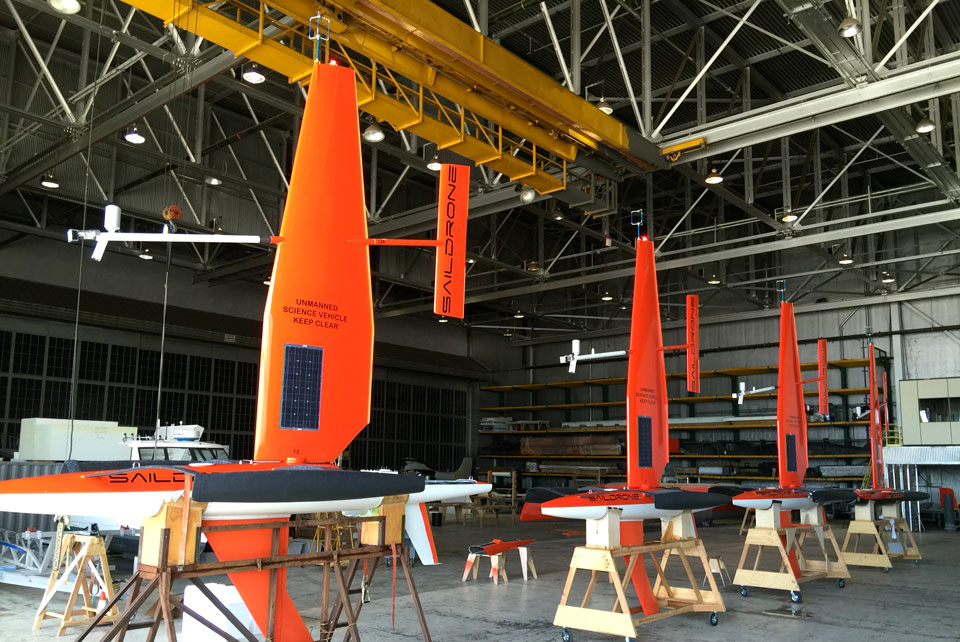 Vehicles being assembled at Saildrone, Inc.  (Photo credit Saildrone, Inc.)
The OCS group has been working together with PMEL engineers and Saildrone, Inc. since mid-2016.  The OCS goal was to install sensors on the drones with equivalent or better quality than those currently used on Tropical Atmosphere and Ocean (TAO) buoys for air-sea flux measurements.  New additions made to the Saildrones also included a 300-kHz Acoustic Doppler Current Profiler for upper ocean current measurements, and a suite of biogeochemical sensors.
Refer to the Technical Notes page for documentation of the OCS / Saildrone development efforts.