Papa Background
Ocean Weather Ships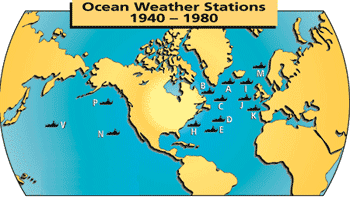 Ocean Weather Station Papa (OWSP, located at 50°N, 145°W) is an important site for continued monitoring of ocean climate, as it has one of the oldest oceanic time series data records. Weather ship observations at the site exist from December 19, 1949, to June 20, 1981. Originally occupied by a U.S. Weather Ship operated through the Coast Guard by the U.S. Weather Bureau, Canada assumed full responsibility for the site in December 1950. Shortly thereafter, two ships (St. Catharines and the Stonetown) took alternating 6-week shifts on station to ensure an uninterrupted time series. In 1967, larger vessels designed for meteorological and oceanographic observations (the CCGS Vancouver and CCGS Quadra, and later, the Parizeau in 1974) replaced the original vessels.
The 32-year time series collected at OWSP holds incredible value for its duration and consistency of on-site measurements. Raw OWSP data can be found alongside other weather ship observations in the NCAR Research Data archives data, Ocean Station Vessel Observations. Quality controlled OWSP data are accessible through the University of Washington's ResearchWorks Archive at the following link: Ocean Weather Station Papa, 1951-1981.
With the advent of the satellite era, the Weather Ship programs were discontinued, and after August 1981, shipboard measurements along Line P conducted by the Canadian Department of Fisheries and Oceans (DFO) were limited to three to six times per year, and can be found on the Line-P Program website.
NOAA Mooring
In 1997-99 a NOAA PMEL surface mooring was deployed at station Papa as part of the Nation Ocean Partnership Program (NOPP). In October 1999, the NOPP sponsored Oceanographic-Systems for Chemical, Optical, and Physical Experiments (OSCOPE) surface mooring was deployed. Due to a faulty chain, the OSCOPE buoy broke from its line after just one month, and was recovered in early January 2000.
OCS Surface Mooring
In June 2007, a NOAA surface mooring time series was initiated at Station Papa with funding from an NSF grant to Dr. Steve Emerson (University of Washington) to study the North Pacific Carbon Cycle. At the conclusion of the NSF process study in 2009, NOAA's Office of Climate Observations took over support of the OCS mooring. The Canadian Department of Fisheries and Oceans Line-P program continues to provide ship time for annual mooring maintenance. The OCS mooring is nominally located at 50.1°N, 144.9°W.
Other Projects
With the ongoing DFO Line-P cruises and NOAA OCS surface mooring providing the backbone observations at this important historical site, Station Papa continues to be a favorite location for process studies. In recent years the station has been enhanced with a glider, subsurface ADCP moorings, profiling floats, a noise reference station mooring, and a wave measuring buoy. Many of these observations are still underway. Beginning in 2014, the NSF Ocean Observing Initiative (OOI) enhanced Station Papa with an array of subsurface moorings, making it one of four Global Nodes.
See the Other Research at Ocean Station Papa page for more information about these other studies.