OCS Saildrone Mission Blog - TPOS 2022 Mission
This 90-day mission is supported by NOAA OMAO and Saildrone, Inc.
Two Saildrone uncrewed surface vehicles (USV) departed the 10°N, 125°W launch site on June 22, 2022, initiating the fifth in a series of Saildrone missions to the eastern tropical Pacific as part of a multinational effort to enhance the Tropical Pacific Observing System (TPOS).
Want more up-to-date information? You are in luck! Follow the drones on their 2022 TPOS journey and access real-time data on the PMEL Saildrone dashboard.
The Sun Rises on TPOS 2022
July 6, 2022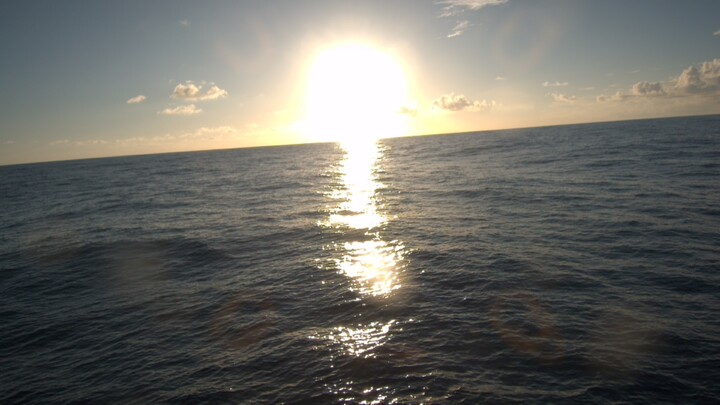 Photo taken on SD1033 en route to the 8°N, 125°W TAO buoy in the eastern tropical Pacific Ocean. Photo credit: Saildrone, Inc.
The day after the (boreal) summer solstice, Saildrone USVs SD1033 and SD1052 began their mission in the middle of the eastern tropical Pacific Ocean, having launched from Alameda, CA about one month prior. As in previous missions, the drones are fully equipped with oceanic, atmospheric, and biogeochemical sensors to collect climate-quality air-sea measurements over data sparse regions of the tropical ocean, with the overarching goal to address gaps in the current Tropical Pacific Observing System array. As we enter into the fifth TPOS Saildrone mission to the eastern tropical Pacific, we continue to explore the feasability of USVs as observing platforms within different regimes, such as the low-wind environment of the ITCZ (i.e., "the doldrums"), the low-wind, high-ocean current environment of the equatorial Pacific Cold Tongue, and the warm, biologically-active waters of the tropical Pacific Ocean.
This blog page is maintained by Samantha Wills.