OCS Saildrone Mission Blog - TPOS 2021 Mission
This mission is supported by NOAA OMAO, NOAA NOPP, and Saildrone, Inc.
Two Saildrone uncrewed surface vehicles (USV) launched from San Francisco Bay, CA on July 23, 2021, initiating a ~five-month research mission in the Eastern Tropical Pacific Ocean.
The Eye of the Storm
August 24, 2021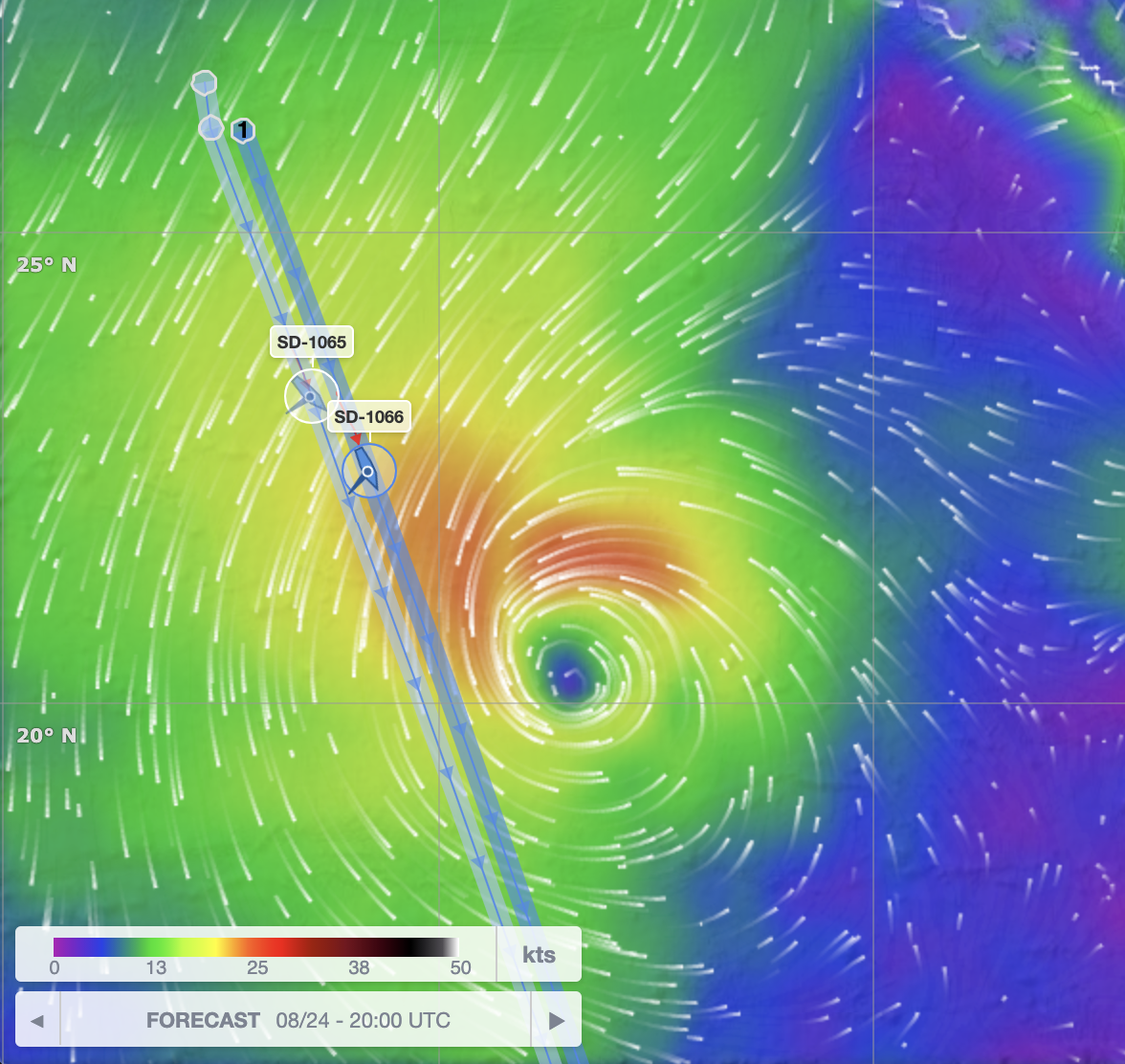 Map of current Saildrone tracks relative to the location of TD Marty on August 24, 2021. Wind speed and direction are shown in units of knots (nautical miles per hour). 
Having spent ~1 month at sea, the two Saildrone USVs are quickly approaching the designated study area within the eastern tropical Pacific hurricane genesis region. It has been an active season of tropical storm activity so far, the most recent of which includes Tropical Depression Marty located around 20N, 118W. As the drones continue along their tracks, they will encounter TD Marty with wind speeds of up to 35 mph. The drones will enter into "storm mode" as they ride out the rough seas for the next few days.
And Away We Go!
July 26, 2021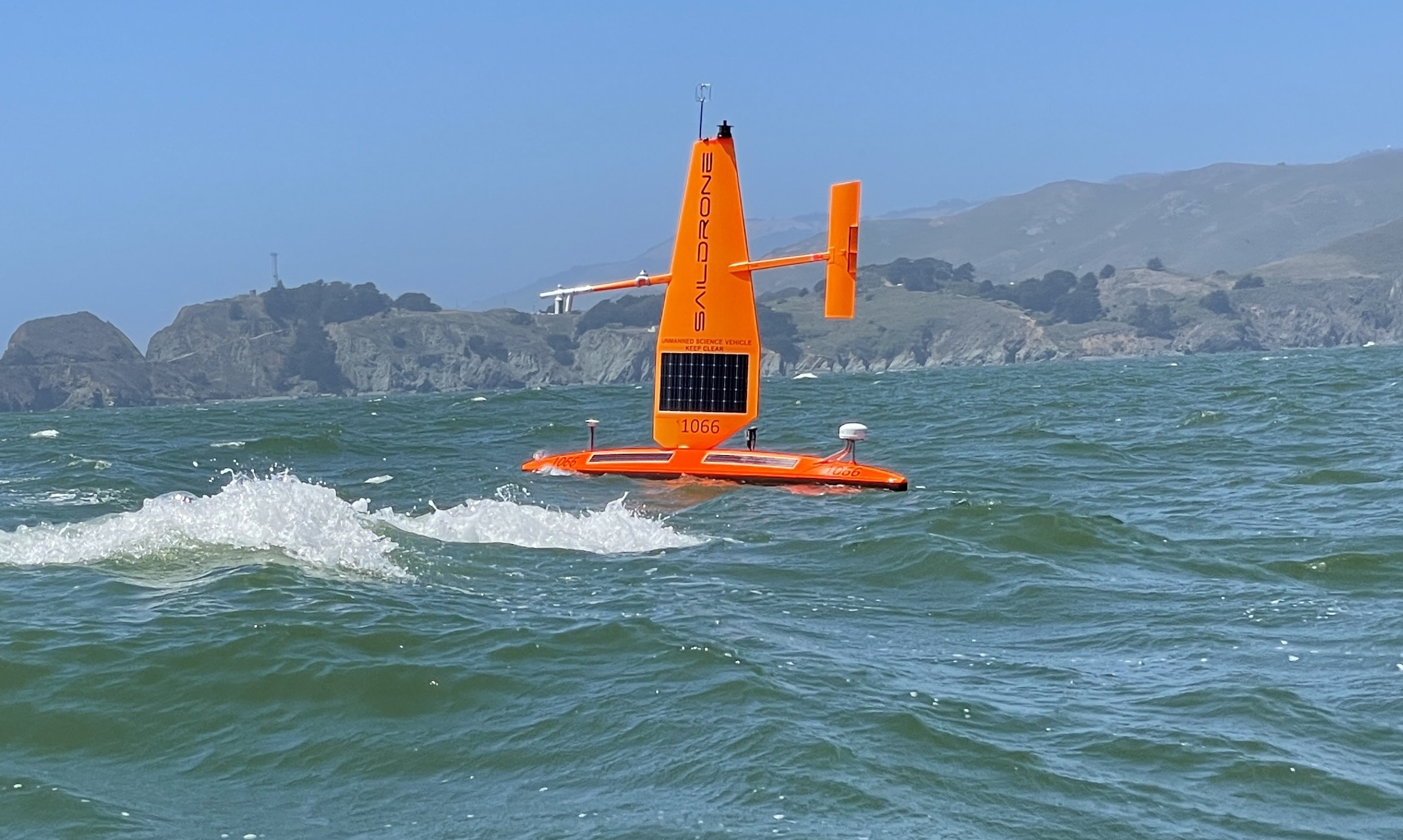 Saildrone vehicle 1066 off the coast of California. Photo Credit: Saildrone, Inc.
On July 23, 2021, two Saildrone uncrewed surface vehicles (USV) left San Francisco Bay to travel to the eastern tropical Pacific hurricane genesis region. As the western U.S. experiences record shattering heat waves and mega droughts, the eastern tropical Pacific started its 2021 hurricane season with the earliest tropical storm (Andres) on record going back to the early 1970s. The eastern tropical Pacific is a key region for hurricane genesis and El Niño Southern Oscillation (ENSO) development. The ENSO cycle not only modulates hurricane genesis in the eastern tropical Pacific and the tropical Atlantic, but also affects the global marine ecosystem and weather patterns on land. The hurricanes and tropical cyclones (TCs) generated in the eastern tropical Pacific, whether or not they make landfall, control the critical source of moisture for rainfall, especially over western North America. This region, however, is a gap in the Tropical Pacific Observing System (TPOS).
The two saildrones enroute to the eastern tropical Pacific will test how USVs may be used to address gaps in the present TPOS. The ~5-month mission will target several phenomena including: (1) Air-sea interactions and convective development in the eastern Pacific hurricane genesis region; (2) Air-sea interactions, including CO2 outgassing, in the equatorial upwelling zone; (3) Wind convergence in the southeastern Inter-Tropical Convergence Zone (ITCZ) between 2°S and 5°S, often referred to as the "double ITCZ" region due to common biases of this phenomenon in models; (4) Air-sea interactions in the frontal zone north of the cold equatorial upwelling; and (5) Contrasting subtropical and tropical oceanic and atmospheric states in the eastern Pacific.
Please stay tuned for more updates on the TPOS 2021 Mission!
This blog page is maintained by Samantha Wills.