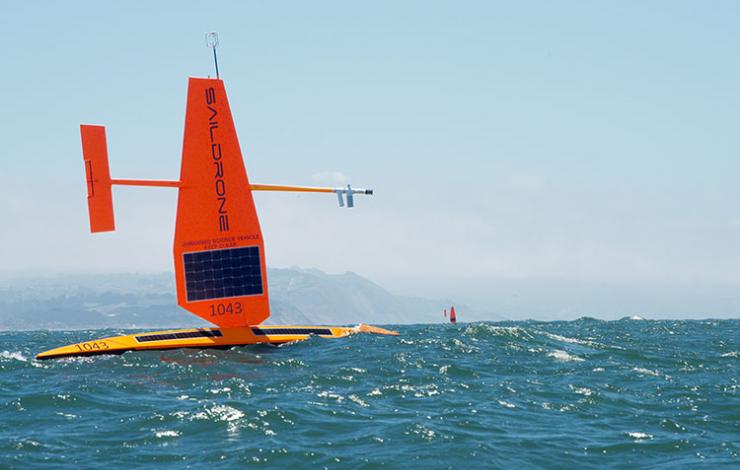 Two saildrones in the Pacific Ocean just west of the Golden Gate Bridge at the start of their journey. Photo Credit: Saildrone, Inc. 
Three saildrones left Alameda, California in May and have arrived at Unimak Pass in Alaska's remote Aleutian Islands. The ocean drones have sailed nearly 2,700 miles at a walking pace, about 2.5 miles per hour (2 knots), which is just about the distance from Seattle to Miami. Once they navigate through the pass, the saildrones will enter the Bering Sea. This is where they will conduct a two month-long acoustic survey of walleye pollock to collect some critically needed data to support management of the nation's largest commercial fishery for Alaska pollock. They are expected to reach their first survey station in about a week and will cover roughly the same area normally covered by standard research vessels.
The data the drones collect will help to fill in the gap for fisheries stock assessment scientists who monitor the changes in pollock populations to advise fisheries management. The sonar measurements made by the ocean drones will provide valuable insights on pollock abundance and distribution in 2020. 
The mission is led by NOAA's Alaska Fisheries Science Center with scientists at the Pacific Marine Environmental Laboratory processing the oceanographic and meteorological data in real time. Data will be made available to weather forecasts center worldwide via the World Meteorological Organization's Global Telecommunication System (GTS) so that these observations can be incorporated into weather predictions. PMEL, AFSC and Saildrone have collaborated on several missions in the Arctic since 2015 to develop the vehicle's capabilities and refine the sensors.