About the North Pole Web Cam Images in 2007
Web Cams 1 and 2 were deployed in April as usual, but due to a technical problem, which we were unable to correct remotely, the timer was set for 14 days, so each camera transmitted only one image every two weeks.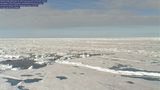 Most images from Web Cams #3 and #4 are from the transit on the R/V Polarstern, and not from the North Pole.
Web Cam 3 was transported northward on the R/V Polarstern as a replacement for a webcam that failed during deployment in April. Most of the photos from Web Cam 3 are from the transit on the Polarstern, and the open water you see is NOT at the North Pole. Web Cam 3 was deployed on September 13, 2007, as close as the Pole as the Polarstern could come. Only a day later, on September 14, the mount fell over, and from that time until winter freeze, the camera pointed only at the sky. New - see YouTube video Voyage to the North Pole on an Icebreaker (summer 2007)
Web Cam 4 was transported northward on the Polarstern with Web Cam 3, but never reached the North Pole and was never deployed. All images from Web Cam 4 are of the water through which the Polarstern transited.
View animations from 2007 web cams: 1, 2; also see animations from the R/V Polarstern: 3, 3 large, 4, 4 largeand YouTube. For more information about the web cams, what you see in the images, please see General Information about the North Pole Images and the North Pole environment.
A log of the R/V Polarstern voyage is at http://www.awi.de/en/infrastructure/ships/polarstern/weekly_reports/all_expeditions/ark_xxii/ark_xxii2/

---