North Pole Weather Data from 2002 Deployment

In April 2002, PMEL deployed instrumentation and one web cam on an ice floe at the North Pole. The 2002 web cam failed when winter cold and darkness fell over the North Pole in September 2002. The ice floe continued to drift and the 2002 instrumentation is still transmitting data, which is shown on this page. Note that new instrumentation and two new Web Cams were deployed at the North Pole, on a different ice floe, in April 2003. Data from the 2003 instrumentation is available on North Pole Weather Data from 2003 Deployment.
Weather data plot
Ice-temperature plot
Map of station drift

Weather plot: This plot presents incoming short-wave solar radiation measured by one of the radiometer buoys, along with air temperature, air pressure, and winds measured by the meteorological station.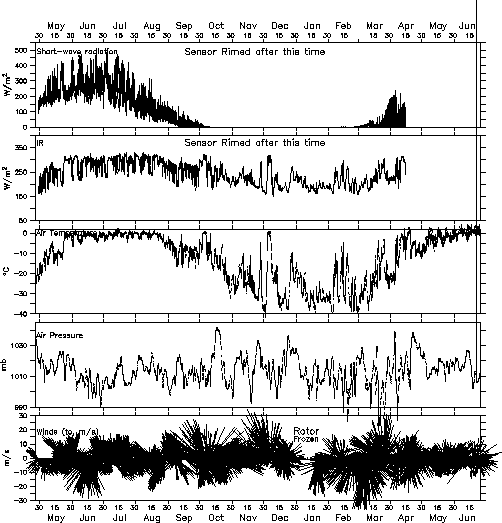 Latest data (updated approximately weekly)

Ice-temperature plot:
Plot of air, ice, and ocean temperature as measured by one of the PMEL/CRREL
Mass Balance Buoys
. One of these buoys is visible
just to the right of the weather station
. Initially, a little more than 50 cm of the thermistor string was above the ice, and about 160 cm of the thermistor string was in the water. (This buoy is no longer transmitting. The last data received are from March 1, 2003.)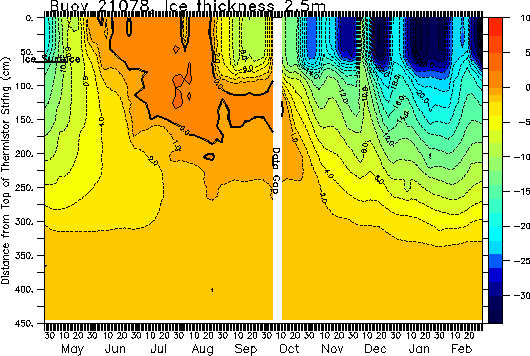 Map of station drift: Drift of the North Pole station since its deployment near 88.5 N in late April 2002. Station location is derived from the Global Positioning System (GPS). (The weather station stopped transmitting on June 25, 2003 when its floe was crushed or melted off eastern Greenland.)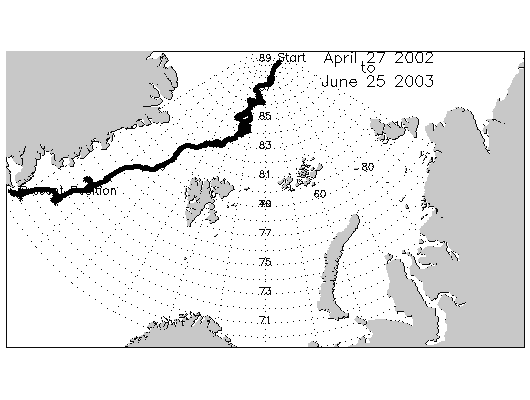 Click here to calculate sunrise/sunset times for any location on the earth.

---