Instruments in North Pole Web Cam Images!
Deployed by NOAA/PMEL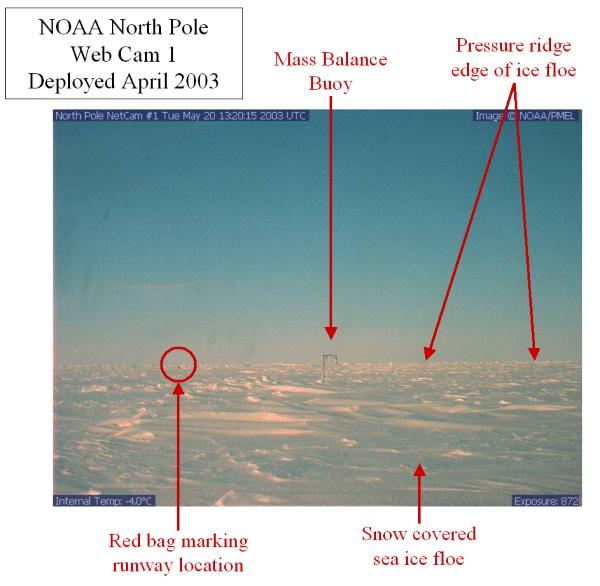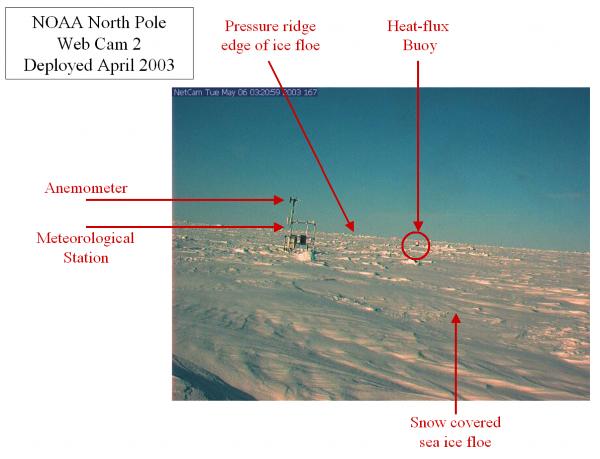 Meteorological Station
The meteorological station is a Campbell Scientific weather station which measures wind speed and direction, air temperature and air pressure. Data is transmitted via the NOAA Argos Satellite System.
The Mass Balance Buoy
The Mass Balance Buoy (also called the ice-temperature buoy, the PMEL/CRREL buoy or Drifting buoy) includes an acoustic pinger that measures the depth of the snow on top of the sea ice. It also includes a chain of thermistors which measure temperatures from the air down through the snow cover, through the sea ice and into the sea water below the ice. The chain is several meters long, and has temperature sensors every 5-10 cm. Data is transmitted by the NOAA Argos satellite. The buoy drifts with the sea ice covering the North Pole. The drift and the data is available on the North Pole Weather Data page and from the North Pole Observatory Web Site.
Radiometers
The Radiometers measure solar and sky radiation. Data is relayed using the NOAA Argos Satellite System.
Note: The Navy's Heat Flux Buoy is used in conjunction with the PMEL and JAMSTEC buoys to provide a means of studying changes in the Central Arctic Basin environment over long periods.