What's New
The EcoFOCI spring mooring cruise departed on Earth Day, April 22, from Kodiak, AK to service a biophysical mooring array in the Bering Sea, including M2. This is one of 11 research cruises the program will participate in from March-October. Aboard the NOAA research ship Oscar Dyson, scientists from PMEL, JISAO and AFSC are in Alaskan waters to retrieve and redeploy moorings, collect CTD (conductivity-temperature-depth) and other data. Peter Proctor from PMEL/JISAO is the Chief Scientist on the cruise and Geoff Lebon is the lead mooring scientist. The M2 mooring has been deployed in the southeastern Bering Sea for over 20 years and has been providing year-round measurements of temperature, salinity, nitrite, chlorophyll, and currents in this highly productive area. Long-term time-series at this site are a critical tool for adapting to climate change and guiding sustainable management of living resources in the Bering Sea.
EcoFOCI will also be field testing and using several technologies in collaboration with PMEL's Innovative Technology for Arctic Exploration program; including the Prawler, Oculus and Acrobat Towed Vehicle. These technologies enhance shipboard and mooring research with more data collection over a fine scale region.
The EcoFOCI program is a collaborative research effort by scientists at the Pacific Marine Environmental Lab (PMEL) and Alaska Fisheries Science Center (AFSC) focusing on the unique and economically important high-latitude ecosystems of Alaska. Learn more about the program here.
PMEL in the News
In 1997, while searching for underwater volcanoes off the coast of South America, scientists recorded something they couldn't explain: a strange, exceptionally loud noise. They called it "the bloop." The bloop was one of the loudest underwater sounds ever recorded: hydrophones (underwater...
It's not your imagination, it's really gloomy around here.  In fact, we're No. 1 in glum.  Island County is the least sunniest county in the lower 48, according to a federal study that measures solar radiation — the rays of energy emitted by the sun that hit the earth.
A major U.S.-based scientific society is on the verge of expanding its definition of research misconduct to include sexual harassment. The American Geophysical Union (AGU) is making the...
Feature Publication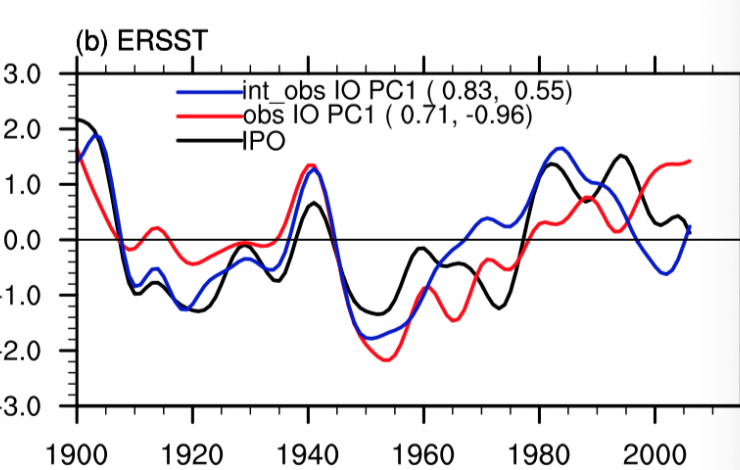 Time series of the Inter-decadal Pacific Oscillation (IPO, black lines), the decadal Indian Ocean Basin mode (IOB, red lines), and internal component of the decadal IOB mode with external forcing (obtained from ensemble mean of three all forcing runs based on CESM1.2) removed (blue lines) from ERSST. All the time series are standardized. The correlation coefficients with the IPO during 1900–2012 and 1985–2012, respectively, are shown in parentheses.