What's New
Scientists from PMEL's Earth Ocean Interactions (EOI) group, which includes JISAO and CIMRS, return to the Mariana back-arc on the Schmidt Ocean Institute R/V Falkor from November 29 to December 20. The Mariana back-arc is west of the Mariana Trench near Guam and is a relatively unexplored region.
This year's research cruise follows up on discoveries made last year aboard R/V Falkor and will focus on those newly discovered hydrothermal vent sites and lava flows.  This cruise is part of a multi-year exploration and research project to understand the character of hydrothermal systems and biological connectivity in the Mariana region.
PMEL's Earth Ocean Interactions (EOI) group and collaborators are the first scientists using the new Schmidt Ocean Institute's ROV SuBastian. ROV SuBastian will provide in-depth exploration and sampling of these systems to characterize their geologic setting, chemical environment, and biological communities.  This expedition is supported by Schmidt Ocean Institute, NOAA's Ocean Exploration and Research Program, and the NOAA Pacific Islands Regional Office. (Image courtesy of Schmidt Ocean Institute)
Follow live with our scientists as the ROV dives down to explore the region: https://schmidtocean.org/technology/live-from-rv-falkor/ and on Twitter #hydrothermalhunt 
PMEL in the News
The Schmidt Ocean Institute is currently live streaming the first science dive with the Remotely Operated Vehicle (ROV) SuBastian. Join in to see in real time what the Hydrothermal Hunt science team is viewing.
For the first time, NOAA and partner scientists have connected the concentration of human-caused carbon dioxide in waters off the U.S. Pacific coast to the dissolving of shells of microscopic marine sea snails called pteropods. Commercially valuable fish such as salmon, sablefish and rock sole...
Feature Publication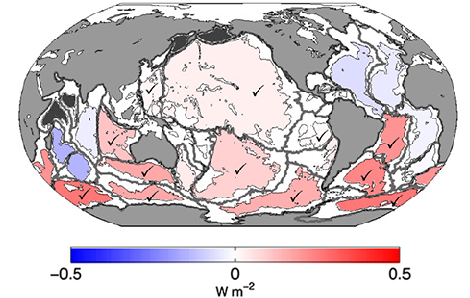 Basin-averaged 1991–2010 warming rates (expressed in W m-2, see colorbar) for the abyssal ocean (4000–6000 m) estimated using data from repeated high-quality, full-depth, coast-to-coast global surveys of ocean water properties. Check marks indicate basins in which warming rates are statistically significantly different from zero
Decadal repeats of high-quality, full-depth, coast-to-coast global surveys of ocean water properties have been revisited since the 1980s. These surveys were completed first under the auspices of the World Ocean Circulation Experiment, then CLIVAR/CO2, and now GO-SHIP. The data from these surveys provide global ocean observations below the 2000-meter sampling limit of core Argo floats. Evaluation of deep warming trends below 2000 m using these highly accurate (±0.002°C) survey data yields an... more