What's New
PMEL Senior Scientist, Dr. Richard Feely, served on a panel with other expert scientists to help west coast decision-makers manage and adapt to changing environmental conditions. Ocean acidification and hypoxia, low dissolved oxygen, are two coastal ocean phenomena that threaten the health of marine ecosystems and marine organisms. Each can also have profound impacts on coastal economies and culturally important resources, such as fish and shellfish. The US West Coast and British Columbia will face some of the earliest, most severe impacts and expansion of hypoxic zones, due to climate change, and the acidification of ocean waters resulting due to the absorption of human-derived carbon dioxide emissions.
The connection between these two phenomena is addressed in the Science Panel's report released April 4th. The report summarizes the latest scientific literature and presents management options to reduce stresses on marine ecosystems and enhance the ability of organisms to cope with changing conditions. Leaders in coastal regions can use this as a model on how to develop science-based strategies for reducing the threat of changing ocean conditions.
For more information, read the Panel's press release, the report and NOAA web story.
PMEL in the News
Craig Welch said he didn't exactly know what he was getting himself into when he went fishing with two Papua New Guinea natives in an area that was notorious for sharks. 
As Siberian permafrost thaws, crumbling Russian coastlines and big rivers flowing north along eroding banks are dumping vast loads of organic carbon into marine waters there, causing much quicker acidification than had been anticipated and signaling future danger for the entire Arctic Ocean.
Feature Publication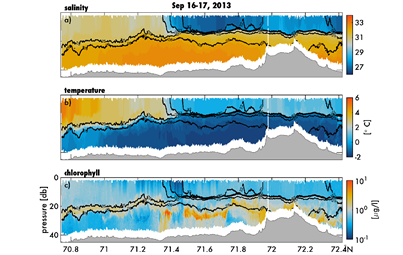 Studying where some of the smallest organisms in the ocean are located can be difficult when they are found beneath the surface. In the late summer and early fall, phytoplankton in the Chukchi Sea are usually found in thin, patchy layers that can only be observed using shipboard surveys. In a collaborative effort between PMEL's EcoFOCI group and the University of Alaska Fairbanks, scientists were able to map the distribution of subsurface phytoplankton using a novel high-resolution towed... more