What's New
PMEL scientists from the Earth-Ocean Interactions Program will be on board the E/V Nautilus, which is operated by the Ocean Exploration Trust (OET), during June 1-20.  This expedition will explore and characterize habitats and methane seeps along the Cascadia continental margin between northern Washington and Cape Mendocino.  Broadband video of the seafloor during the dives from OET remotely operated vehicle Hercules will be broadcast in realtime over the internet.  Scientists ashore representing a broad range of expertise will also participate via a realtime link to the ship during the dives.
Follow along live and learn more about the cruise on: http://www.nautiluslive.org
PMEL in the News
When the state delayed our local Dungeness crab season last November, San Franciscans were upset. I heard people blame climate change for the toxic algae bloom that poisoned our crabs, but this explanation may be too simple. What really caused the unusual bloom of Pseudo-nitzschia phytoplankton
The phenomenon known as El Niño, which combined with human-caused warming to supercharge global temperature in 2015/16 and brought chaotic weather worldwide, is officially on its way out. But stepping quickly into El Niño's shoes is its cooler counterpart, La Niña.
Feature Publication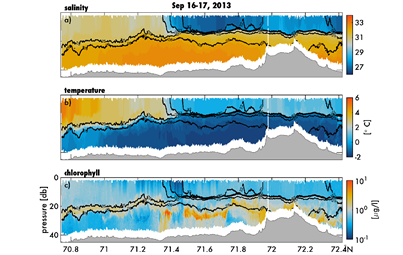 Studying where some of the smallest organisms in the ocean are located can be difficult when they are found beneath the surface. In the late summer and early fall, phytoplankton in the Chukchi Sea are usually found in thin, patchy layers that can only be observed using shipboard surveys. In a collaborative effort between PMEL's EcoFOCI group and the University of Alaska Fairbanks, scientists were able to map the distribution of subsurface phytoplankton using a novel high-resolution towed... more