What's New
Dr. Chidong Zhang has recently joined PMEL as our new Ocean Climate Research Division leader. He comes from the University of Miami where he's been a professor at the Rosenstiel School of Marine and Atmospheric Science. He brings with him expertise in large-scale air-sea interaction and atmospheric dynamics in the tropics. His special research interests include the Madden-Julian Oscillation (MJO), ITCZ, African monsoon, and air-sea interaction.
He is an active member in the American Meteorology Society and the American Geophysical Union. He also serves as a co-chair of the Science Steering Committee of Years of the Maritime Continent (YCM) and is the editor of the Journal of Geophysical Research-Atmospheres. He has mentored several graduate students and postdoctoral associates and will continue to do so while at PMEL through the University of Miami and the University of Washington's Joint Institute for the Study of the Atmosphere and Ocean. 
We are very excited to have Chidong join us. Welcome!
PMEL in the News
NOAA Research today announced $6 million in funding to get scientific and technological advances from the government and academia to NOAA's National Weather Service (NWS) more rapidly, improving severe weather and water hazards forecasting.
Federal climatologists predict that dry conditions will generally recede over the winter in Oregon, Idaho, Washington and parts of Northern California, providing an early and upbeat outlook on next year's water supply.
Feature Publication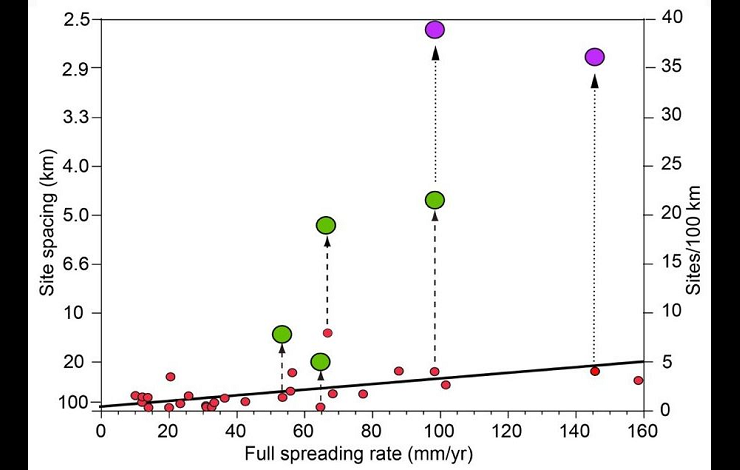 Scatter plot of site spacing (left axis) and site spatial frequency (right axis) vs. ridge spreading rate for 27 ridge sections using data from the InterRidge database (red dots). Green symbols show new survey results from four of these sections; purple symbols show corroborating results from prior intensive camera surveys. Heavy black line is a linear regression between site spacing and spreading rate for the existing database (red dots).
The heat from submarine volcanoes produces hundreds of hydrothermal hot springs along the mid-ocean ridge crest. These springs promote the exchange of heat and chemicals between the Earth's crust and the ocean, providing energy to support ecosystems fueled by chemical reactions and creating exploitable deposits of mineral and bio-active resources. A new study by Baker et al. indicates that hot springs are far more common than previously thought, a discovery with crucial implications for... more