PMEL

carries out interdisciplinary scientific investigations in oceanography and atmospheric science.
Current PMEL programs focus on open ocean observations in support of long-term monitoring and prediction of the ocean environment on time scales from minutes to decades.
What's New
PMEL and Partners Deploy First Ocean Acidification Mooring in the Indian Ocean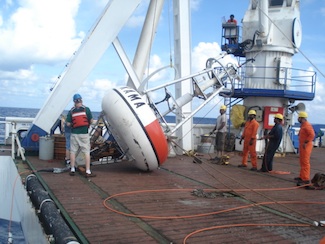 The BOBOA mooring preparing for deployment from the Indian R/V Sagar Nidhi.
PMEL successfully deployed the first carbon dioxide flux and ocean acidification mooring in the Northern Indian Ocean on November 23.  The Bay of Bengal Ocean Acidification (BOBOA) mooring will help us understand the large intraseasonal, seasonal and interannual biogeochemical variations in the Bay of Bengal, and how the marine ecosystem in the Bay is changing over time.
This mooring is part of the Research Moored Array for African-Asian-Australian Monsoon Analysis and Prediction (RAMA) made possible through a close partnership with NOAA and Bay of Bengal partners.  Read more and see live data on the BOBOA Carbon website.
What's New Archive- PMEL Participates in Large Atlantic Ocean Survey
FEATURED
Climate:


El Niño and La Niña


Ocean Acidification


Argo Ocean Floats
Ecosystem:


Fisheries Oceanography


Underwater Volcanoes


Acoustics


Arctic
Weather and Water:


Tsunami


Local Pages:

OAR Hot Items

PMEL Hot Items

PMEL Info

PMEL IT Info

CNSD Info Desk