OCS Saildrone Mission Blog - TPOS Mission 1
Farewell, California!
September 14, 2017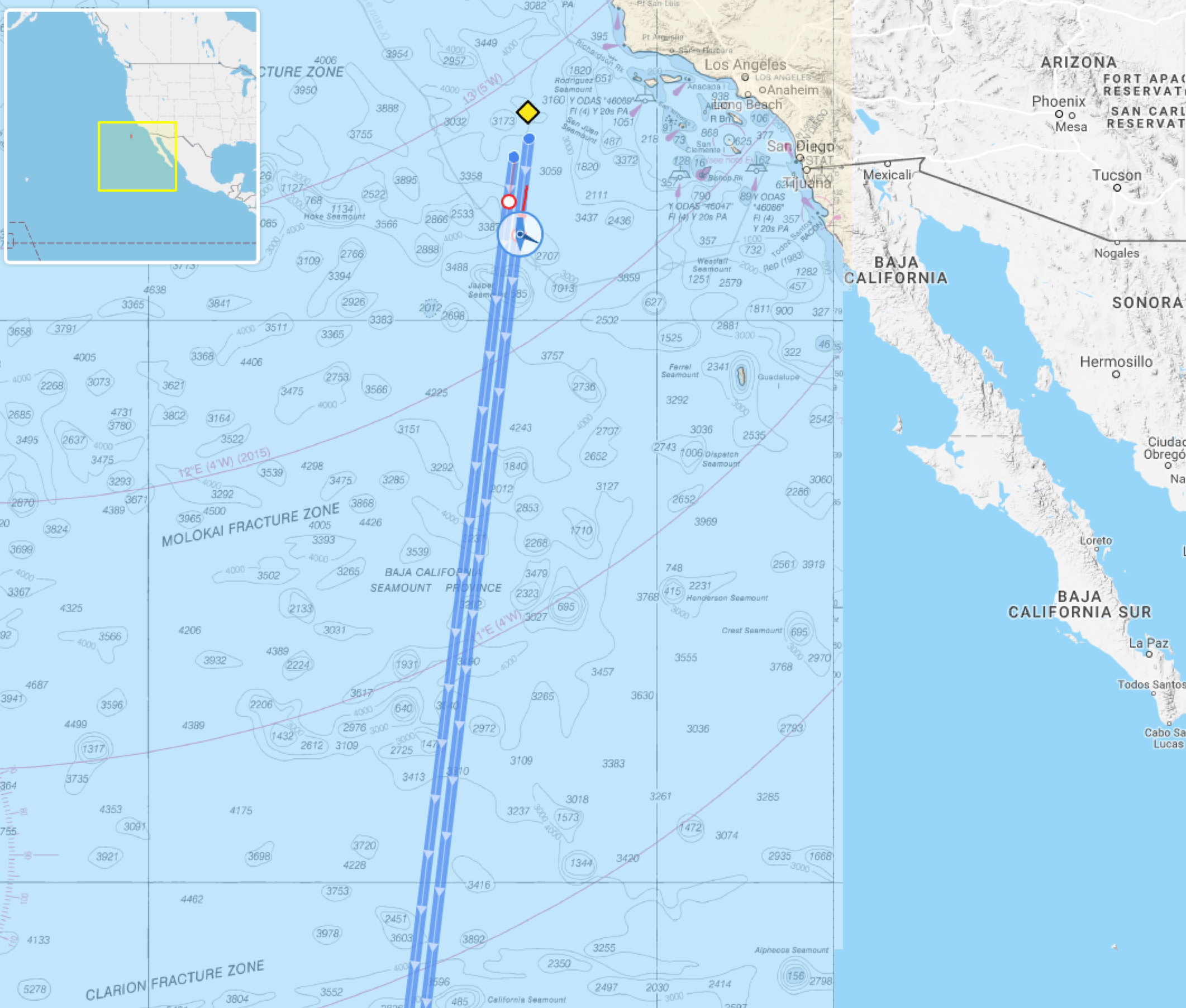 Planned path of the Saildrones heading to the tropics.
The Saildrones have passed the California / Mexico border, and are now in international water. They're on a path headed southwest, as they make their way to the tropics.
They have a long way to go!
The drones are still more than 1,200 nautical miles from their next planned stopping point, in the middle of the Pacific Ocean. It's expected to take about 30 days for them to get there, traveling at an average speed of 2kts.
The first stop at the CCE mooring didn't quite go as planned. Low winds made it tricky to get the drones close to the buoy. And unfortunately, the transmitter battery on the buoy died! We won't be able to do a comparison with all of the data until the mooring is recovered in a couple months.
Saildrones Begin the First Leg of a Six-Month Mission to the Tropics
September 5, 2017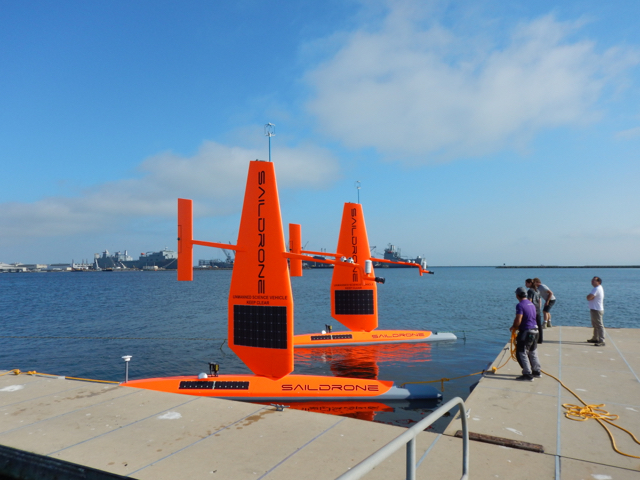 The Saildrone team preparing the vehicles for launch.  (Photo credit:  J. Keene, OCS)
After departing San Francisco Bay on September 1, 2017, two Saildrones began the first leg of the planned six-month TPOS Mission.  (For more information about the mission, refer back to the main Saildrone page.)
The first stop for the drones will be the NOAA-funded California Current Ecosystem Mooring (CCE-1), located off the coast of Santa Barbara, CA.  Here, researchers will compare data from the mooring to measurements made by the instruments on the drones.  This will allow them to perform a final check of the data being acquired by the drones before heading out on the science mission.
The drones will also be able to sail around the buoy, giving some sense of how the parameters being measured may vary across the study area. Measuring this spatial variability can add value to the data set, and is part of what makes the Saildrone such a unique tool.  While a mooring only measures data in one place, it can be very useful to know how the measurements may change over a larger area. This allows researchers to develop a bigger picture of the environment, and better understand influences and interactions within the climate system.
After spending about a day at the CCE mooring, the drones will begin the long transit to the next study site.  Getting to the site at 10°N, 125°W is expected to take about 30 days of sailing time.  Scientists will be able to monitor the data during the transit, and observe any fronts or other interesting features along the route.  Stay tuned!