Overview | Bering Sea | Barents Sea | Greenland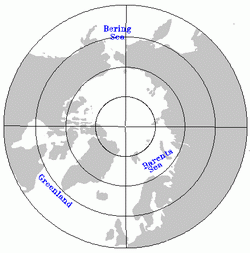 Map showing locations of the Bering Sea, Barents Sea, and Greenland.
We present ecological information for the three major marginal seas at the southern margin of the Arctic: the Barents Sea, the Bering Sea and the Northwestern Atlantic Ocean. These seas are regions of major biological productivity and economic resource. Click on the links above for more details about the ecosystem of each area. The Bering Sea is relatively shallow (100 m), the Barents Sea is deeper, but still a continental shelf, and the Greenland area (northwest Atlantic) is deep ocean.
Find more information (references and websites):