Sea Ice | North Pole Observations | Glaciers | Snow Cover
See the Arctic Report Card essays on Terrestrial Snow!
The Arctic is generally snow covered in winter, so variations in snow cover extent actually occurs in the sub-Arctic more than in the Arctic. Snow cover area in Eurasia decreased in the early 1990s and during a cold event in 2003, but generally the observational record (based on satellite data) shows large year-to-year variability.

Monthly mean snow cover extent departures.
Note: 12-month running anomalies of monthly snow extent are plotted on the 7th month from November 1966 to December 2015. From the Global Snow Lab at Rutgers University.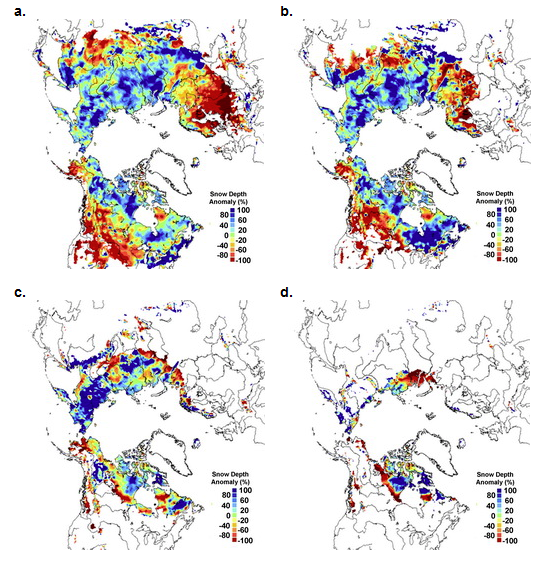 Snow depth anomaly (% of the 1999-2010 average) in 2015 from the CMC snow depth analysis for (a, top left) March, (b, top right) April, (c, bottom left) May, and (d, bottom right) June. See Arctic Report Card 2015.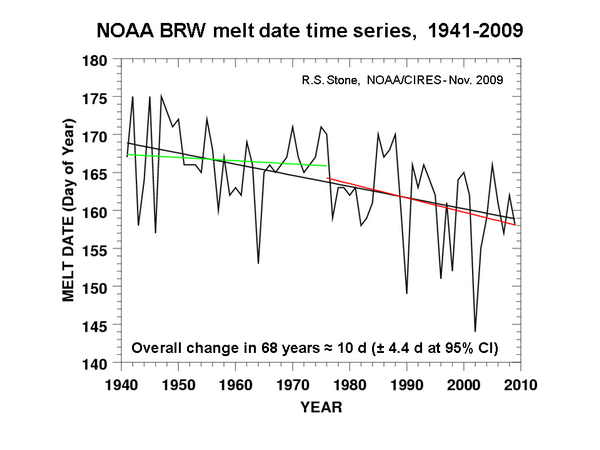 Time series of snow melt dates (as day of year) constructed for the NOAA ESRL GMD Barrow Observatory (BRW). Three linear regressions are plotted; an overall fit for 1941-2009 (black), one for all years prior to 1977 (green), and a third beginning in 1977 (red). The time series was compiled from direct snow depth observations, proxy estimates using daily temperature records, and beginning in 1986 on the basis of surface albedo measurements (Stone et al., 2002). The analysis updates that reported by Stone et al., (2005). The overall trend is quantified in the legend at the 95% confidence interval, and is obviously dominated by several years of early melt beginning in 1990.