Roads | Permafrost | Tundra | Rivers | Waterfowl | Caribou
See the annually updated Arctic Report Card essay on Tundra Greenness!
Tundra is a region that is covered with low shrubs and vines because the summer temperatures are not warm enough to support forests. The map shows the regions of tundra in brown and light green. Over the last 25 years, the tundra has changed, with some regions having an increase in the amount and type of shrubs, and other regions being converted to wetland. Satellite observations of tundra area (NDVI) can be calibrated by comparison with surface measurements such as those shown on the map below. This method indicates an approximate decrease in tundra area of 18% over the past twenty years. Tundra area can also be roughly estimated as the region with monthly summer temperatures less than 10 degrees Centigrade. Changes in tundra area derived from two different temperature data sets (CRU and NCEP) are also shown below.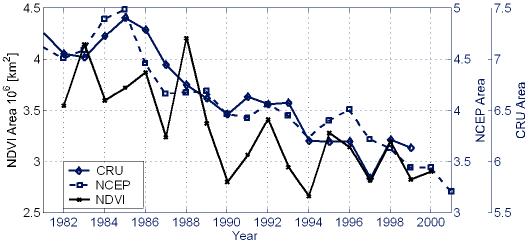 Tundra area based on NDVI and Koppen Classification. From Wang, M., and J.E. Overland (2004): Detecting Arctic Climate change using Koppen classification. Clim. Change [In press].
Present day natural vegetation of the Arctic and neighboring regions from floristic surveys. Vegetation types 1-5 are classified as Arctic, whereas types 6-8 are classified as sub-Arctic. [from ACIA]
Shown below are two photographs from the same location in Alaska, showing the transition from tundra to wetlands over the last twenty years (from Torre Jorgenson).
Tundra
Wetlands

Permafrost degradation on the Tanana Flats (Jorgenson, et. al., 2001, Climatic Change)
Find more information (references and websites):