Global Temperatures | City Temperatures | Ocean Overturning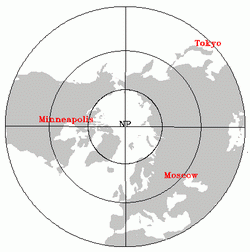 This page shows how the Arctic can influence weather further south. Changes in the polar winds can impact the weather at lower latitudes. We have selected three cities that are representative of this impact.
Atmospheric winter winds in the northern mid-latitude regions of the northern hemisphere tend to have periods when the winds blow from west to east, and periods when the winds follow a more wavy pattern with winds from the south in one region adjacent to regions with winds from the north.
A way to track the occurrence of the wavy pattern is to note the number of days in each winter in which there are cold winds from the north. Shown below are a decrease in the number of extremely cold days for Minneapolis, Moscow and Tokyo (three mid-latitude cities) from the 1960s to the 1990s. This shows how the Arctic can influence weather further south. Not all of these changes may be from Arctic climate effects. The warming of cities from building over time, called the "heat island" effect, may also contribute to warming.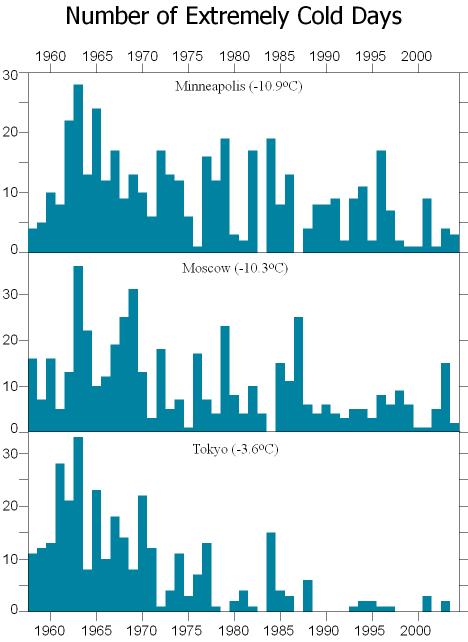 Th number in parentheses after each city name in the graphic above is the cutoff below which temperatures are considered "extremely cold" at each location. This cutoff is 1.5 standard deviations below the mean winter temperature for each city. The graph indicates the number of days in each year in which the minimum temperature is below that number.
Data from Global Historical Climate Network (GHCN), the World Monthly Surface Climatology dataset (ds570.0), the NCDC Summary of the Day data, and NNDC Climate Data On-Line.
Find more information (references and websites):
The urban heat island in winter at Barrow, Alaska: Hinkel, KM; Nelson, FE; Klene, AE; Bell, JH International Journal of Climatology [Int. J. Climatol.]. Vol. 23, no. 15, pp. 1889-1905. 2003.
Thompson, D. W. J., and J. M. Wallace, 2001: Regional Climate Impacts of the Northern Hemisphere Annular Mode. Science, 293, 85-89.
The Polar Vortex - definition, from National Snow and Ice Data Center
Phases of the Arctic Oscillation, the Polar Vortex and Arctic weather patterns - from National Snow and Ice Data Center
The Arctic Oscillation and polar vortex - from the National Snow and Ice Data Center
The Arctic Oscillation's impact on northern climate - from the University of Washington
Distribution of Monthly and Seasonal US Climate means - from the Earth System Research Laboratory