This table of indicators provides an overview of the current status of the Arctic from 1970 to the present. Changes in the last decade are continuing, major and unprecedented.
These selected time series represent four indicator types (climate, land, marine, ecosystems). The combined indicators are the result of a mathematical analysis (principal component analysis) which resolves the trends in all the time series into two major components. Red colors indicate the large changes in recent years (largest 1/3 of values in the record). The middle third are shown in grey and the lowest third are shown in green.
Note the shift from green to red in recent years for many of the series, and that the primary time scale of variability is decadal. The first component of the combined indicators is an overall change from lower values before 1989 to higher values. The second component shows that some of the records had high values in the late 1970's and after the late 1990's. More detailed information about each indicator can be found in the list on the left of the screen.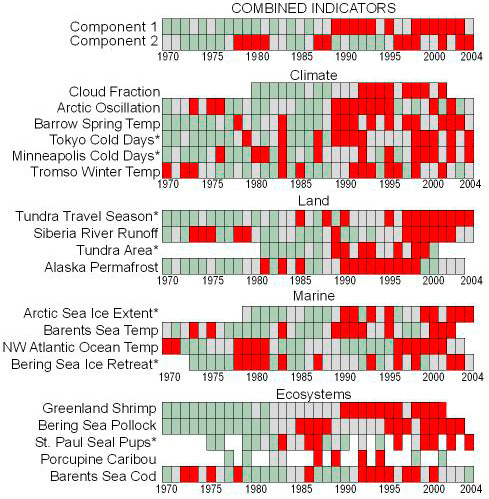 A selection of time series representing four data types that demonstrate Arctic change over previous decades. Data values are divided into three groups: lowest 1/3 (green), middle (gray), and highest 1/3 (red). To demonstrate covariability over time, some series have been inverted, as noted by a star. The data are drawn from the time series in the the different sections of this website. Click on the navigators on the left panel to see the original time series and credits.
Find more information (references and websites):