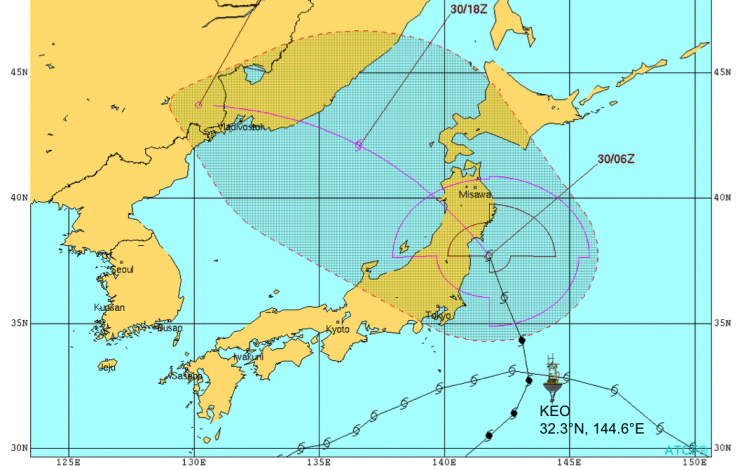 Path of Tropical Storm Lionrock, as it passed the NOAA KEO mooring, and makes it way toward Japan.  Storm track image from the Joint Typhoon Warning Center.
As residents in Japan prepare for Tropical Storm Lionrock today, scientists at NOAA and the University of Washington's Joint Institute for the Study of the Atmosphere and Ocean (JISAO) study the behavior of the storm.  Lionrock is expected to make landfall across northern Japan, affecting many highly populated areas, including Fukushima and other areas impacted by the 2011 tsunami.
With funding awarded for research after Super Storm Sandy caused massive damage to the east coast of the US, NOAA and JISAO scientists aim to improve storm track models to better predict where storms will go, and how powerful they might become.  To achieve this, they are using data from the NOAA Kuroshio Extension Observatory (KEO), along with model simulations performed at NOAA's Environmental Modeling Center. 
KEO is a moored buoy, located off the coast of Japan, where it is frequently in the path of storms and tropical cyclones.  When Lionrock passed over KEO on Monday, wind gusts were recorded at over 81mph, and storm-induced currents approached 3 knots, some of the highest ever recorded at the site.  These data, along with other measurements of the ocean state, both before and after the passage of the storm, will be valuable tools in assessing, and ultimately improving, storm prediction models.
By:  Jennifer Keene