Mission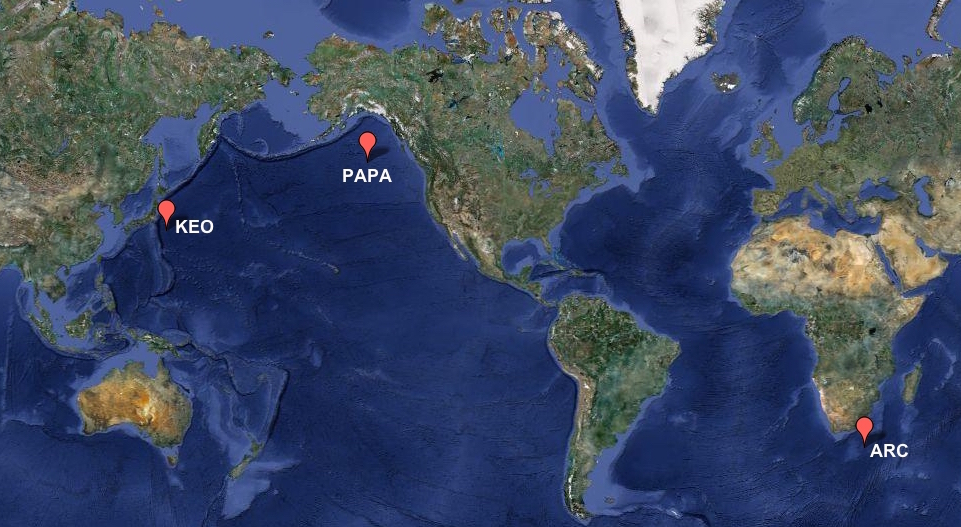 Map of OCS mooring sites.
With more than 70% of the Earth covered by oceans, global weather and climate are strongly affected by exchanges of heat and moisture between the ocean and the air.  The mission of the Ocean Climate Stations Project (OCS) is to make meteorological and oceanic measurements from autonomous platforms. These reference time series and innovative measurements are used to improve satellite products and forecast models, and improve our understanding of air-sea interactions, and their role within the climate system.
Improved understanding of the climate system will help society adapt to climate variations and changes. Improved, more physically realistic forecast models will help reduce society's vulnerability to weather and climate extremes, preparing a weather-ready nation.
The OCS program encourages broad use of the data and welcomes collaboration.  Visit our data pages, and feel free to contact us to learn more.
What's New
As residents in Japan prepare for Tropical Storm Lionrock today, scientists at NOAA and the University of Washington's Joint Institute for the Study of the Atmosphere and Ocean (JISAO) study the behavior of the storm.  Lionrock is expected to make landfall across northern Japan, affecting many highly populated areas, including Fukushima and other areas impacted by the 2011 tsunami.
With funding awarded for research after Super Storm Sandy caused massive damage to the east coast of the US, NOAA and JISAO scientists aim to improve storm track models to better predict where storms will go, and how powerful they might become.  To achieve this, they are using data from the NOAA Kuroshio Extension Observatory (KEO), along with model simulations performed at NOAA's Environmental Modeling Center. 
KEO is a moored buoy, located off the coast of Japan, where it is frequently in the path of storms and tropical cyclones.  When Lionrock passed over KEO on Monday, wind gusts were recorded at over 81mph, and storm-induced currents... more