Mission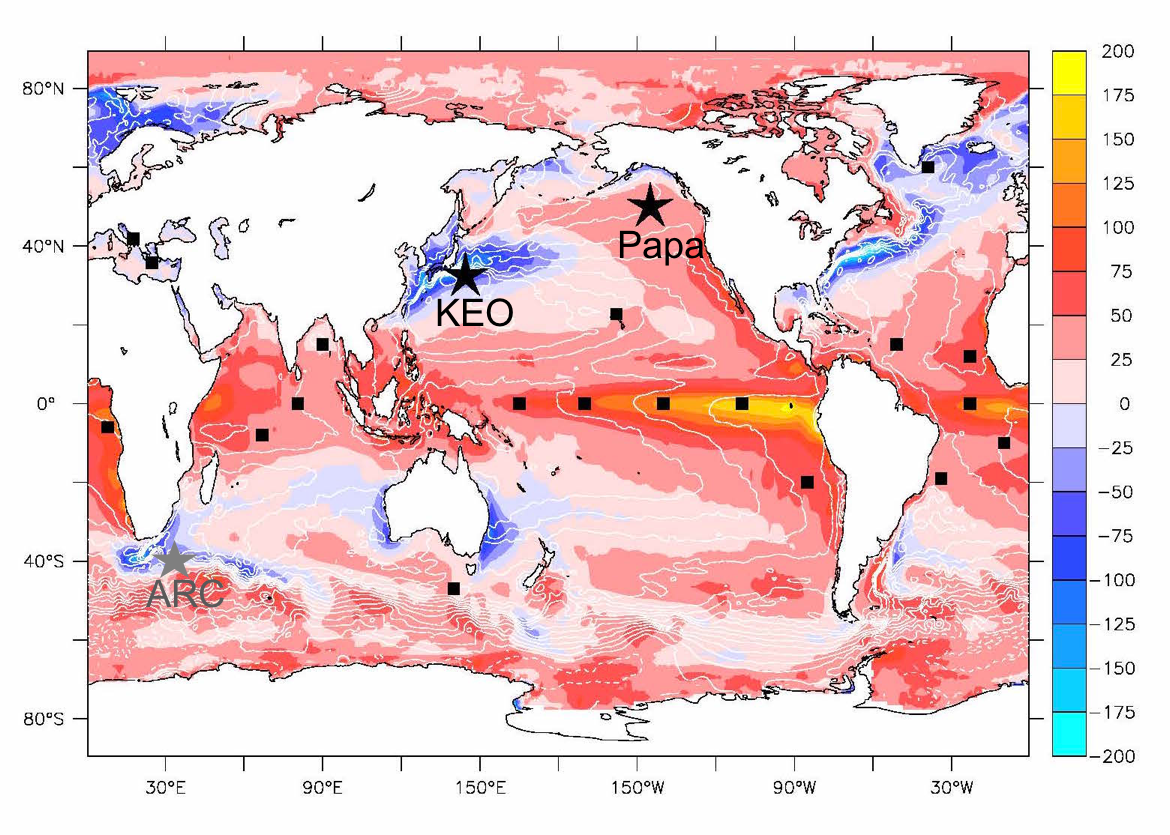 OCS mooring sites (stars) shown on a map of net surface heat flux (W/m2). Other air-sea flux OceanSITES stations are indicated by black squares.
The mission of the Ocean Climate Stations Project (OCS) is to make meteorological and oceanic measurements from autonomous platforms. These reference time series and innovative measurements are used to improve satellite products and forecast models, and improve our understanding of air-sea interactions, and their role within the climate system.
With more than 70% of the Earth covered by oceans, global weather and climate are strongly affected by exchanges of heat and moisture between the ocean and the air. Improved understanding of the climate system will help society adapt to climate variations and changes. Improved, more physically realistic forecast models will help reduce society's vulnerability to weather and climate extremes, preparing a weather-ready nation.
The OCS program encourages broad use of the data and welcomes collaboration.  Visit our data pages, and contact us to learn more.
What's New
On October 19, 2017, the OCS KEO mooring broke from its anchor and went adrift.  Though it drifted in the North Pacific for two full months before being rescued, the buoy stayed in the Kuroshio Extension's recirculation gyre, and had nearly made its way back to the original anchor location to meet the rescue ship.
The KEO station is located off the coast of Japan. NOAA has maintained a surface mooring there since 2004, and Japan Agency for Marine-Earth Science and Technology (JAMSTEC) has maintained a subsurface sediment trap at KEO since 2014. The KEO surface mooring carries a suite of instrumentation to monitor air-sea exchanges of heat, moisture, momentum (wind stress), and carbon dioxide; surface ocean acidification; and upper ocean temperature, salinity and currents. The combined data sets from both moorings enable computation of the physical and biological pumps of the carbon cycle in this key region of the North Pacific.  As such, the site has become a focal point for international climate research.
Researchers are now looking with interest at the data set recorded during the time when the buoy was drifting.  The path taken by the buoy is... more