Mission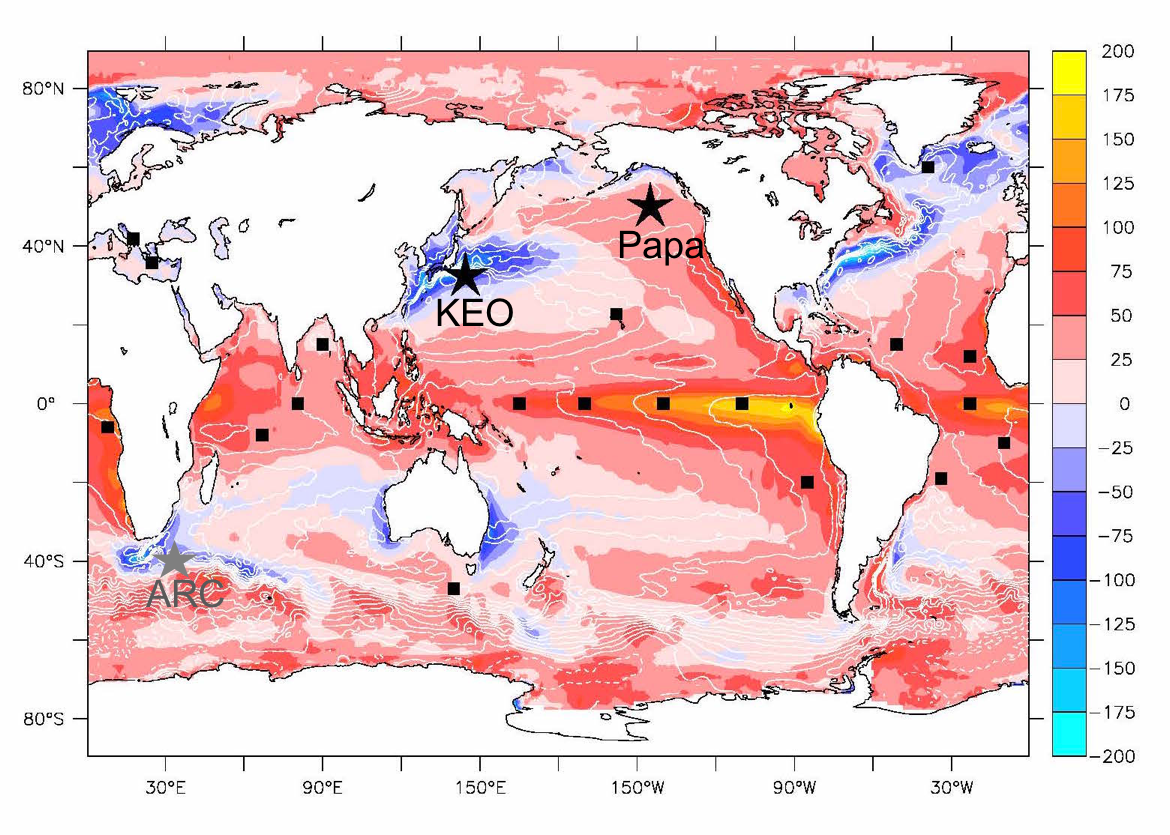 OCS mooring sites (stars) shown on a map of net surface heat flux (W/m2). Other air-sea flux OceanSITES stations are indicated by black squares.
With more than 70% of the Earth covered by oceans, global weather and climate are strongly affected by exchanges of heat and moisture between the ocean and the air.  The mission of the Ocean Climate Stations Project (OCS) is to make meteorological and oceanic measurements from autonomous platforms. These reference time series and innovative measurements are used to improve satellite products and forecast models, and improve our understanding of air-sea interactions, and their role within the climate system.
Improved understanding of the climate system will help society adapt to climate variations and changes. Improved, more physically realistic forecast models will help reduce society's vulnerability to weather and climate extremes, preparing a weather-ready nation.
The OCS program encourages broad use of the data and welcomes collaboration.  Visit our data pages, and feel free to contact us to learn more.
What's New
Excited to be doing our first mission using Saildrones, the OCS project has launched the OCS Saildrone Mission Blog. 
This is where we'll be posting regular updates about the mission, so be sure the check in to get the latest on what's happening. We'll discuss where the drones are, where they're going, what they're doing, and what we're studying.
When we find something interesting, we'll write about it here first!
For background on the Saildrones, and the purpose of this mission, you can learn more on our Saildrone page. You can also watch a great news clip about the launch, that happened on September 1, 2017.
Be sure to bookmark the blog for regular news about the latest mission developments!
By:  Jennifer Keene