Mariner and Public Notice of Research Platforms
2018 - If you would like to be included on our email list for Notice of Operations and other updates, please fill out our Google Form.
Current Updates of Research Platforms
PRAWLER - Deployed. Surface mooring, 3 sec flashing yellow light,  56 52.00 N, 164 04.00 W (Reported to D17 USCG NTM)
OCULUS - not deployed
SAILDRONE - OCEANOGRAPHIC AND FISHERIES SURVEY:  NOAA is conducting oceanographic and fisheries acoustic surveys in the US Arctic from June 30- beginning October 2018, 24 hours a day, for the purpose of ocean acidification and fisheries research. The survey will be conducted by four unmanned surface vehicles, saildrone, each 23', orange in color and marked "SAILDRONE". The USVs will be deployed from Dutch Harbor, AK, transit North through Bering Strait, and into the Chukchi and Beaufort Seas. All saildrone will operate individually, and will have limited maneuverability during survey operations. Mariners are requested to transit the areas with caution and to remain greater than 500 meters away from the research equipment.  The platforms maintain a white all-round, masthead light. Enclosure (?) of this Local Notice to Mariners shows the planned tracklines and a description of the saildrone. Mission details and updates (https://www.pmel.noaa.gov/itae/follow-saildrone-2018) can be found online as well as our Notice of Operations (https://www.pmel.noaa.gov/itae/mariner-and-public-notice-research-platforms). Questions should be directed to the Research Coordinator, Heather Tabisola at (206) 526-6662 or by email to heather.tabisola@noaa.gov.
Reported to D17 USCG NTM
Public Notice (click image to view):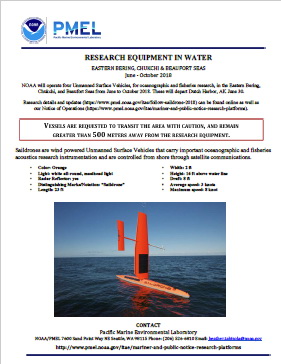 POP-UPs  - not deployed
ALAMO  - Real-time data and locations at https://www.pmel.noaa.gov/arctic-heat/data