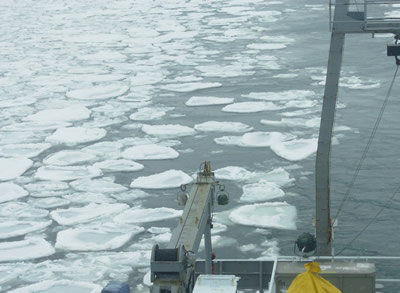 Bering Sea Ice Expedition
April 10, 2007 - May 12, 2007
We have completed the April-May 2007 Bering Sea ice expedition on the USCG Icebreaker Healy, supported by the BEST (Bering Sea Ecosystem Study) program. NOAA ship Miller Freeman worked in the vicinity April 18-May 6 on long-term moorings that will compliment data and observations from the Healy.
We examined ice, water properties and ocean currents, sediments, and biota (including seabirds, phytoplankton, zooplankton, fish, mammals) in the context of this ecosystem. Work on the data will continue. Our scientists include Physical and Chemical Oceanographers, Fisheries Biologists, Bird experts, Acoustics Researchers, and Marine Mammal experts.
These web pages include the daily log and pictures of expedition work and ship life, in addition to maps, data, articles, and links that pertain to our expedition and research. Please check back for additional media or look at the EcoFOCI and BEST Web Sites. Also see the 2006 expedition.
---