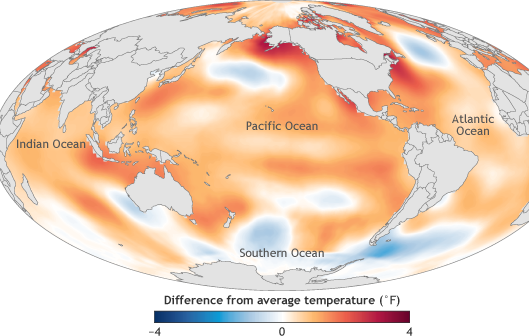 The image is of ocean surface temperature in 2016 compared to the 1981-2010 average. Despite the weakening 2015/16 El Niño event in 2016, the global average sea surface temperature in 2016 beat 2015 as the warmest year on record by a narrow margin. Image credit: NOAA Climate.gov map, adapted from Figure 3.1a in State of the Climate in 2016.
On August 10th, the State of the Climate in 2016 was published in a special edition of the Bulletin of the American Meteorological Society. This 27th annual report is based on contributions from more than 500 scientists representing over 60 countries around the world. It is the most comprehensive annual summary of Earth's climate and provides a detailed update on global climate indicators, notable weather events and other data collected from locations on land, water, ice, and in space.
PMEL, including JISAO and JIMAR, scientists contributed to sections on the global ocean carbon cycle, ocean heat content and arctic air temperature.
The new report confirmed that 2016 surpassed 2015 as the warmest year in 137 years of recordkeeping. Several climate indicators also set new records in 2016, including greenhouse gas concentrations, sea level, and sea surface temperature. The Arctic also continued to warm with average Arctic land surface temperature 3.6°F (2.0°C) above the 1981-2010 average and sea ice extent and thickness remained low.
Dr. Gregory C. Johnson, PMEL oceanographer and editor for the ocean chapter, sums up in Haiku form: 
Large El Niño wanes,
east Pacific tropics cool,
seas shed heat, slow rise
Read the full report, press release and report highlights.