Sea Level & Temperature
Equatorial Pacific conditions during a major El Niño
These images show a cross section of sea temperature and height along the equator in the Pacific Ocean, from Asia on the left,  to South America on the right.
Sea surface height is represented by the bumps,  and sea temperature is represented by color, where red is 86 ºF (30 ºC) and blue is 46 ºF (8 ºC). 
The border between the cyan and dark blue colors is the thermocline, where the sea water is 68 ºF (20 ºC).  Normally, the the thermocline slopes gently upwards and is nearer to the surface off the coast of South America, and warm water is close to Asia, whereas during El Niño, the warm water spreads eastward across the Pacific towards South America, and the thermocline flattens out.

Current Equatorial Pacific conditions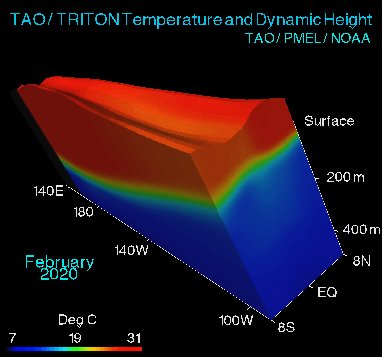 In this realtime animation, you are looking westward along the equator towards Asia (far left), from a vantage point somewhere in the Andes Mountains in South America. The colors indicate ocean temperature, and you can watch the sea surface rise and fall  with the evolution of El Niño and La Niña.
Restart the animation by reloading the browser page, or click to see a Java Script animation with start/stop and speed controls.
Graphics Credits: