About
RUSALCA Introduction
Kathleen Crane
U.S. Mission Coordinator, Arctic Research Office NOAA
July 23, 2004 marked an historic day in Arctic research and exploration as well as Russian-U.S. relations. On this date the Russian research ship, the Professor Khromov, left Vladivostok, Russia packed with U.S.and Russian, funded scientists to begin a 45-day collaborative journey of exploration and research in the Arctic.
Stemming from a 2003 Memorandum of Understanding for World Ocean and Polar Regions Studies between NOAA and the Russian Academy of Sciences, this cruise was the first activity under the Russian-American Long-term Census of the Arctic (RUSALCA). RUSALCA means mermaid in the Russian language. In November 2003, a RUSALCA planning workshop was held in Moscow, Russia to outline the biological, geological, chemical and physical oceanographic sampling strategies to be pursued in the Bering Strait and the Chukchi Sea.
The Initial Expedition to the Bering and Chukchi Seas (Arctic Ocean), was conducted July 23 – September 6, 2004. This initial cruise was a collaborative U.S – Russian Federation oceanographic expedition to the Arctic seas regions shared by both countries: the Bering and Chukchi Seas. These seas and the life within are thought to be particularly sensitive to global climate change because they are centers where steep thermohaline and nutrient gradients in the ocean coincide with steep thermal gradients in the atmosphere. The Bering Strait acts as the only Pacific gateway into and out of the Arctic Ocean and as such is critical for the flux of heat between the Arctic and the rest of the world. Monitoring the flux of fresh and salt water as well as establishing benchmark information about the distribution and migration patterns of the life in these seas are also critical pieces of information needed prior to the placement of a climate-monitoring network in this region.
The Initial Expedition
The initial expedition cruise was divided into three integrated parts, or legs. The first two legs included sampling and instrument deployment in U.S. and Russian territorial waters. The cruise objectives for the United States partner were to support the U.S. interagency Study of Environmental Arctic Change (SEARCH) Program, the NOAA Ocean Exploration Program and the Arctic Ocean Census of Marine Life (ArcOcCoML).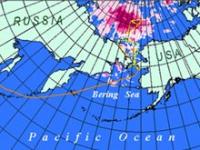 This map traces the voyage of the Professor Khromov, a Russian research vessel engaged in the RUSALCA expedition, as a thin orange line. The pink and red areas indicate regions of enhanced ice melting in the Arctic Ocean between 1970 and 2001. [Map: K. Crane]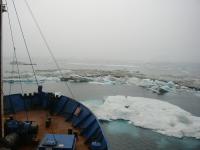 Arctic scientists are continuously finding new and interesting, sometimes even alarming, information about changes in the sea ice over time. In this photo, the Russian Vessel Professor Khromov picks its way through dirty ice near Herald Island. [Photo: K. Wood]