Metagenomic Fluctuations of Zooplankton and Ichthyoplankton Communities in the Salish Sea
The PMEL Ocean Molecular Ecology group uses plankton net and environmental DNA (eDNA) sampling to investigate the taxonomic and metagenomic variance across regions, seasons, and years of contrasting water chemistry. Our project aim is to achieve a new understanding of the dynamic responses by zooplankton and ichthyoplankton communities to physical and chemical changes using state-of-the-art high-throughput metagenomic assays. Zooplankton and ichthyoplankton communities are some of the most vulnerable to ocean acidification (OA) - and other chemical and environmental perturbations, including hypoxia (H) and warming - and comprise the prey items for larger pelagic and benthic invertebrates, fishes, and marine mammals. The novel metagenomic approach to be applied allows us for the first time to understand biological interactions and responses to OA and hypoxia at the species and community levels. We complete this work by participating in the Washington Ocean Acidification Center (WOAC) cruises. Microscopic identification of the zooplankton using traditional morphological characters is conducted in Dr. Keister's Lab at the University of Washington.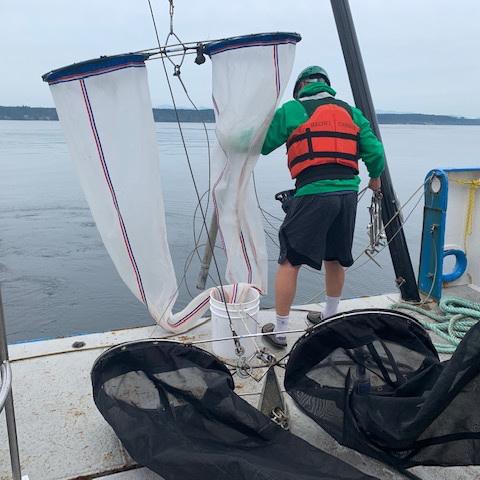 Zooplankton sampling nets aboard the R/V Rachel Carson in the Salish Sea, to be analyzed for species identities and genetic diversity in comparison with morphological identifications using microscopy by the laboratory of collaborators.