** Cruise - R/V Thompson: May 15, 2006
We pulled into Seward, Alaska on Friday, May 12 and tied up to the dock by 3:30 p.m. (Alaska Daylight Time zone). Packing and cleaning labs and state rooms continued during the day. By mid-afternoon we were able to disembark from the R/V Thompson, take a walk on land for the first time in a month (for some), and have dinner in town. After being away from land, the smell of trees and vegetation are very notable, walking on solid ground feels different, and the lack of ship's noises are soothing to the ears. Seward is a beautiful small town set on the Kenai Peninsula on Resurrection Bay amid snowy mountains. A great view of Bear glacier is afforded steaming down the Bay toward the Port of Seward's Alaska Railroad Dock. On-land air temperatures near 60°F (15.5°C) were a pleasant surprise. What a contrast to the -12°C (plus wind chill factor) we experienced at the beginning of the trip.
Saturday morning, May 13, was a frenzy of final packing, stowing large containers on the ship, and moving equipment off ship with a crane. After carrying off our luggage and good-byes to the crew with whom we'd worked so closely and so successfully during the month, we boarded a bus for the three-hour drive to Anchorage and the airport. Some of the samples we collected during our expedition travelled along with us on the airplanes. Everyone from the science parties of both the NOAA Ship Miller Freeman and R/V Thomas G. Thompson are done with the research cruise and home. Now we will dig into the data we collected and assess our results. Some of the ship's crew members left the ship, but many are still onboard and already headed out with the next team of scientists.
Later this week we will make changes to this web site and are hoping to add more of the multitude of images we collected during the expedition, so check back.
** Cruise - R/V Thompson: May 11, 2006
Yesterday took us through Shelikof Strait as we head towards Seward, our final ship destination. We have had calm and beautiful seas on our trek homeward, a notable contrast from the storm driven conditions on the front end of our journey (see April 12 and 13 log and images). Now that we are in pack-up mode and I am off my 6 a.m. to 6 p.m. shift, I am up at 10:30 p.m. (or 22:30) to report the remaining daylight in this northern latitude. The sun is still trying to set, casting a pink glow over cloud, water and sky. The moon is almost full and came up behind the mountains on Kodiak Island to cast a light stream across fairly calm water. A pod of dolphins was sited from the bridge as well a humpback whale. We're moving northeast at 12 knots.
Packing continues and most of the various lab spaces are torn down. We are organizing containers for the offloading on Friday and Saturday. Some of our equipment will be stowed onboard since the Thompson's home port is Seattle, and she'll be arriving there in mid June. Our closing work list is full and includes cleaning out our state rooms and swabbing the decks in our science labs. Tomorrow we pull into port in Seward.
** Cruise - R/V Thompson: May 10, 2006
Just before light this morning we headed through Unimak pass and into the Gulf of Alaska. Heavy snow dusted the deck. By mid-morning we had a grand view of Unimak Island and two of its volcanos, Shishaldin at 9387 feet high, and Isanotski Peak at 8088 feet. Shishaldin last erupted in 1999. Heading northeast along the Aleutian Peninsula, we have passed though beautiful mountain scenery in the Shumagin Islands: some heavily snow-covered and some stark rocky mountain landscapes.
The cod forms from the bongo are being entered into the computer and CTD logs scrutinized, microscopes are being packed, lab bottles washed, the nutrient lab is being disassembled, and our large shipping containers are sitting around the lab being filled and shuttled via crane to a hold area below main deck. The birders saw puffins just before finishing their observations. After dinner a whale sighting announcement rang through the ship from the bridge. We rushed out to see spouting of humpback whales that Beth and Bob from the marine mammal group identified for us. Air temperatures today have been above 0ºC (32ºF) and as high as 3ºC (37.4ºF), seeming balmy contrasted with the cold we saw in the Bering Sea.
** Cruise - R/V Thompson: May 9, 2006
Most data collection came to a finish today. The last CTD/Bongo of the last transect was finished by 3 p.m. local time (Hawaii-Aleutian Daylight Time). We record time in UTC (Coordinated Universal Time), nine hours ahead of local time. So local 3 p.m. (or 15:00) is 24:00 UTC. UTC is sometimes called GMT (Greenwich Mean Time) or zulu time (military, aviation use). We had been working on this transect since Monday evening (May 8), and collecting data every 10 nautical miles along the transect line. The line was completed southeast of St. George Island, part of the Pribilof Islands, and in the area of Pribilof Canyon. The final CTD was deeper than our average at 247 meters due to the proximity of the canyon. Bird observations will continue at least through Unimak Pass, which we will reach in the early hours tomorrow.
The turning point of this expedition has arrived. Our port of arrival is Seward, Alaska and our steaming time to that port is just over three days. In our last days we need to finish cruise paperwork, help the Chief Scientist pull together a cruise report, and jump into the onerous job of packing all our instruments, supplies and personal gear for disembarking.
** Cruise - R/V Thompson: May 7-8, 2006
We are nearing the last day of our expedition work this Monday evening. Yesterday and today we ran CTD/Bongo operations along a transect visited earlier in this trip. Hoping to visit a number of previous locations, we found heavy ice toward the north that stopped our progress. The broken and stacked-up ice differed notably from the pancake ice we had seen earlier in the cruise. We are seeing changes in the water column properties that suggest spring conditions. Whereas earlier in the cruise the water was mostly well-mixed with similar temperatures in the shallow depths and deeper, now we are often seeing a signal where water is slightly cooler at the surface and warms up as much as a degree centigrade below 15 to 25 meters. The thermocline marks the area where this temperature change occurs. We can see these water-column temperature values in our CTD casts. The CTD (conductivity, temperature and depth instrument) records data from near-surface water to near-bottom water as it descends and ascends in the water column. Air temperatures are warming on average, and we were able to go out on deck late afternoon to sunshine and temperatures hovering around -2ºC.
We used a new net yesterday called a Ring Net that has 200 micron mesh and is being used to collect copepods for egg production experiments. The net is different from the tucker and the bongo nets in that the cod end that catches zooplankton is designed to keep the animals in water and still alive and in good condition as they come up through the water and back onto the ship.
** Cruise - R/V Thompson: May 5-6, 2006
We finished work in the western-most part of our journey with Seal and Bird operations. Approximately 10,000 birds have been sighted and categorized so far in this cruise. An additional female and pup spotted seal, and an adult ribbon seal were tagged on Friday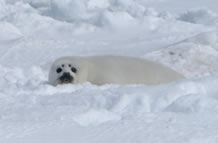 Seal Pup on the ice. Photo by M. Cameron.
evening (May 5). Adult seals are tagged with both spot tags (on flipper) and splash tags (an antenna/instrument on the back), and pups with only the spot tags since they will soon lose their coat (white lanugo fur) and a splash tag would also be shed.
Last night we steamed south and east to an area we visited earlier in the cruise, approximately 172º 51' North and 58º 06' West. We spend the afternoon with tucker net trawls and found plenty of snow crab larvae, something we were looking for and found a little of earlier in the cruise. Water temperature is near 0ºC. Air temperature was up to nearly -5ºC, though with wind chill temperature on deck was -24ºC. Just now we are headed toward our mooring site M4 (see April 18-27 entries). The transit will take all night. Ice coverage is unknown but ice maps show that ice is present.
** Cruise - R/V Thompson: May 4, 2006
Last night we accomplished a CTD/Bongo transect and today has been dedicated to bird and seal observations. We had hoped for seal tagging during the day, but few were sighted that were accessible to the zodiacs. Finally after dinner the boats were launched and a female and pup were caught and tagged. Soames Summerhays, our guest filmmaker, has been out with some of the seal tagging operations. Many of us wander up to the bridge to view off-ship operations from a distance when time allows. Tonight we were happy to look at some of Soames' film showing close-up action on a tagging of a pup and female.
On other fronts, catching up with sample processing and paperwork are our current priorities. Ping pong tournaments have begun in the science lab (far from the microscopes) with fierce competition and an occasional ship roll. Weather was not as sunny or warm as yesterday with grey shades presiding.
** Cruise - R/V Thompson: May 3, 2006
We remain at a western location near the dateline with operations between 177º 17' and 178º 10' West, and 59º 13' and 59º 30' North. We've had CTD casts in water depths of 160 to 530 meters, reflective of the deeper slope area. Cast depths earlier in this cruise averaged closer to 150 meters in the Bering Sea Shelf region referred to as the Middle Shelf Domain. We are beginning to see oceanic copepods (neocalanus) and fish larvae in the samples provided by Bongo net tows, but also large amounts of algae (large-chain diatoms), making it difficult to sort samples. At our M4 location between April 18 and 27 the Bongo tows contained greater diversity and numbers of zooplankton (euphausiids and copepods) and much small volumes of algae.
We had a science meeting this evening to lay out plans for the rest of the trip. Balancing time for all operations between many scientific disciplines is difficult. Our party collectively covers Marine Mammal research, Physical Oceanography, Chemical Oceanography, Fisheries Oceanography and Biological Oceanography. Since our transit and return to land will take days, our at-sea work time is looking very short and we are negotiating what activities will occur to make the best use of our remaining time.
** Cruise - R/V Thompson: May 1-2, 2006
May has arrived and things have warmed a little to a balmy -2.6º C temperature this evening. We have been veering west and are fairly close to the International dateline (180º West longitude). The last CTD/bongo we did was at 177º 35.55' West longitude and 55º 24.95' North latitude. From this location it would take 4-1/2 days to steam to Seward, the port where we will end this trip. In the next two or three days we will finish work in this area and will begin heading east to re-visit sites from the first leg of the cruise to get an idea of how things are changing.
Most of the areas we have measured and observed on this expedition have been on the Eastern Bering Sea Shelf. This shallow shelf is mostly less than 100 meters deep. The Western Bering Sea is a much deeper basin (maximum depth 3500 meters), and connecting the shelf and basin is the Bering Sea slope. Today we were at the slope in 300 meters of water.
The last 2 days have been full of our usual activities: bird observations, seal observations, seal tagging, ice coring, and CTD/bongo operations. More ribbon and spotted seals have been tagged and one more series of ice cores brought in. The ice we are in is non-continuous, drifting in large rafts of cakes with much of it stacked up so there is irregular height to the strips of ice rather than flatness.
** Cruise - R/V Thompson: April 30, 2006
Another full day of activities has come to pass. This morning we ran two successful tucker trawls, the instrument we tried on April 23, and found large numbers of crab larvae. We then did a CTD/Bongo. Just after noon we had another boat launch and trip to the ice to get ice cores. Our second day of coring was fruitful, though the day was a little colder than yesterday, and wind and cold were a little more troublesome. Today is my weekly laundry day and so I sign off to do chores. The rest of today's log was written by Linda, deckhand aboard the R/V Thompson who lives and plays in Juneau, Alaska.
"Hello Linda, we have an opening for an Able Seaman. The ship will be working in the Bering Sea this April. Interested?" said the Port Captain on the other end of the phone. Ah, springtime in the Bering Sea. What girl from Southeast Alaska could say no to a job like that? Especially on board a 271 foot vessel with all the amenities. Hold on a minute - no one mentioned the 40+ knot winds, 18-20 foot seas, low pressure systems day after day and freezing spray. "Hey Linda, go up to the bow and shovel that snow," barked the Chief Mate. Oh yes, did we mention you have to work through it all?
By the way, there is no cell phone coverage, no satellite television, no place to buy batteries for the ipod, and internet access is dependent on the ship's heading. Hey, wait a minute, this was not in the brochure!
However, did I mention the beautiful sunsets, incredible formations of pancake ice, migratory birds, humpback whales returning, ribbon seals on ice floes, cool science each day, yummy food I do not have to prepare, new friendships and brisk mornings chipping ice from the decks with the sounds of the sea slipping past our hull?
Yes, this girl from Southeast Alaska will take springtime in the Bering Sea and enjoy every moment.
** Cruise - NOAAS Freeman: April 29/30, 2006
The Freeman crew's efforts enabled us to navigate around the many ice obstacles between the ship and mooring site BS-4. From our approach to mooring site BS-4 we knew there were large, impassable bands of ice to the south, east and west of our target. Soon after the recovery of the two 2005 site 4 moorings an impenetrable flow of ice was seen approaching at one knot per hour from the north. Our surface mooring scheduled for deployment at site BS-4 would no doubt suffer severe damage and could possibly sink if it was pounded by the surrounding ice flows. To continue collecting valuable data at this historic PMEL station we quickly converted the surface instrumentation mooring to a subsurface deployment. Within the limits of the mooring design and flotation requirements we deployed the best array of chemical, physical and biological sampling instruments available. The advancing ice forced us to move our deployment site approximately 3 miles south of our intended target. A second mooring with a 300 KHz ADCP current meter and a marine mammal voice recorder was deployed as scheduled. After the completion of mooring operations, we began a CTD transect along the 70 meter isobath. Again the Freeman crew's navigation efforts were challenged by the ice. We have completed nine of the twenty CTD stations along the line and expect to complete the remaining CTDs tomorrow.
| | | |
| --- | --- | --- |
| | | |
| Preparing a marine mammal voice recorder for deployment. Click thumb for larger image. Photo by A. Jenkins. | Temperature sensors (located at the base of each tri-float cluster) record temperatures at 3 and 5m below the surface of the water. Click thumb for larger image. Photo by A. Jenkins. | Freeman crew is deploying a marine mammal voice recorder. Click thumb for larger image. Photo by A. Jenkins. |
** Cruise - R/V Thompson: April 29, 2006
We are back at the ice and into the second leg of this expedition on the R/V (Research Vessel) Thomas G. Thompson. The new members we gained in St. Paul yesterday are getting used to their shift hours and settling in. A few of our newcomers are here to observe our work, record some of it, and report on it: a journalist, a photographer, and a filmmaker.
We woke up in the early hours of morning hearing the sound of the ship going through ice. Many sleeping berths are on platform 01, one deck below the main deck where we work, and near the water line. We can often hear water and ice next to the ship's hull from our berths.
Today was one of the warmest we've had with highest air temperatures near -4.0º C, and this evening was almost clear sky and sun. Two more CTD/bongo operations occurred during the day, but the biggest event was a trip out to an ice floe by our ice-coring group. Small boat operations are very smooth by now with crew graciously working many unpredictable hours and coordinating well with scientists schedules. Two zodiacs were launched with Mike and John from the Marine Mammal Lab (NMML) driving. Colleen, Ned and Peggy were the ice-work team. Conditions were perfect with little wind chill and low sea state. We took three ice cores from our 0.5 meter thick ice floe, bringing two back to the ship for analysis and using one for temperature measurements in situ. By the end of ice operations our ice floe had separated from the cluster of ice where we first found it and was floating alone towards the ship. Our first outing was a success and we will review the process to fine-tune our procedures and our ice log for future trips.
** Cruise - NOAAS Freeman: April 28, 2006
We spent the morning trying to get to mooring site 5. We tried to find a path through the ice, but after making no progress all morning it was decided to head towards mooring site 4. We are making better progress to site 4, but have been still been impeded by the ice. We hope to be on site by tomorrow morning.
| | |
| --- | --- |
| | |
| NOAA diver putting a collection bottle in a mesh bag. Click thumb for larger image. | Under the sea ice. Click thumb for larger image. |
** Cruise - R/V Thompson: April 28, 2006
Today we steamed south to the Pribilof Islands and were in the harbor at St.Paul ferrying departing and arriving personnel to shore.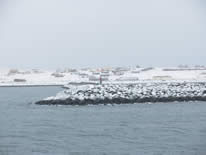 St. Paul, Pribilof Islands, Alaska.
Seven people left and eight new faces came on board to finish the last 14 days with us. Two of the newly-arrived scientists gave a talk to the fifth through eighth grade children at the St. Paul School. Tonight we head north again in hopes of arriving at an interesting ice edge by morning. Then we will dig into the second leg of our research cruise.
** Cruise - R/V Thompson: April 27, 2006
The ice edge has been calm and we've done more CTD/bongo stations last night and today. Fifty-eight CTD casts are finished thus far in the cruise. The Miller Freeman is still in the vicinity and we did a second exchange with them today, returning our bird expert, David, along with Chris and Alex who have been on the Freeman cruise since Seward. Evening will take us on a CTD transect (multiple CTD/bongo operations) south and away from the ice, both looking for changes in the water column and ecosystem, and heading for St. Paul Island in the Pribilof Islands. Tomorrow we exchange a few people. Some of the science party will disembark in St. Paul and fly home. We will have a few new faces on board to replace those that leave.
More seals were seen along the ice edge by seal observers. Another Seal boat operation ensued this afternoon, and the group was able to tag two seals, both on ice floes that had separated from today's ice edge: a 1-year spotted seal pup, and a male ribbon seal.
** Cruise - R/V Thompson: April 26, 2006
We are still weathering the storm with wind speed averaging 35-40 knots and air temperature in the range of -8.5º C to -7.5º C. The low pressure system is hanging over us. The trend in the Bering Sea over the last 10-12 years is an earlier spring with ice retreat occurring at this time of year. Our experience last year was the ice edge retreating and easily found. This year is proving to be different from the pattern of the recent past; we find the ice retreating and advancing, and reactive to multiple winter storms. Winter has not yet finished in the Bering Sea. We are hoping to see the transition between winter and the burst of spring production as we are out here for four and a half weeks.
Late yesterday afternoon we arrived again at an ice edge and are pleased to report the sightings of 72 spotted seals and one steller sea lion.
** Cruise - NOAAS Freeman : April 25, 2006
Seeking shelter from the weather, we spent the day in the shelter of the Pribilof Islands. After modifications designed to improve the stability of the underwater towed vehicle (u-tow), we were able to complete some testing of the u-tow. The modifications lessened the problem we were having with roll of the u-tow during ascent. However, we lost some communications with the u-tow – data still came up the line but we had no control of the elevator fins. Since the original potting material did not set-up and harden completely, it was decided to re-terminate the wire. Once the u-tow was back aboard, Electronics Technician Al re-terminated the u-tow winch wire. We also completed a bongo tow and a Methot tow. David – who is a birder on-board the Freeman during joint operations – saw a red-legged kittiwake. The red-legged kittiwake is very common in the Pribilofs so birders from all over the world come to the Pribilofs to see this bird due to its limited breeding habitat.
** Cruise - R/V Thompson: April 25, 2006
Wind has been blowing between 35 and 40 knots all day, and the storm that set in yesterday afternoon is still with us. Air temperature has been between -9º C (15.8º F). and -8º C (17.6º F) for the last twenty-four hours. Overnight it snowed hard with limited visibility. We were away from an ice edge overnight. We headed back to it this morning finding ice broken up into very small ice-cube sized pieces mixed with larger pieces, and ice is lined up along wind lines. Bird observations were halted mid-day due to limited visibility and storm conditions. We again have white caps, breaking waves and spray, and are waiting for the storm to pass. In contrast, it is hard to believe that Seattle is 75º F (23.9º C).
** Cruise - R/V Thompson: April 24, 2006
The night shift science group successfully completed 6 CTD/Bongo operations. Given the steps it takes to complete even one with the cold weather and freezing that has haunted us, this is a great accomplishment! I think they are exhausted.
Once again spotted seals were seen today, and again the boats were launched with great speed. Weather was in our favor, and this time the seal/mammal group caught a seal pup. Many were watching operations from the bridge and excitement was high. On the middle of an ice floe, the seal pup was constrained by a net until a satellite tag could be applied. The pup is about ten days old and beginning to gain blubber that will keep it warm once it sheds its white lanugo fur. The mother seal stayed in close proximity to her pup, anxiously watching and climbing on and off the same ice floe. It was hoped that she too could be caught and tagged so data could be collected from both animal's movements. Our group was hoping she would come in close enough to her pup to be caught. At least two different times she came close to the pup and was almost netted, but slid under the net into the ice. The pup was tagged quickly and released. When the Seal group left the ice floe the female seal rejoined her pup. The whole effort took two hours or more. Towards the end of the operation we watched ice floes in the vicinity move and shift with the growing swell. The floe with our scientists and the seal pup deteriorated around the edges until it split in half.
Just after the seal tagging activity, during another CTD/Bongo, we watched the weather deteriorate from calm water and sky, to water chop that began breaking up the ice around us. Visibility diminished, snow started and the sky greyed to storm hues. We set about securing things in all the labs: tying down ice coolers, sample jars, tool boxes, and anything we had been using that would move with a rolling sea. The ship's crew secured all other spaces. The storm is upon us and the Thompson is moving away from the ice for now.
** Cruise - R/V Thompson: April 23, 2006
Saturday was business as usual conducting observations and CTD/bongo. We finally met up with the Miller Freeman. After morning communications from both bridges, a few of our party went over to the other ship on a small boat. We exchanged some equipment and laboratory supplies, they were given information about conducting seal observations, and one of our bird observers has stayed on the Freeman for the next few days so we have seal and bird observations occurring on both ships as we do our complimentary work. We're happy to see other ship activity on our horizon.
This morning we were successful in testing another kind of net for data collection, a tucker trawl. It has two large nets and will be used to collect snow crab larvae samples at different depths. We want to see where different stages of larvae thrive near the ice and at what depths in the water column. The hypothesis is that the larvae live on the algae underneath the ice. The Marine Techs have put their heads together to design a better way to launch this heavy instrument, so we should have another try in a day or two.
The evening's excitement was a call from the Miller Freeman saying they had spotted seals on the ice. We immediately deployed three small boats that were out on the water in time to view a triad of spotted seals: male, female and pups. We took the opportunity to go to the ice edge and two people got out on an ice floe as we watched from the ship. They brought back some ice samples in a cooler. The operation went very smoothly, and the weather was with us and good. Bird observers noted seeing a Least Auklet.

** Cruise - NOAAS Freeman: April 23, 2006
The NOAA divers – Mark, Sean and Chris – dove under the ice today. They said the bottom of the ice was jagged – in some places probably 10 feet deep. They collected samples of algae and krill with a slurp gun and by scraping the ice. In addition, they took underwater pictures. Peter preserved the samples using a combination of formalin and sodium borate.
Alex – one of the hydroacoustics experts – provided the following information. Over the course of our acoustic transects, we have observed a consistent near-bottom scattering layer, which is most evident at high frequency. We have seen very little backscatter attributable to fish, which produce strong scattering at lower acoustic frequencies. We have conducted several Methot trawls targeting the near-bottom layer, and, as suspected, the catches have been dominated by shrimp-like animals called euphausiids. These euphausiids, which are commonly known as krill, were adults about 2 centimeters in length. This has verified our suspicion that the near- bottom acoustic backscatter is dominated by acoustic returns from euphausiids. Over the next several days, we will focus our acoustic work on characterizing the distribution of this layer of euphausiids in relation to ice cover.
| | | |
| --- | --- | --- |
| | | |
| NOAA divers. Click thumb for larger image. | Mark climbing out of dive boat. Click thumb for larger image. | Peter with slurp gun sample. Click thumb for larger image. |
** Cruise - NOAAS Freeman: April 22, 2006
We finally met up with the THOMPSON. The Executive Officer (XO) and chief bosun went for a chilly boat ride to transfer scientists and gear from the THOMPSON. Scientists from both ships met to discuss planning strategies for the next few days.
We continue to collect data hydroacoustically along the ice edge and ice-free zones. The Methot net was deployed several times.
Scientists and technicians gathered around the computer screen during the inaugural tow of FOCI's underwater towed vehicle (u-tow). The u- tow is programmed to undulate through the water column while transmitting dual conductivity, dual temperature, chlorophyll-a fluorescence, and laser optical plankton counter data.

** Cruise - R/V Thompson : April 21, 2006
The day started out with high winds. Night ops had more bongo trouble and finished 2 CTD/bongo stations. Today we started a new transect (named C2H) of CTD/bongo deployments. It runs from just east of the M4 mooring site up to the ice edge. On this transect 3 deployments were accomplished (C2H1, C2H2, C2H3). Bongos have been difficult for us to do because of the cold and wind. Bongos consist of 2 large (333 micrometer (µ) mesh) nets on a 60 centimeter diameter frame and 2 small (153 µ mesh) nets on a 20 cm diameter frame, a weight (70 lbs!), and a data recorder (SeaCat). These are all attached to a wire that is controlled by a winch on the deck above. They are lifted from the ship's main deck, over a rail, and fly along just like kites before they are lowered into the water. You can imagine with a strong wind how they might fly about in every direction while hanging in the air. We (the science party) have great support from the two Marine Techs (part of the ship's crew) during all these CTD/Bongo deployments. Rob and Mike alternate 12-hour shifts so one is always available when we need to work, and they work with us. They also keep the ship's computers and software running and provide us with computers and e-mail, among other things.
During the day we made contact with our partner ship NOAAS Miller Freeman via e-mails and radio and made a game plan for the day. Late day was spent steaming along the ice edge. Bird and mammal operations continued. A humpback whale was sighted.
** Cruise - NOAAS Freeman: April 20, 2006
Mooring operations were the order of the day. Luckily the weather was very cooperative. After completing a CTD with chlorophyll and nutrient samples, we started mooring recoveries. We recovered two moorings – one mooring consisted of an ADCP and a SCRIPPS High- frequency Acoustic Recording Package (HARP) sensor. The HARP samples at 80 KHz and is used as a tool to detect many types of marine mammals. The second mooring extended from the ocean floor (71 meters) to approximately 10 meters below the ocean surface. This mooring included instruments that measured conductivity, temperature, currents, chlorophyll-a fluorescence, and nitrate concentration.
We deployed four moorings including a surface mooring and three subsurface moorings. The surface mooring transmits real-time weather, sea surface temperature – as well as the following from 17 meters depth: TAPS-8 data, chlorophyll-a fluorescence, conductivity and temperature. One of the subsurface moorings included the TAPS-8, fluorometer, conductivity and temperature sensors that were moored at 17 meters. The other two moorings were two current profilers and a haruphone. After mooring deployments were completed, a calibration CTD with chlorophyll and nutrient samples was completed.
We then headed toward mooring site 4 to rendezvous with the R/V Thompson.
| | | |
| --- | --- | --- |
| | | |
| Click thumbnail for full image . Photo by Alex DeRobertis. | Click thumbnail for full image. Photo by Alex DeRobertis. | Click thumbnail for full image. Photo by Alex DeRobertis. |