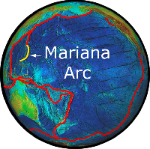 Marianas
The Mariana Volcanic Arc extends from 13°N to 23°N in the western Pacific Ocean, north of Guam. The Mariana region contains 9 volcanic islands and more than 60 submarine volcanoes, of which at least 20 are hydrothermally active. The summits of these submarine volcanoes range from 50 m to more than 1800 m below sea level. This one of the most active volcanic regions on Earth. Here, ocean crust that was born along the mid-ocean ridges millions of years ago in the eastern Pacific is "recycled" back into the Earth's mantle as the ocean floor descends into the Mariana Trench. A portion of the ocean crust remelts and rises to the surface behind the trench along a line of submarine volcanoes and volcanic islands extending north of Guam for more than 1,000 kilometers. Many of the hydrothermally active sites we discovered are now part of the Mariana Trench Marine National Monument.
Visit the Mariana Arc virtually. Click on the image above to download a kmz file that can be opened in Google Earth. In Google Earth, click on the region or any of the seamounts (red triangles) for more information.

Gas bubbles detected in the water column over NW Rota-1 using sonar mapping system.
Overhead view of ROV sampling at the erupting NW Rota-1 volcano.
* Funded in part by NOAA's Ocean Exploration and Research Program
** Funded in part by the National Science Foundation
Link to list of PMEL publications from Mariana Expeditions