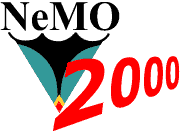 Visit the latest expeditions at:
NeMO
Welcome to NeMO 2000!
Two hundred and fifty miles off the coast of Oregon and Washington, 1500 meters underwater, erupting volcanoes await exploration...
Follow the New Millennium Observatory each year to see what scientists have discovered exploring an undersea volcano.
View the final 2000 cruise report here.