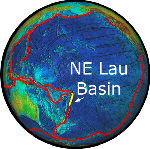 NE Lau Basin:
The Lau Basin is home to the Earth's highest subduction rates and fastest-opening backarc basin, which results in one of the Earth's most densely populated areas of submarine volcanism and hydrothermal activity. Exploratory expeditions using water column sensors and near bottom surveys using a towed camera and a deep-diving autonomous vehicle in 2008-2011 discovered and mapped numerous sites of hydrothermal activity. Information from these cruises provided information used in site selection for the Submarine Ring of Fire 2012 expedition in September 2012, which led to new discoveries.
| | | |
| --- | --- | --- |
| | | |
| Pillow lava erupts from Hades Vent at West Mata volcano. | Location of West Mata Volcano in the NE Lau basin. | Crab and gastropod on active chimney at Mata Tolu. |
NE Lau Basin Multimedia (videos & images for download). Click here for YouTube video of West Mata eruption discovery in 2009.

Link to PMEL publications from Lau Basin Expeditions