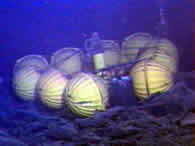 Photo of the rumbleometer stuck in the new lava flow. Image taken by the remotely operated vehicle ROPOS.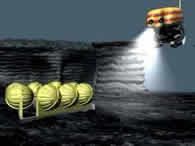 Virtual view of the rumbleometer and ROPOS. Image from the Rumbleometer Virtual site animation.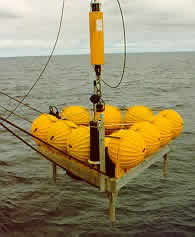 Rumbleometer deployment prior eruption.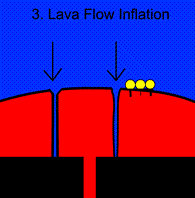 Animation of the lava flow and the rumbleometer's ride up and down on top of the new lava flow.
The Rumbleometer story
Soon after the earthquake swarm began on January 25th, 1998, a lava flow emerged from an eruptive fissure along Axial's upper south rift zone. It just so happened that a seafloor monitoring instrument called a "rumbleometer" (or VSM) was in its path. The instrument became trapped in the lava flow, but amazingly it survived and was successfully rescued a year and a half later. The data recovered from the rumbleometer reveal an extraordinary sequence of events and for the first time document the dynamics of a seafloor eruption on the mid-ocean ridge.
The data from the rumbleometer that reveals the most about the eruption is from the pressure sensor, which recorded vertical movements [changes in depth] of the instrument. The pressure data show that the lava flow first spread out as a thin sheet under the instrument. Then the lava flow stopped spreading outward and began to thicken or inflate upward with a solid crust over a molten interior. During this inflation stage the rumbleometer was actually lifted upward over 3 meters (9 feet) by the lava flow. Soon thereafter the eruption began to wane and lava drained back into the eruptive vent, and the rumbleometer was lowered back down, ending up only 0.5 meters (18 inches) higher than it started. Perhaps most remarkably, all this took place in the span of only 2 hours. This is the first time that a submarine eruption has actually been caught in the act, all because an instrument was in the right place at the right time, and managed to survive!
The rumbleometer was in remarkably good condition after it was rescued. Only the yellow plastic "hard-hats" that protect the glass ball flotation were melted in a few
spots where they had come in contact with the lava. Amazingly, a temperature sensor on board the rumbleometer only recorded a 4°C (7°F) increase in temperature during the eruption! Even though the lava was erupted at a temperature of about 1200 °C (2200°F), the instrument was kept relatively cool because it was bathed in frigid seawater at 2°C [36°F] which dissipated most of that heat. Also the lava quickly forms a solid crust over its molten surface, which greatly insulates the heat below.

Check out these movies and animations:
- Rumbleometer Virtual Site
- Movie of the rumbleometer stuck in the lava flow
- Animation of the lava flow trapping the rumbleometer
- Movie of the rumbleometer rescue