The NOAA/PMEL Vents Program was re-organized into two separate focused programs: Earth-Ocean Interactions and Acoustics.
---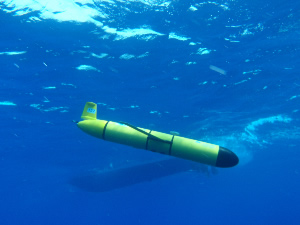 PMEL Acoustics
Our Mission:
We develop unique acoustics tools and technologies to support the mission of NOAA as well as other federal agencies, academic institutions and international partners. Our primary goals are [a] to acquire long-term data sets of the global ocean acoustics environment, and [b] to identify and assess acoustic impacts from human activities and natural processes on the marine environment.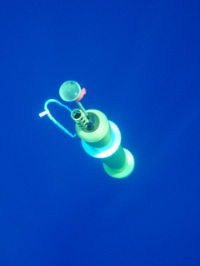 Program Goals:
Conduct marine acoustics research and technology development under NOAA's mission of Science, Service, and Stewardship
Provide acoustic tools and research capabilities for a variety of applications to meet NOAA's research goals
Develop "Next Generation" technologies and instrumentation in support of NOAA's Office of Oceanic and Atmospheric Research (OAR) objectives
Acoustics Research Groups:
Hydroacoustic monitoring allows the detection and precise location of small submarine earthquakes and volcanic activity.
Underwater acoustic methods are being used to study the distribution of large whales in the open oceans.
Studies on the cause and effect of ambient noise, both from natural and man-made sources, on marine ecosystems.
Highlights: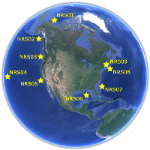 Just how noisy is the ocean?

Quiet enough to hear a pin drop or so noisy you can barely hear the person next to you? NOAA is now undertaking a novel effort to answer these questions. In 2014 NOAA began establishing its first-ever coordinated Ocean Noise Reference Station Network. For more information, see:
http://www.st.nmfs.noaa.gov/feature-news/acoustics
Strong Earthquakes off the Oregon Coast:
A sequence of strong earthquakes (magnitudes 4.3-5.9) occurred on the seafloor ~250 miles west of Newport, Oregon. The earthquakes are along the western Blanco Fracture Zone, a 200 mile long strike-slip fault located in water a mile deep. The Blanco forms one of the southern boundaries between the small Juan de Fuca plate and the much larger Pacific Plate. Clusters of earthquakes of this magnitude occur on the Blanco Fracture Zone roughly every 3-5 years. (June 1, 2015):
USA Today | Weather Channel | Statesman Journal | Oregonian


Undersea eruptions soundscape differences:

PMEL scientists collected video and sound recordings of eruptions in 2009, 1,200 meters (3,937 feet) below sea level in the Pacific Ocean near Samoa.  Two types of eruptions were occurring at the volcano's vents: one was producing large lava bubbles and the other releasing hundreds of tiny gas bubbles. The unique acoustic signatures associated with both types of eruptions could help scientists detect the different types of explosions going on at underwater volcanoes all over the ocean floor. (AGU Blogosphere)
Listening to the Deep:


PMEL Acoustics scientists designed a hydrophone capable of withstanding the 16,142 pounds of pressure per square inch for listening to sounds from the Challenger Deep. The ceramic pressure sensor is specifically designed for deep-ocean work, and houses the electronics, disk storage, pre-amplifier and battery case for a special mission. (Coast Guard Compass)
Ocean Acoustics program scientists record sounds of iceberg demise:

During a 5-year hydrophone experiment along the Antarctic Peninsula, OA scientists recorded of the full life cycle sounds of a mega iceberg, from grounding tremor at its origin to icequakes as it broke apart in the warmer waters of the southern ocean.  It was estimated that these cryogenic sounds can be significantly louder than anthropogenic noises and should be considered as a major contributor to the overall ocean noise budget in the southern ocean. These results are detailed in a recent paper published in Oceanography. (KLCC Public Broadcasting | Discovery News | National Geographic | Voice of America)
First CO2 gas flow estimate from a submarine volcano:


Using hydrophone records of volcanic explosion sounds and melt inclusion data, Vents scientists were able to estimate the yearly amount of carbon dioxide gas emitted from a submarine volcano. The results, published in the journal G-cubed (pdf), show that the 500 m deep volcano NW Rota-1 (located in the Mariana Island group) expels ~0.4 Tgrams of CO2 per year, or roughly 1% of the global CO2 contribution from subaerial arc volcanoes.
Precursors to Eruption at Axial Seamount Found:
NOAA Vents scientists recently published papers in the journal Nature Geoscience that show, for the first time, that precursory signals were recorded by seafloor instruments before an undersea volcanic eruption at Axial Seamount in 2011. Such signals could be used to issue long-term and short-term forecasts of future eruptions at the site
6/10/2012

PMEL Researches "Wind to Whales" in the Bering Sea February 2, 2010. In a study published January 30 in Geophysical Research Letters, described integrated biophysical data "from wind to whales" in the Southeast Bering Sea. 2/10/2010

NOAA Expedition Hears Endangered North Atlantic Right Whales off Greenland (NOAA News 5/28/2009)
Right Whales Return to Former Killing Ground
(National Geographic News 5/20/2009)