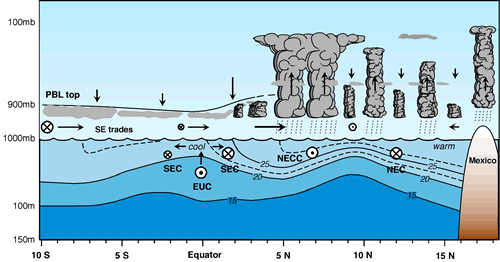 The East Pacific Investigation of Climate Processes in the Coupled Ocean-Atmosphere System (EPIC) is a five-year process study initiated by the Pan American Climate Studies (PACS) program .
The scientific objectives of EPIC are (Weller et al., 1999):
1. To observe and understand the ocean-atmosphere processes responsible for the structure and evolution of the large-scale atmospheric heating gradients in the equatorial and northeastern Pacific portions of the cold-tongue/ITCZ complex, including:
(a) mechanisms governing temperature and salinity field evolution in the oceanic cold tongue and in the region of strong meridional gradient in sea surface temperature from the oceanic cold tongue through the ITCZ;
(b) atmospheric boundary layer structure and evolution from the equator through the ITCZ, primarily in the southerly monsoonal regime; and
(c) the processes determining the existence, character, and strength of deep convection in the northeast Pacific ITCZ.
2. To observe and understand the dynamical, radiative, and microphysical properties of the extensive boundary layer cloud decks in the southeasterly tradewind and cross-equatorial flow regime and their interactions with the ocean below.