SOAR Phase I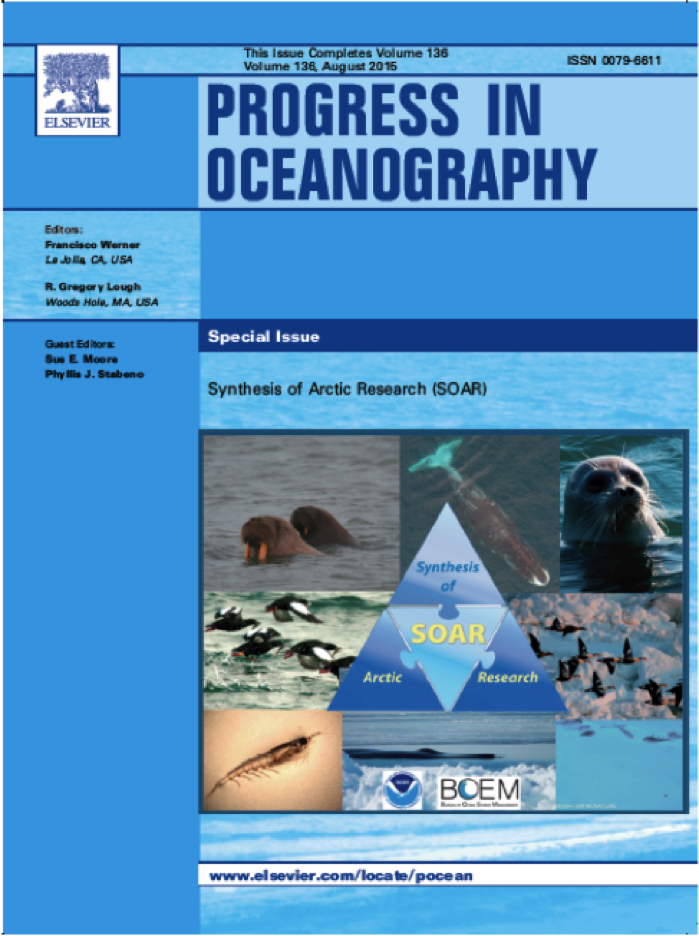 The first phase of the SOAR project culminated in a special issue of Progress in Oceanography, volume 136, published in August 2015.
Here we list highlights of the papers presented in the Phase I special issue—these highlights are also available on the Progress in Oceanography webpage.
Moore & Stabeno
Over the decade 2004-2013 dramatic environmental changes in the Pacific Arctic suggest a 'new normal' climate is emerging.
Variable advection and hydrographic processes are key influences on benthic hotspots for seabird and marine mammal predators.
Six bowhead whale core-use areas are identified, and body condition suggests bowheads are faring well despite sea ice loss.
The Arctic Marine Pulses (AMP) conceptual model aims to animate advection models and link to pelagic-benthic coupling models.
Wood et al.
Loss of multiyear sea ice resulted in an open-water dominated environment in summer.
Fluctuations in large-scale atmospheric circulation also affected the ecosystem.
Wider extremes of variability a hallmark of the 'new normal' in the Pacific Arctic.
Frey et al.
Satellite data reveal divergent patterns in sea ice cover across the Pacific Arctic.
We observe multi-year variability in sea ice cover in the Bering Sea.
We observe significant losses in summer sea ice in the Canada Basin and Beaufort Sea.
Sea ice variability is driven by both thermal and wind-driven processes.
Observations of sea ice provide critical insights for marine ecosystem productivity.
Wang & Overland
Sea ice decline faster in fall than in spring for the Chukchi and Beaufort seas.
Future open-water duration may extend 1 more month by 2050.
Alaskan Arctic will remain sea ice covered from Jan. to May even after 2050.
Arrigo & van Dijken
Declines in sea ice cover in the Arctic Ocean can fundamentally alter marine ecosystems.
Annual NPP in the Arctic Ocean rose 30% between 1998 and 2012.
Increased NPP was associated with reduced sea ice extent and longer growing season.
Increased nutrient fluxes may also play an important role.
Mathis et al.
The intensity, extent and duration of ocean acidification in the coastal areas around Alaska will increase.
Important commercial and subsistence fisheries in Alaska are co-located where enhanced ocean acidification will occur.
Coastal human communities in southeast and southwest Alaska are highly reliant on fishery harvests.
Coastal human communities in southeast and southwest Alaska face the highest risk from ocean.
Grebmeier et al.
Benthic biomass "hotspot" areas persist over multiple decades in the Pacific Arctic Region.
A northward increase in benthic biomass has been observed for three of four benthic hotspots over time.
Variable advection and hydrographic processes are key influences on benthic hotspots.
Hotspot regions have concentrated prey for marine mammal and seabird benthivores.
Logerwell et al.
Chinook Salmon may be moving into the Arctic.
Nearshore is important habitat for forage fish (e.g., Pacific Herring and Capelin).
Nearshore is a nursery area for other species (e.g., Arctic Cod and Saffron Cod).
Commercially important gadids are present but not likely spawning in the Arctic.
Conceptual models of Arctic and Saffron Cod life history distribution are provided.
Crawford et al.
Ringed seals ≥1 year of age are eating more (%FO) Arctic cod (Boreogadus saida).
Ringed seals are growing faster, have thicker blubber, and females mature earlier.
Ringed seal growth and the proportion of pups harvested decreased with heavier ice.
Bearded seals ≥1 year of age are eating fewer (%FO) invertebrates (10 of 24 taxa).
Bearded seals have thicker blubber and females mature earlier now.
Divoky et al.
Black guillemot nestling diet affected by decadal loss of Arctic summer sea ice.
Arctic cod availability decreased with loss of sea ice and increased SST.
Guillemot nestling survival and condition decreased with loss of Arctic cod.
Adult guillemot overwinter survival showed no similar decadal temporal trend.
A decrease in arctic cod availability due to decreased ice extent and increasing SST has implications for the entire Arctic.
Lovvorn et al.
Four eider species that nest in the Arctic migrate through the Chukchi Sea.
The eiders' access to benthic prey is restricted to open water within sea ice.
Profitable prey densities occurred only in certain locations within the corridor.
Seasonal and interannual access to profitable feeding areas varies from 0 to 100%.
Eiders rely on having a range of profitable feeding areas along their migration route.
Kuletz et al.
Getis-Ord Gi* hotspot analysis was used to identify 40-km × 40-km cells with high relative abundance for seabirds and marine mammals.
Hotspots for seabirds, walrus, and gray whales occurred primarily in the Chukchi Sea.
Hotspots for bowhead whales and other pinnipeds (i.e., seals) occurred near Barrow Canyon and along the Beaufort Sea shelf and slope.
Hotspots for belugas occurred in both the Chukchi and Beaufort seas.
Seabirds and marine mammals shared 3 hotspots in summer and 1 in fall; the mouth of Barrow Canyon was shared both seasons.
Citta et al.
We define core-use areas for Bering-Chukchi-Beaufort population bowhead whales.
We summarize diving behavior, sea ice, and oceanographic data for each area.
Core-use areas are co-located with oceanographic fronts and stratified layers.
Seasonal movements relate to the timing of the ascent and descent of zooplankton.
Whales feed seasonally in all three seas (Bering, Chukchi, and Beaufort).
Clark et al.
Acoustic data: 6 groups, 20 recorders, 14 months, 2300 km, Bering to Beaufort seas.
Bowhead acoustics: dynamics of regional-seasonal occurrence-distribution.
Noise analysis: regional-seasonal mammal, ice, wind, human acoustic contributions.
Value: Initial large-scale synthesis of arctic marine acoustic environment.
MacIntyre et al.
Contemporary baseline of year-round distributions of vocalizing bearded seals.
Geographic variability in bearded seal call activity exists in Alaskan waters.
Bearded seal call activity was significantly correlated with sea ice conditions.
Reductions and variability in sea ice may negatively impact the behavioral ecology of bearded seals.
George et al.
Bowhead body condition is positively correlated with sea ice loss and wind-driven upwelling.
Average bowhead body condition increased over the period 1989 to 2011.
Bowhead population size is increasing rapidly and may be linked to increased ocean productivity.
No obvious negative effects from sea ice reduction on BCB bowheads detected to date.
Currently it's a "good time to be a bowhead" but their future is quite uncertain.
Harwood et al.
We summarize divergent trends in condition and/or production in five Beaufort Sea marine vertebrates.
Subadult bowhead whales and Arctic char have shown trends of increasing body condition.
Ringed seal, beluga, black guillemot chicks have shown a trend of declining condition, growth and/or production.
Continued research and monitoring are warranted at temporal and spatial scales relevant to the indicator species.
Important to use multi-species and multi-disciplinary approaches to identify and monitor ecosystem changes and causes.