Mooring Hardware Request

NMML - C. Berchok


May 2016 - Dyson DY1606

1 Mooring
(Bering Sea)

updated March 8, 2016
Subsurface Mooring May 2016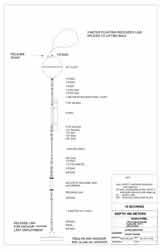 One subsurface mooring will be deployed (not rec/depl).
Same mooring design as 2015 (image on left).
Equipment will ship April 15, 2016 (estimate).

No floats are required from the shop (Berchok will bring to staging area)
No deck set (sharing with Lebon).
No ship loading assistance needed.
No new swivels/isolator plates (use parts from last year's at-sea work).
No recovery, deployment only.

Need:
1 spare release
1 of each of these items: anchors, anchor stands and non-stainless chains/shackle sets
(we should have enough spare parts - brorught back spare anchor/stand from 2015)
Project:
NMML - C.Berchok
Location:
Bering Sea
Latitude:
Longitude:
seafloor
40 - 100 meters
Deployment
12 months
Instruments:
AURAL
1
NMML
release
1
Mooring:
Instrument:
Depth
30" float
1m stainless chain float-to-AURAL
AURAL
1m chain AURAL-to-release
release
1.5m chain release-to-anchor
seafloor
varying depth (40,50,100m)
Shipping Information:
Estimate loading Sand Point, May 15, 2016
Special Note 1:
Deploy 1 mooring.

Special Note 2:
2015 Releases: 1 release, 1 spare release.
NOTE:
This request is for NMML, Catherine Berchok.