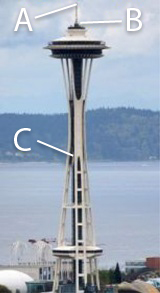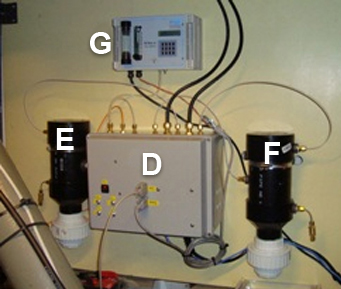 How Does This All Work?
On February 15, 2010, NOAA's Pacific Marine Environmental Laboratory in collaboration with the Pacific Science Center and Seattle's Space Needle, installed an instrument to measure how much CO2 is in the air over Seattle.
There are two air intakes located on the Space Needle. The lower intake is located approximately 300 feet above street level (C), and the upper intake is located at the very top of the needle (A). These intakes bring the air through tubes into the shack at the top of the needle (B). This is where all the science takes place.
The air that enters through the intake valves on the Space Needle enters the Valve Box (D) through the two black tubes. From there, air from the Upper Intake then flows through to the left Baffle (E), and the air from the Lower Intake flows to the right Baffle (F). There is always a steady flow through the Baffles. When it is not being tested, the excess air is expelled through the valve located near the bottom of each Baffle. When the Detector (G) is ready to test the air, the air from one of the Baffles (each Baffle is tested alternating between the Upper Intake and the Lower Intake Baffle) flows through a system of pumps and switches inside the Valve Box, then into the Detector. Four things are measured by the Detector; air that has zero CO2, air from a standard reference tank with a known CO2 value, the air from the Upper Intake Valve, and the air from the Lower Intake Valve. This data is then sent back to the NOAA lab to be studied further.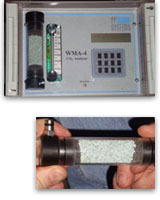 The PP Systems WMA-4 CO2 Detector, pictured to the left, measures four things in this system. The first two things the detector measures is the amount of CO2 in the Upper and Lower Intakes of air. The third thing it measures is the air with zero CO2. To do this, the detector lets air flow through the soda lime in the capsule until the soda lime absorbs all the CO2 in that air. This calibrates the detector so it knows when there is zero CO2 in the air. When the soda lime absorbs the CO2, the color changes from green to white. Once the soda lime has turned completely white and cannot absorb any more CO2, the soda lime is replaced. The final thing measured by the detector is air from a cylinder, shown on right, with a known concentration of CO2. This gas is used to calibrate the detector.
Photos and text provided by C. Sabine.