Mooring Hardware Request

NMML - C. Berchok


August 2016 - F/V Aquila

16 Moorings
(Beaufort & Chukchi Seas)

updated 9 March 2016
Subsurface Moorings Sept 2015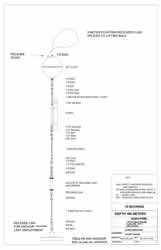 SUMMARY:
16 subsurface moorings will be deployed in August or September, 2016. Charter ship TBD.
Mooring design same as 2015 (see image right).
9 of these moorings will be turned around at sea, including releases & stainless.
Need stainless for 8 moorings, 7 releases, 9 sets links/zincs.
Equipment will load July or August, 2016 (estimate).

No floats are required from the shop.
No deck set (sharing with Lebon, same cruise).
No ship loading assistance needed.
No new swivels/isolator plates (use parts from last year's at-sea work).
Need:
"New" stainless for 8 turn-around moorings.
9 sets links and zincs for 9 turn-around moorings.
7 new releases (currently deployed (2015) releases: 8 used (866);
9 new (8 of 8284, 1 of 866). The 9 new will be turned around.).
1 or 2 spare releases (if available)
10 pieces of floating recovery line (splicing done at sea).
17 of each of these items: anchors, anchor stands and non-stainless chains/shackle sets
Project:
NMML - C.Berchok
Location:
Beaufort, Chukchi Seas
Latitude:
Longitude:
seafloor
~40, 50, or 100 meters
Deployment
12 months
Instruments:
AURAL
16
NMML
release
16
Mooring:
Instrument:
Depth
30" float
1m stainless chain float-to-AURAL
AURAL
1m chain AURAL-to-release
release
1.5m chain release-to-anchor
seafloor
varying depths (40,50,100m)
Shipping Information:
Estimate loading July or August 2016
NOTE:
This request is for NMML, Catherine Berchok.