CRUISE REPORT
FOCI Number: 6MF02
NOAA Ship Miller Freeman
Area of Operations: Coastal Gulf of Alaska
Itinerary:   
Seward to Kodiak, AK
October 4-9, 2002
Participating Organizations:
PMEL/FOCI
Chief Scientist:     
Nancy B. Kachel, PMEL/FOCI
Personnel:
Nancy B. Kachel,           PMEL
David G. Kachel,            PMEL
Sigrid A. Salo,               PMEL
Antonio Jenkins,            PMEL
David Weisgarver,          PMEL
Objectives of Cruise:
FOCI's goal is to understand the effects of abiotic and biotic variability on ecosystems of the North Pacific Ocean and Bering Sea in order to discern the physical and biological processes that determine recruitment variability of commercially valuable finfish and shellfish stocks in Alaskan waters. This cruise is in support of the Steller Sea Lion Research Programs, FOCI base, and United States Global Ocean Ecosystems Dynamics (U.S. GLOBEC). This cruise was undertaken by FOCI to support research into the physical, chemical, and biological mechanisms acting in the coastal Gulf of Alaska.
The principle objective of this leg was to make a CTD/Chlorophyll/Nutrient survey of Portlock bank, then, as time permitted, survey the northern portion of Albatross Bank and Chiniak Trough (Fig. 1).
Summary of Operations:
Operations:                       
Mooring Deployment                                         1
CTD Stations                                                103
Satellite drifters deployed                                  4
Samples Collected:
Chlorophyll samples                                    ~600
Nutrient samples                                        ~850
Summary of Cruise:
The NOAA Ship Miller Freeman departed Seward, Alaska on October 4, 2002 at ~1000ADT for the second leg of cruise MF0211.On the first two nights we experienced winds exceeding 40 kts. Swells 8 to 15' and winds of 15-30 kts persisted throughout the rest of the cruise. From Oct 7 –9, we experiences sunny days and mostly clear nights, with some high haze
.
The SeaBird 911+ CTD was equipped with dual temperature and conductivity sensors as well as a WetStar Fluorometer and a Photosynthetically Active Radiation sensor (PAR). At each station, water samples were collected for analysis of chlorophyll and nutrients concentrations, in addition to a salinity sample for calibrating the CTD sensor. The chlorophyll samples were filtered through a 0.45-micron filter, frozen, and stored in a –80º C freezer. The nutrient samples collected in the top 50 m were also filtered though 0.45 micron filters as soon as they were collected. All samples were flash-frozen, then the nutrients were transferred to a –20º C freezer.
As we left Resurrection Bay we deployed 2 Argos-tracked drifters at GAK1 and 2 (on the Seward line). The ship then proceeded to a line of stations parallel to the Kenai Peninsula coastline (KS line). The purpose of these stations was to sample the boundary between zones of higher and lower surface chlorophyll concentrations frequently observed in SeaWIFS data.
The hydrographic survey of Portlock Bank consisted of 5 lines: the outer portion of the Gore Point line  (GP) on the western side of the bank, 2 lines (PBA and PBB) crossing over the center, another over the eastern portion (PBC), and finally a transect roughly from east to west (PX)(see Fig 1).  One drifter was deployed at the center of the bank and another on the eastern side.
The survey of Albatross Bank and Chiniak Trough began with a transect along the middle part of Northern Albatross Bank from Stevenson Trough on the northeast, continued along the bank, and then crossed over Chiniak Trough, on the southwest (NAB/ CBA). Two more lines were then occupied across Chiniak Trough (CBA and CBC), before the start of the final cross- shelf transect (AX) from the slope of Northern Albatross Bank to near Marmot Bay (~90m deep).
At the end of the cruise we deployed a current meter mooring  (02CB1B) in Chiniak Bay before coming into port at Kodiak, AK on Oct. 9, at 0800 local time.
Specifics of operations: 
Specifics of the operation are presented in the event log in the appendix.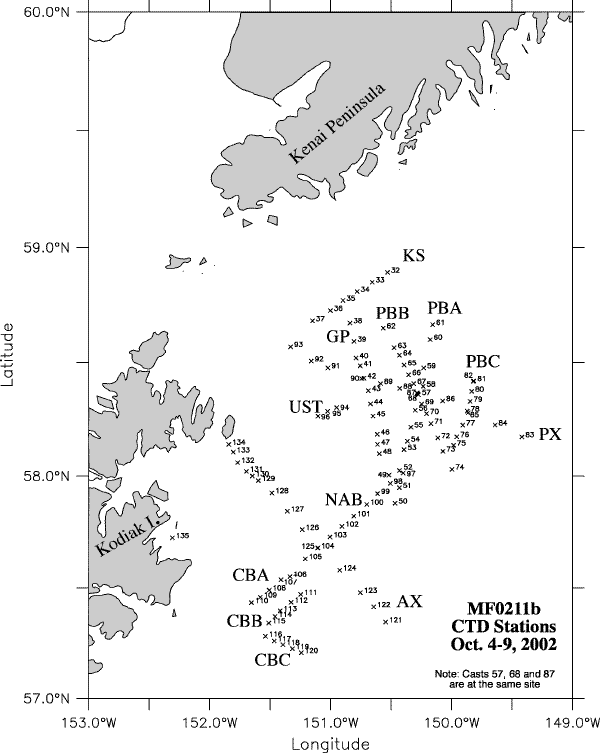 Fig 1 –CTD station 32-135 from MF0211_Leg2. Transects are identified as: CB- Chiniak Bay A, B, and C; GP - Gore Point; PB- Portlock Bank A, B, C, and X; NAB Northern Albatross from Stevenson Trough on the northeast to Chiniak Trough on the southwest; and AX – Northern Albatross cross-shelf.
Appendix: Event Log