NeMO 1999 Cruise Report
TABLE OF CONTENTS
Cruise Location Map (Fig.1)................................................................................................ 3
Errata ................................................................................................................................... 4
NeMO '99 Scientific Party................................................................................................... 5
1 CRUISE OVERVIEW........................................................................................................6
Dives on Axial (Fig. 2)......................................................................................................... 6b
SE Caldera SRZ, Northern Vents and Dive Tracks (Fig. 3)................................................. 7
SE Caldera SRZ, Southern Vents and Dive Tracks (Fig. 4)................................................. 8
ASHES Vent Field, Vent Names and Locations (Fig. 5)...................................................... 9
2 DISCIPLINE SUMMARIES..............................................................................................10
2.1 VOLCANOLOGY...............................................................................................................10
2.2 CHEMISTRY...................................................................................................................... 11
2.2a Hydrothermal Fluid Sampling.............................................................................................. 11
2.2b OsmoSampler and OsmoAnalyzer Operations..................................................................... 12
2.2c Gas Sampling........................................................................................................................ 13
2.2c Studies of Dissolved Gases from Hydrothermal Vent Systems............................................ 14
2.3 MICROBIOLOGY..............................................................................................................14
2.3a Microbiological Sampling for Molecular Microbial Ecology Analysis............................... 14
2.3b Hydrothermal Fluid Microbiology....................................................................................... 16
2.3c Microbial Food Webs........................................................................................................... 17
2.4 MACROBIOLOGY............................................................................................................ 18
2.4a Biology of Low Temperature Sites....................................................................................... 18
2.5 HYDROTHERMAL DEPOSITS.......................................................................................20
2.6 ROCK SAMPLING AND PETROLOGIC STUDIES ....................................................20
3.0 Non-ROPOS OPERATIONS............................................................................................. 22
3.1 Mooring Deployments /CTD's /XRF Analysis.....................................................................22
3.2 NeMO'99 Website and Public Outreach.............................................................................. 22
4 NAVIGATION................................................................................................................... 23
4.1 Navigation Overview........................................................................................................... 23
4.2 Final Calibrated Transponder Positions............................................................................... 24
4.3 Vents and Markers Location Table...................................................................................... 24
5 NeMO OPERATIONS....................................................................................................... 27
5.1 1998 Dive Dates and Locations - ROPOS Dives R460 -R480......................................... 27
5.2 1999 Dive Dates, Locations and Tasks - ROPOS Dives R482 - R503............................ 28
5.3 Experiments Deployed and Recovered - 1998 and 1999................................................. 30
5.4 1999 ROPOS Samples - Dives R483 - R503..................................................................... 32
5.5 Dive Map Nomenclature..................................................................................................... 50
5.6 1999 ROPOS Dive Logs - Dives R483 - R503 ................................................................. 51
(dive maps inserted in dive log, where appropriate)
R483 Dive Log..................................................................................................................... 51
R484 Dive Log..................................................................................................................... 54
R485 Dive Log..................................................................................................................... 58
R486 Dive Log..................................................................................................................... 60
R487Dive Log..................................................................................................................... 61
R488 Dive Log..................................................................................................................... 63
R489 Dive Log ................................................................................................................. 78
R490 Dive Log ................................................................................................................. 79
R491 Dive Log..................................................................................................................... 80
R492 Dive Log..................................................................................................................... 96
R493 Dive Log..................................................................................................................... 108
R494 Dive Log..................................................................................................................... 112
R495 Dive Log..................................................................................................................... 130
R496 Dive Log..................................................................................................................... 149
R497 Dive Log..................................................................................................................... 155
R498 Dive Log..................................................................................................................... 165
R499 Dive Log..................................................................................................................... 168
R500 Dive Log..................................................................................................................... 171
R501 Dive Log..................................................................................................................... 179
R502 Dive Log..................................................................................................................... 192
R503 Dive Log..................................................................................................................... 203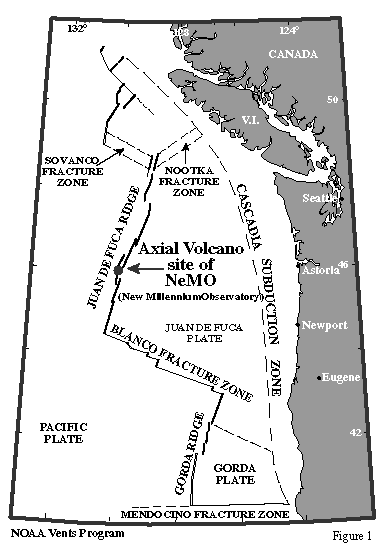 Cover: Image of high resolution pencil beam bathymetry (Imagenex). Bathymetry grid cell size is 2 meters. Depths range from 1500 - 1575 meters. Orange/red colors shallowest, blues/purples deepest. Imagenex data were collected by the NOAA Vents Program using ROPOS during NeMO'98 and NeMO'99. Data were supplemented with additional bathymetry collected on the Cleft'99 cruise in September 1999. Bathymetry processing and cartography by William W. Chadwick Jr., with assistance from Robert W. Embley and Susan G. Merle.
********************************************************************************************
Errata
Dive Logs:
ROPOS dive logs were saved in .html or Excel .csv (comma delimited) files. The .html files were not an option for editing, as they can only be saved as text files, and lose all their rows and columns. The .csv files were a little easier to work with so they were the files edited for the dive logs. (As you may recall, we could not edit the logs at sea.) There was a problem with the .csv dive log files as well. Any double letters or double numbers were absent. I tried to find those errors and correct them, but be aware, especially regarding numbers, as those errors were particularly hard to spot.
Navigation in general:
1999 navigation not as robust as 1998. 1999 nav fixes were often to the west or southwest of '98 fixes. Unfortunately this is not always the case. The farther south we went, the worse the acoustic nav. That is because the southern transponder net could not be calibrated with the ASHES net. (See section 4 for more details.) Be aware of that and use the dive plots as a guide.
Dive Plots:
R492 Missing acoustic nav at end of dive, after JD183 2130. We weren't getting any fixes, and there were no good fixes recorded in the nav logbook to supplement the acoustic fixes. The dive continued for a couple more hours, ending about 250 meters southeast of Bag City. Will fill in last two hours of nav with adjusted ship nav, eventually.
R494 Video went out at JD185 1810, therefore there was no bottom image from that time until ROPOS came up. 1810 official end of dive.
R495 There are gaps in the nav from JD186 1454 - 1640 and 2236 - JD187-0000. We were getting out of the range of the ASHES net transponders. The dive plots just show a straight line connecting the times. Acoustic nav ends on JD187 0115, but the dive continued until 0158. All the nav gaps will be filled with adjusted ship nav, eventually.
R501 No acoustic nav from JD191 2251 - JD192 0521. ROPOS on the deck or in the water column from 0230 - 0530. Need to fill in JD191 2251 - JD192 0230 with adjusted ship nav, eventually. The dive plot shows the ROPOS track from JD192 1411 - 1520, but ROPOS was transiting off the bottom at the time and there was no video.
R494 and R497 Plots state that the nav fixes for the ship are at the stern. That is not accurate. We presume the GPS fixes were referenced to the GPS antennae, about 37 meters fore of the stern. To get actual position at stern one would have to apply a 37 meter lay-back to the ship navigation. (To confuse the matter more: Navigation fixes transcribed in the nav logbook are positions at stern, because we put the pointer in that position on the nav screen and wrote down that fix. More information than you want to know?)