PMEL

carries out interdisciplinary scientific investigations in oceanography and atmospheric science.
Current PMEL programs focus on open ocean observations in support of long-term monitoring and prediction of the ocean environment on time scales from minutes to decades.
What's New
New Study Examines Links Between Sea Surface Carbon Pool and Sea Spray Aerosol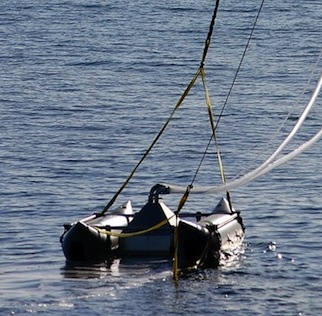 PMEL's Sea Sweep, used to generate freshly emitted sea spray aerosol particles. Credit: NOAA
In a paper published recently in Nature Geoscience PMEL Atmospheric Chemistry group, led by Dr. Patricia Quinn, and others show that the organic carbon content of sea spray aerosol (produced by breaking waves on the ocean surface) was similar in all regions sampled, regardless of the presence or absence of plankton blooms. Previously, all large scale climate models have used chlorophyll-a, a proxy for plankton biomass, to predict the organic carbon content of sea spray aerosol. This study concludes that this method will lead to inaccurate predictions.
For more information on this study please visit the Nature Geoscience website to download the full paper.
What's New Archive- Large Atlantic Ocean Survey Completed
FEATURED
Climate:


El Niño and La Niña


Ocean Acidification


Argo Ocean Floats
Ecosystem:


Fisheries Oceanography


Underwater Volcanoes


Acoustics


Arctic
Weather and Water:


Tsunami


Local Pages:

OAR Hot Items

PMEL Hot Items

PMEL Info

PMEL IT Info

CNSD Info Desk