PMEL

carries out interdisciplinary scientific investigations in oceanography and atmospheric science.
Current PMEL programs focus on open ocean observations in support of long-term monitoring and prediction of the ocean environment on time scales from minutes to decades.
What's New
EcoFOCI Contributes to New Understanding of Bering Sea Fisheries and Ecosystems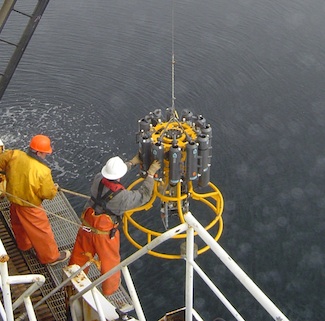 NOAA scientists aboard the Miller Freeman deploy a CTD in a bloom of sea jellies in the Bering Sea. Credit: NOAA
The Bering Sea Project, a 6-year multidisciplinary program encompassing the work of more than 100 collaborating scientists, has led to major new understanding of the role of sea ice and changing climate in one of the world's most commercially viable fisheries. The timing of spring sea ice retreat influences large zooplankton yields, an important prey species, and impacts pollock recruitment in the Bering Sea Fisheries.
Results were presented at the Bering Sea Open Science Meeting and EcoFOCI's major contributions to the program are published in a series of Headline Articles and Deep Sea Research II special issues.
What's New Archive- PMEL Models April 1 Chilean Tsunami Event
FEATURED
Climate:


El Niño and La Niña


Ocean Acidification


Argo Ocean Floats
Ecosystem:


Fisheries Oceanography


Underwater Volcanoes


Acoustics


Arctic
Weather and Water:


Tsunami


Local Pages:

OAR Hot Items

PMEL Hot Items

PMEL Info

PMEL IT Info

CNSD Info Desk