Feature Publication Archive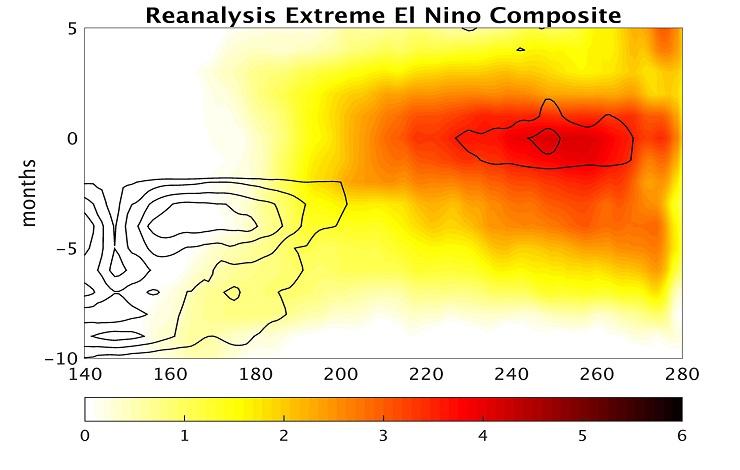 Composite evolution of extreme El Niño events in WWBs (contours) and anomalous temperature (colors). One WWB early in the year warms the central Pacific making additional WWBs more likely. Many WWBs are necessary to... more »
The scientific community and the popular press were abuzz in early 2014 with the possibility that a "monster" El Niño was incubating in the tropical Pacific. Oceanic and atmospheric conditions then suggested similarities with the onset of the 1997/98 El Niño, which is the strongest on record.  Model forecasts from the early months of 2014 were also consistent in predicting development of El Niño conditions as the year progressed.
McPhaden, M. J., A. J. Busalacchi, and D. L. T. Anderson, 2010: A TOGA Retrospective. Oceanography, 23, 86-103.
McPhaden, M.J., et al, In: Proceedings of the "OceanObs'09:Sustained Ocean Observations and Information for Society" Conference (Vol. 2), Venice, Italy, 21-25 September 2009, Hall, J., D.E. Harrison, and D.Stammer, Eds., ESA Publication WPP-306.
Pages