Mission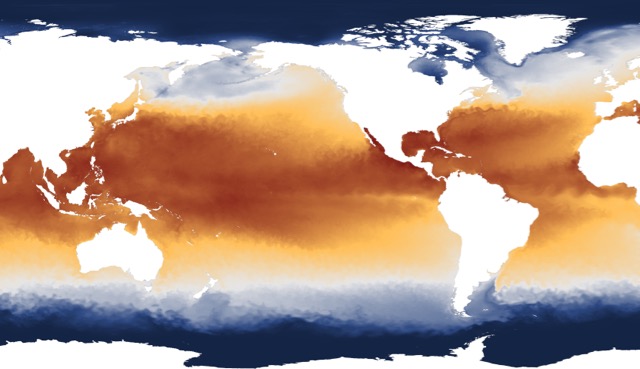 Global Sea Surface Temperature - August 2015.
Image courtesy of NOAA's Environmental Visualization Laboratory.
With more than 70% of the Earth covered by oceans, global weather and climate are strongly affected by exchanges of heat and moisture between the ocean and the air.  The mission of the Ocean Climate Stations Project (OCS) is to make meteorological and oceanic measurements from moored buoys. These reference time series are used to improve satellite products and forecast models, and improve our understanding of air-sea interactions, and their role within the climate system.
Improved understanding of the climate system will help society adapt to climate variations and changes. Improved, more physically realistic forecast models will help reduce society's vulnerability to weather and climate extremes, preparing a weather-ready nation.
The OCS program encourages broad use of the data and welcomes collaboration.  Visit our data pages, and feel free to contact us to learn more.
What's New
Personnel from NOAA's Pacific Marine Environmental Lab participated in a research cruise aboard the Canadian Coast Guard Ship JOHN P. TULLY, and recorded some great videos of mooring operations. Watch the two short videos at the end of this article, to see the deployment of one climate mooring, and the recovery of the buoy that had been in the water for a year. Get a first hand look at a day in the life of a NOAA buoy technician!
On this trip, the ship sailed out of Sidney, B.C. on June 7, 2015, and returned to port on June 22nd. As part of the science mission, the crew performed water sampling and net tows to study ocean physics, chemistry, and zooplankton. Ten NOAA drifter floats, used to study ocean currents, were also deployed. While the ship was still offshore, an important algal bloom was detected along the coast of North America. Ship's personnel were able to collect additional water samples in coastal waters, to verify the extent of the bloom in Canadian waters.
The ship spent several days at a site in the Gulf of Alaska, called Ocean Station Papa. Beginning in December 1949, Ocean Station Papa (50°N, 145°W) was occupied by a Weather Ship operated through... more