Mission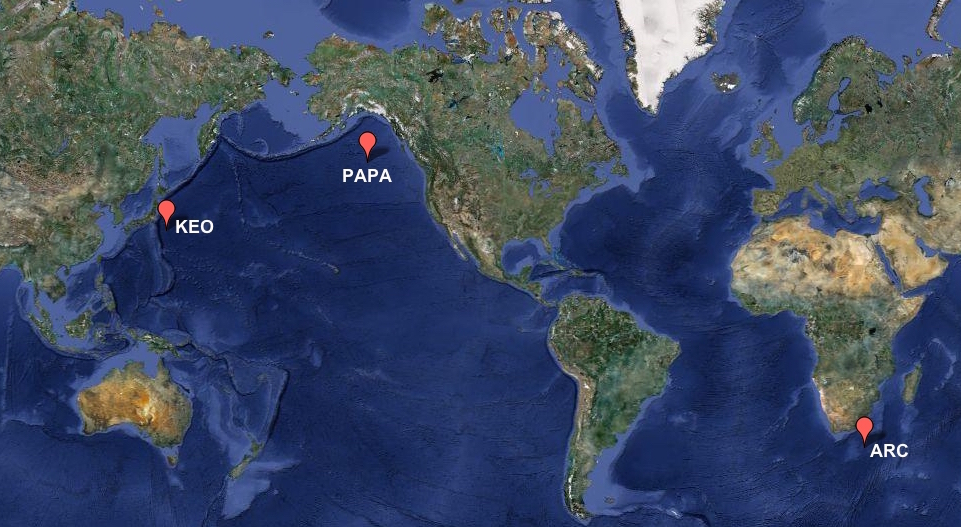 Map of OCS mooring sites.
With more than 70% of the Earth covered by oceans, global weather and climate are strongly affected by exchanges of heat and moisture between the ocean and the air.  The mission of the Ocean Climate Stations Project (OCS) is to make meteorological and oceanic measurements from moored buoys. These reference time series are used to improve satellite products and forecast models, and improve our understanding of air-sea interactions, and their role within the climate system.
Improved understanding of the climate system will help society adapt to climate variations and changes. Improved, more physically realistic forecast models will help reduce society's vulnerability to weather and climate extremes, preparing a weather-ready nation.
The OCS program encourages broad use of the data and welcomes collaboration.  Visit our data pages, and feel free to contact us to learn more.
What's New
Two valuable partnerships have allowed successful servicing of the NOAA Ocean Station Papa mooring this year.
The June 2016 deployment of the NOAA Papa mooring in the Gulf of Alaska was accomplished aboard the CCGS John P. Tully, in partnership with Canada's Institute of Ocean Sciences, Department of Fisheries and Oceans Line P Program.  These long time project partners have been providing ship time and assistance servicing the NOAA Papa mooring since it was first deployed in 2007.  This year, for the first time in nine years, conditions prevented the recovery of the NOAA mooring that had been deployed in 2015.
That mooring was instead recovered aboard the NOAA Ship Ronald H. Brown, which was working in the same area for Ocean Observing Initiative (OOI) operations, just weeks after the Tully cruise.  Though the work schedule was shortened due to unforeseen issues, the ship was still able to accomplish all of their planned work, as well as the recovery of the NOAA Papa mooring... more